If you're researching "sagging floor repair cost," chances are you are noticing strange warps in your flooring, want repair options, and how much it will cost. Good news! After you finish this article, you'll have everything you need before you call your local foundation repair company.
How Much Does Sagging Floor Repair Cost?
The total cost of sagging floor repair depends on the damage and your home's foundation type. We've broken down the cost range based on the type of sagging and foundation type.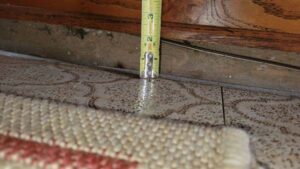 Basements, Crawl Spaces & Slabs: Sagging near the edges – If your floors are sagging or sloping toward the edges of your home, above your basement or crawl space, chances are your foundation is experiencing some form of settlement. When sections of your foundation settle into the soil, your flooring will slope or sag in that direction. This can be caused by expansive soil, improper grading, drainage, poor compaction, tree roots, soil creep (downhill creep), natural disasters, poor construction, or improperly planned renovations.
To correct this, professionals can lift those settling sections of your foundation using underpinning. This involves pushing or drilling long steel piers underneath your foundation until they reach soil strong enough to support your home's weight. Once there, hydraulic jacks lift your foundation back to the Maximum Practical Level, or the level before any movement causes unnecessary damage. Once your home is leveled, your sagging floors should be corrected.
Price: The total price of underpinning depends on how many piers your home needs. To give you a rough estimate, each pier can cost around $2,000.
Basements & Crawl Spaces: Sagging in the middle – If your floors are sagging in the middle, above your basement or crawl space, there's a chance a support post holding your floor is failing. This is usually caused by wood rot, mold, moisture, or poor construction. In this case, professionals can install steel jacks that can lift your sagging floor and support its weight for the life of the structure. 
Price: I-Beam supports usually start at about $2,000 with footings, but it depends on the exact application, weight above, and exposure to the elements.
Slab Foundations: Sagging in the middle – If your floors are sagging in the middle of a room, there's a chance your concrete slab underneath is dipping into a void inside the soil. This is usually caused by water washing away the soil out from under your slab, leaving behind pockets. Voids can also form when tree roots underneath your concrete slab die and disintegrate.
To correct this issue, professionals can drill holes in your slab floor and pump an expanding polyurethane foam into the void below. This foam will lift your slab back to level, cure, and allow foot and vehicle traffic in just 15 minutes. 
Price: Leveling an interior concrete slab with polyjacking in the Chicagoland area starts at $1,500 and increases based on the size of the void. 
How To Inspect Sagging Floors
Here's how to tell what's causing your sagging floors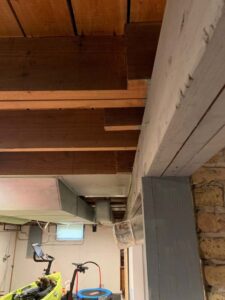 Inspect your support posts

– Check the support posts inside your basement or crawl space holding up your ground floor. Check the bottom of the posts where they meet the floor and see if they're moldy or mushy. Use a screwdriver to check if you can push through the wood. If so, your wooden supports are failing and need to be replaced.

Inspect your floor joists

– Your floor joists are the horizontal beams that run underneath and support your ground floor. Call an expert immediately if these joists are cracked, rotten, or failing. Some experts have noticed that floor joists can fail if they are improperly cut to accommodate pipes, wiring, or HVAC ducts. 

Inspect for moisture

– Check your basement or crawl space for condensation on your walls and floors. Moisture buildup inside your foundation can lead to mold, rot, and structural failure. This can also lead to increased utility bills, rodents, and insects. 

Inspect for settlement

– Other than sagging floors near the edge of your home, settlement can leave obvious signs, such as sticking windows and doors. You might also notice separations between your floors, walls, and ceiling, which are all major signs of settlement. 
Does Homeowners Insurance Cover Sagging Floor Repair Costs?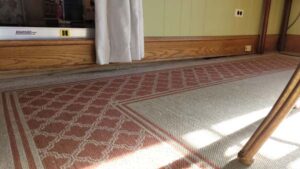 The cost of sagging floor repair is not usually covered by homeowners insurance. If the sagging floor was caused by something sudden or unexpected, like a flood or earthquake, you would usually need separate insurance. Call your insurance provider to double-check what's covered in your home. 
Who Should You Call For Sagging Floor Repair?
If you live in Chicagoland, call The Real Seal today! We provide all of the above solutions and can inspect your home, determining what's causing your sagging floors. Since 2011, we've repaired thousands of homes and foundations using the most advanced solutions on the market. Our main services include foundation repair, crawl space encapsulation, basement waterproofing, and concrete leveling. Call today for your free inspection and estimate.