Foundation Waterproofing In Chicagoland
The Real Seal is proud to offer foundation waterproofing in the Chicagoland area. We offer waterproofing solutions for both basements and crawl space foundations.
For basements, we can seal the walls using vapor barriers, add a sump pump to remove invasive water, install interior or exterior drain tile to stop water from entering your basement, and fix any leaking egress windows.
For crawl spaces, the methods are similar. Crawl spaces can even be completely sealed. This is called crawl space encapsulation.
Basement Foundation Waterproofing
The Real Seal has a variety of waterproofing solutions available for your home, including:
Sump Pumps – A sump pump is a fixture that sits in a home's basement or crawlspace. It helps remove groundwater from underneath your home, preventing water from seeping through your floor and walls. Without a sump pump, water or heavy precipitation could become a significant issue for a basement foundation.
Interior Drain Tile System – The interior drain tile system collects water from the soil below your foundation and directs it to your basement's sump pit. You can install an interior system in three ways: above the concrete slab, within the slab's edge, or below the slab.
A perforated pipe is laid in a bed of washed stone under your basement floor. As water gathers around and under your home's foundation, this pipe gathers the water and redirects it to a sump pit. From here, the sump pump will eject the water from the sump pit.
Exterior Drain Tile System – The exterior drain tile system that keeps water from building up in the soil outside the foundation walls. Then it channels the water away, draining the soil around your home and relieving pressure from the home's foundation. The same mechanics are in play for this system. Water gathers in the sump pit, and the pump then ejects the water from the home via a discharge line.
Both the interior and exterior systems, while they may be different in installation, accomplish the same goal. They will allow you to finish your basement, adding usable living space to your home. Mold, musty smells, and pooling water will no longer be worries of yours.
French Drain – A French drain is a perforated pipe placed just below the surface of the soil to promote water drainage.
Gutter/Downspout Extensions – Gutter extensions are highly recommended for the average home in America. Instead of water from your gutters pouring directly at the base of your home/foundation, these extensions channel the water further away (at least 20ft) from your home.
Discharge Line – A discharge line is used along with the sump pump to carry water from the pump to the outside of the house. In a basement waterproofing system, sump pump discharge lines have several essential factors: Just like gutter extensions, discharge lines should carry the collected water at least 20ft away from the foundation, spaced out from each other to avoid the water pooling up in your yard.
Vapor Barriers (Moisture Barrier) – A vapor barrier is typically polyurethane sheeting added to basement walls. Vapor barriers prevent moisture penetration through the walls and this hampers mold growth.
Basement/Egress Windows – In case of an emergency, your basement is equipped with an egress window for possible escape. We can repair basement windows, add new windows, and even close and seal old ones. We can also add a drainage system to the window well to prevent water from pooling up inside the window well.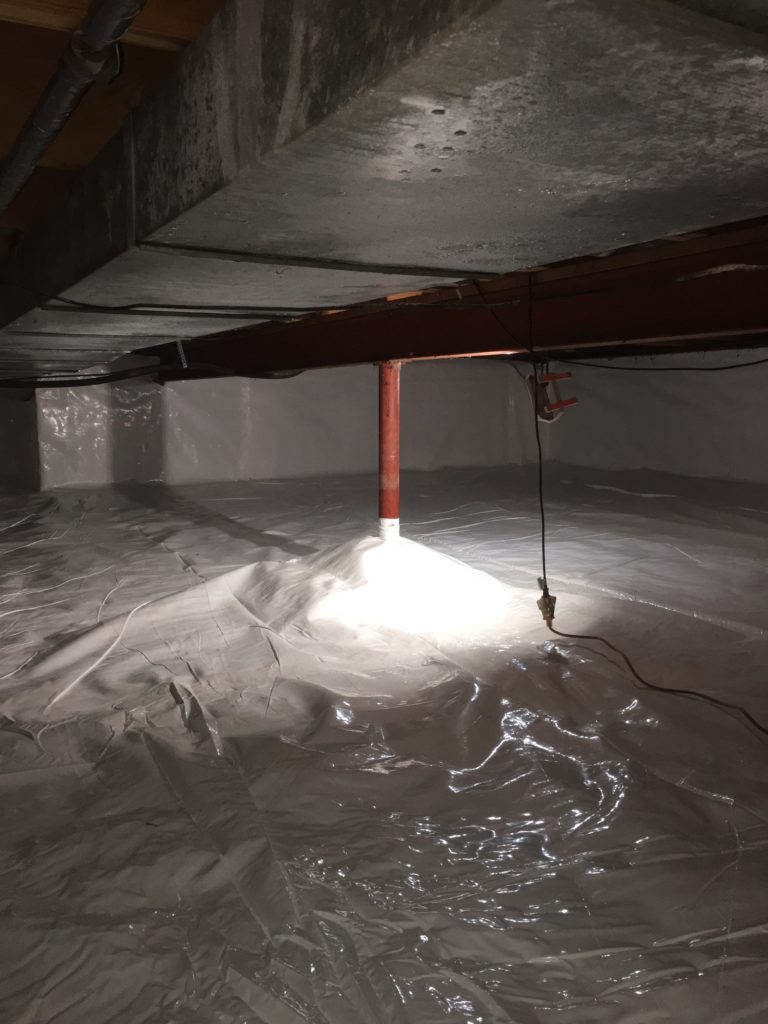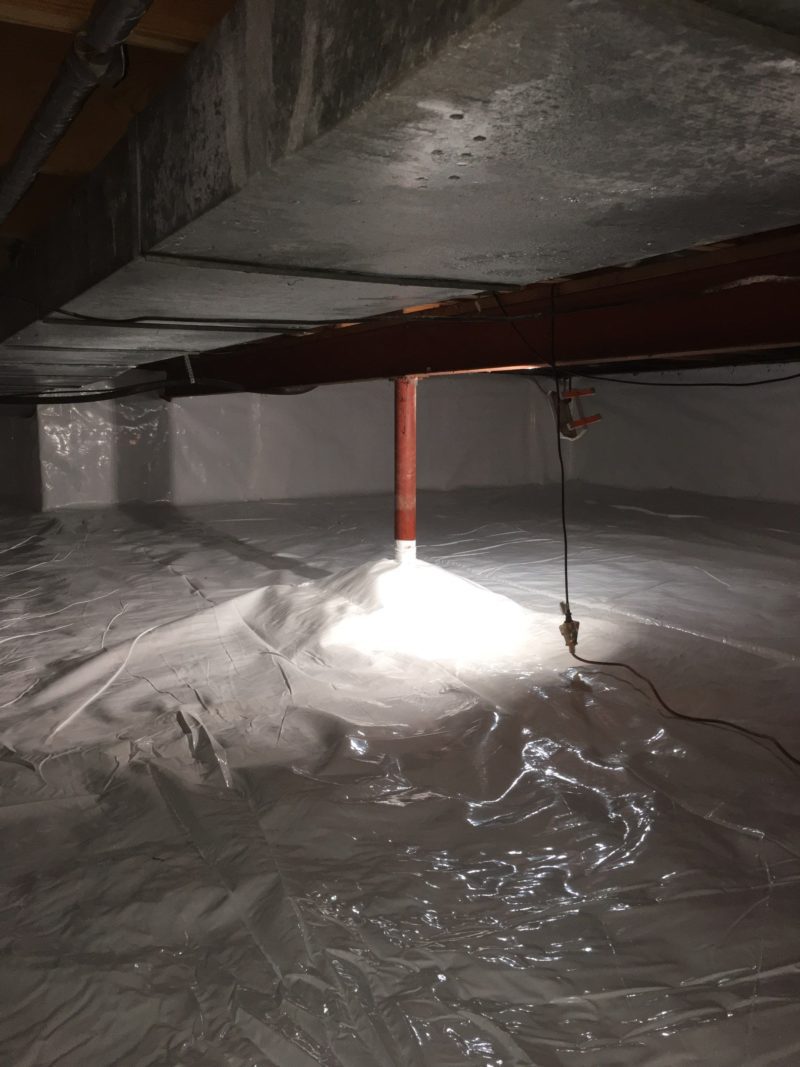 Crawl Space Foundation Waterproofing
If your home has a crawl space instead of a basement, don't worry. We have solutions for that too.
Crawl Space Encapsulation – Crawl space encapsulation is a sealing technique that involves lining the walls and floors with overlapping sheets of thick polyethylene plastic, keeping moisture out. The air you breathe comes from the floor beneath you, so you want an effective barrier to ensure clean air.
Crawl Space Drain Tile – The crawl space drain tile system works the same as a basement drain tile system, except instead of being placed under your foundation floor, it's placed underneath your crawl space. A perforated pipe is laid in a bed of washed stone, and as water gathers around and under your home's foundation, this pipe gathers the water and redirects it to a sump pit. From here, the sump pump will eject the water from the basement.
Crawl Space Sump Pump – The same thing applies with the sump pump for a crawl space as it does for a basement. The drain tile pipes lead to the sump pit and when the sump pit is full, the sump pump ejects the water away from the foundation.
If you live in the Chicagoland area, call The Real Seal for all of your foundation waterproofing needs. We can inspect your foundation, find any problems or signs of potential damage, and get you on the right path.
The Real Seal specializes in foundation repair, crawl spaces, basement repair, waterproofing, and more. Click here for more information and contact us today!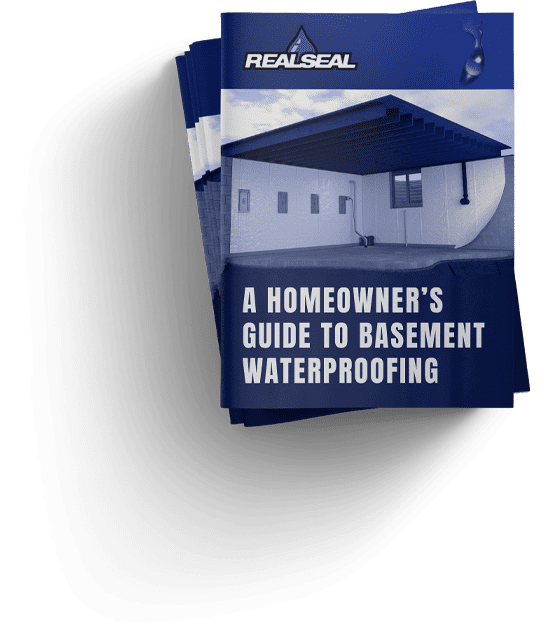 DOWNLOAD OUR FREE GUIDE
We created a guide titled:
"A Homeowner's Guide to Basement Waterproofing" to help you spot common basement issues around your home and learn how to fix them. Enter your email and get the free guide.
"Not Everything's Better When Wet"®