Frank Sinatra called Chicago 'My kind of town,' and we can't help but agree. Of course, it doesn't matter if you are calling it Chi-Town, The Windy City, or The City of the Big Shoulders, it is a great place to visit and a wonderful place to live.
There are many things to be proud of when you live in Chicago but the soil isn't one of them. Poor soil conditions can wreak havoc on home foundations and basements. You likely find that your basement is a dark, dingy, and damp space that doesn't serve a useful purpose.
That is where The Real Seal can help. Our basement waterproofing services can do more than keep your basement dry. We can make your basement a usable part of the home, suitable for storage or additional living space.
Common Signs Of Water Damage In Basement
Water damage does not typically hide from view. It often gives visible signs that problems are occurring. The following possible signs are frequently seen, and when they are, the problem may already be advanced.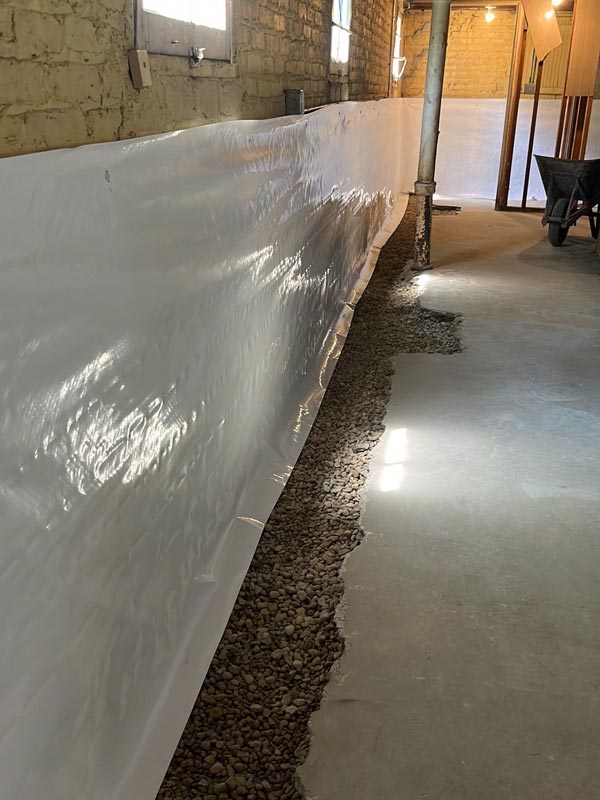 What Does It Mean To Waterproof Your Basement?
The basement is one of the most neglected parts of any home. They tend to be dark, dreary, and damp areas that are not often used. The air from the basement can also affect the rest of the home. These are just a few reasons to consider waterproofing your basement.
Waterproofing a basement is essentially using a method that will keep water from impacting the basement negatively. When done properly, it can keep the basement dry, making it possible to use for storage or even as extra living space.
Different Types Of Basement Waterproofing Solutions
Waterproofing a basement is not a one-size-fits-all solution. There are actually a few different ways it could be handled. Some options are more permanent than others and some come at a higher cost.
Here are the 3 basic types of basement waterproofing solutions.
Most homeowners are familiar with this method of basement waterproofing. A sealant is applied to the basement walls that can keep water from penetrating. It can also stop water from getting through to other areas of the home.
This type of waterproofing is often done while the home is still under construction. Various polymers or membranes can be applied to the exterior basement walls to keep water from penetrating from the outside.
This is the most effective method for waterproofing a basement. It does more than dry a basement that is inundated with water, it keeps the water from being a problem again in the future.
How Long Does Basement Waterproofing Last?
The longevity of a basement waterproofing solution is something to consider. There are some options that are permanent, but those are also some of the more expensive options that are available.
Other waterproofing solutions may only last a number of years before they are not as effective. These may be more affordable, but the overall cost could be much greater in the long run.
The best thing you can do is to contact The Real Seal. We offer a variety of basement waterproofing options and can give you the guidance necessary to make a wise choice.
We Offer Basement Waterproofing Services Near You In Chicago, IL
Austin, the owner of The Real Seal, has been helping homeowners in the Chicago area for more than a decade. He works along with a team of dedicated professionals with years of experience to ensure that you always get the best service available.
Our Basement Waterproofing Services
We offer a range of basement waterproofing services that work on any home. Our goal is more than to just remove the water, we do what is necessary to make the basement a usable and comfortable area of the home.
It all starts with an inspection. More than likely, you've already seen the signs of water problems in your basement and are ready to have the work done. By using our free basement inspection service, you know up-front what needs to be done and what it means for you.
Foundation cracks are common, but they should never be considered normal. If they are larger than 1/16″, they are likely to widen due to temperature changes or hydrostatic pressure. We offer a number of options for foundation crack repair, including installing tie rods or using low-VOC epoxy injection.
A drain tile system can be installed both inside and/or outside of the basement. The primary goal of the drain tile is to keep water from building up in the area by channeling the water to a lower level or into a sump pit, where it can be pumped out of the area using a sump pump.
A sump pump works along with a drain tile system to remove water from the basement. Since the water problem associated with the basement is lower than the surface of the ground, it isn't always possible to drain the water to a lower area using gravity. A sump pump with a battery backup is the way you can move the water up and out of the sump pit to the road or another area where it can flow away from the home.
Windows are an important part of the basement, as they allow natural light into the area. They are also a common location where leaks and water intrusion can happen. This may be due to improper installation, window deterioration, inadequate drainage, or clogging from debris. The Real Seal can repair any of those issues.
Discharge Lines And Gutter Extensions
Gutters are installed to capture water running from the roof and bring it to the ground at a convenient location. In many cases, however, they drain next to the foundation wall so the water never has the opportunity to flow away from the home. We can fix this by installing discharge lines and gutter extensions that move the water away from the foundation where it can drain properly.
Anytime you put a hole in the foundation wall, you run the risk of creating a leak. These are common around basement windows and points of egress. That doesn't mean they have to be a problem permanently. We can repair any issues and ensure the area stays dry.
After any necessary repairs are made, we can install a vapor barrier that wraps around the basement walls. The vapor barrier is a thick polyurethane sheet that covers the wall and channels any moisture to a drain tile system so it stays away from any wall finishes, such as drywall. If you have the walls finished, the finishes will have to be removed to install the vapor barrier.
What Our Customers Are Saying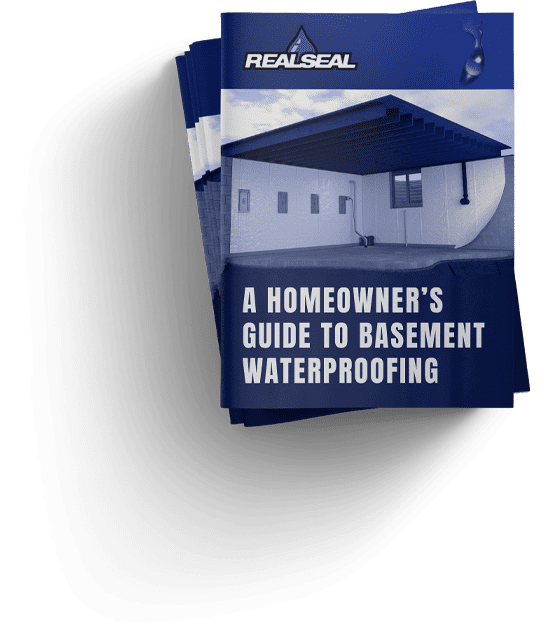 DOWNLOAD OUR FREE GUIDE
We created a guide titled:
"A Homeowner's Guide to Basement Waterproofing" to help you spot common basement issues around your home and learn how to fix them. Enter your email and get the free guide.
"Not Everything's Better When Wet"®