If you've been researching "mudjacking cost," chances are you're in the market for a cost-effective and successful concrete leveling solution. Unfortunately, mudjacking is not the solution. Once you've finished this article, you'll find out why mudjacking is not worth the cost, which option is recommended by professionals, and why that option is better.
What Is Mudjacking?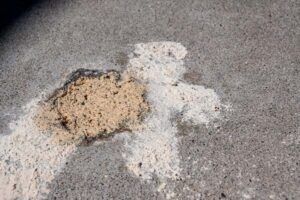 Mudjacking is when professionals pump a combination of Portland cement, sand, and other natural materials into voids below sinking concrete slabs. Invented in the 1930s, mudjacking is still used by a few companies worldwide, even after other solutions have turned mudjacking obsolete. Mudjacking is less expensive than other solutions, but it's nowhere near as effective as polyjacking.
Is Mudjacking Worth The Cost?
No, mudjacking is not worth the cost. Even though mudjacking usually costs $3 to $4 per square foot, most concrete leveling professionals describe it as weak, slow, temporary, and ineffective. Here's why.
It adds to the problem – Concrete leveling professionals never recommend adding more weight to weak soil and sinking slabs. The slurry used in mudjacking weighs around 100 pounds per cubic foot. If this heavy mixture is added to the already weak soil, your slab will eventually sink again.
It's messy – Because mudjacking involves hundreds of pounds of slurry, any leaks or spills could lead to large cleanup projects. Many professionals will avoid mudjacking simply because contractors must use their feet to keep the mudjacking hose inside the drilled hole. If they lift their foot too early, slurry could leak everywhere.
It can damage your concrete – In order to pump the slurry, contractors need to drill 2-inch holes into your concrete slab. This often leads to cracks forming around the holes and weed growth.
It's not waterproof – Mudjacking slurry cannot withstand water movement under your concrete. If water drains under your concrete, the slurry will wash away and leave your concrete vulnerable to sinking.
It's temporary – Mudjacked concrete will need to be re-lifted in less than five years.
It's slow – Depending on how much slurry is pumped under your concrete, you might be waiting three days before you can walk or drive over your slab.
It can't be used in most cases – If your concrete slab is cracked beyond simple patching repairs, most professionals will suggest you replace the slab instead of mudjacking. Mudjacking is also harder to perform during winter if the soil is frozen. If the temperature is too cold, the slurry takes longer to dry. If the ground is too frozen, chances are the soil is saturated with water, causing it to expand. Once the soil thaws, new pockets will form where the slurry previously missed.
What Is Polyjacking?
Polyjacking involves pumping an expanding polyurethane foam into voids below your uneven or sinking concrete slab. This concrete leveling method is fast, effective, permanent, and solves the actual problem behind unleveled slabs, which is weak soil. Polyjacking goes by many names, such as slab jacking, foam jacking, foam lifting, and more. But they all mean and accomplish the same thing.
Why Polyjacking Is Worth The Cost
Even though polyjacking costs more than mudjacking, most homeowners and contractors agree it's well worth the investment. Here's why.
It's fast – Once your concrete is lifted and the foam cures, you only need to wait 15 minutes before walking or driving over it. Compared to waiting three days for mudjacking, polyjacking is faster.
It's simple – Polyjacking only requires dime-sized (.750 in.) holes in order to pump the foam through the concrete. Once the foam is injected, contractors can quickly patch the holes, hiding signs of repair.
It's light – The foam used in polyjacking weighs about 2.5 to 4 pounds per cubic foot, allowing it to level your concrete without adding any weight.
It's environmentally friendly – Polyjacking foam will not break down over time or leak chemicals into your soil and grass, making it an environmentally friendly solution to concrete leveling. Even though mudjacking uses natural materials, it's not as effective.
It's waterproof – Polyjacking foam is hydrophobic, meaning the polyurethane will not react if it comes into contact with water. This keeps the foam underneath your slab, providing a strong foundation for the concrete.
It lasts – The expanding foam itself will last indefinitely. As long as the water issues in the area (pooling water, eroding water, etc) are taken care of, the repair will last a very long time.
Read more about – Why Poly-Jacking Is Better Than Mudjacking
How Polyjacking Improves Your Home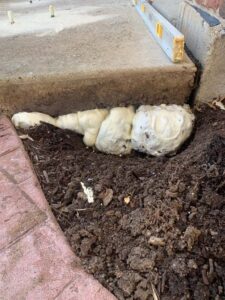 Here's how polyjacking can improve your home.
No more trip hazards – An uneven sidewalk or patio can lead to broken bones or chipped teeth. Leveling your concrete surface will make your life easier.
No potential lawsuits – In some states, visitors who injure themselves on your property can bring a lawsuit against you.
Adds value – Uneven concrete surfaces can decrease your home's value if you try to sell.
Adds appearance – Sunken, uneven, and unlevel concrete surfaces look horrible and diminish your home's appearance.
Find Out More
If you want to know more about mudjacking, polyjacking, or concrete leveling in Chicagoland, call The Real Seal. Our team of experts have been lifting and leveling concrete surfaces using polyjacking since 2011. We also offer foundation repair, basement waterproofing, crawl space repair, and more. Call today for your free inspection.