If you've searched "moisture barrier for crawl space," chances are you're looking to control moisture, humidity, and energy levels underneath your home. Without a moisture barrier (also called a vapor barrier), crawl spaces are left exposed to the elements. If you leave water inside a glass and seal it, the moisture will create musty odors and a perfect habitat for mold, bacteria, and more.
This example can apply to crawl spaces as well. Once you've finished this article, you'll learn why a moisture barrier for your crawl space can be one of the best home improvement projects you take on.
What Is A Moisture Barrier For A Crawl Space?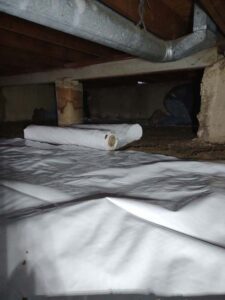 A moisture barrier is a thin polyethylene sheet laid over your crawl space floors and walls. This sheet keeps moisture from seeping through the dirt floor and concrete walls, preventing condensation and moisture buildup. Without a moisture barrier, moisture, which comes mainly from the ground, can rot wood beams and joists, contributing to mold growth and mildew. If your joists and beams rot, the structural integrity of your foundation becomes compromised.
Most homeowners don't know that a large percentage of air from your crawl space will travel upwards into the rest of your home. If the air inside your crawl space is filled with mold and allergens, the air quality in the rest of your home will suffer.
If unconditioned crawl space air enters your home, it can lead to higher heating and cooling costs. If you notice your utility bill suddenly spiking or even rising over time, it could be a result of invasive crawl space air.
Types Of Moisture Barriers For Crawl Spaces
The International Residential Code lists three classes of moisture barriers (vapor barriers, vapor diffusion retarders, and vapor retarders).
Class 1 – Impermeable (blocks liquid) materials like glass and sheet metal.
Class 2 – Semi-impermeable materials like plywood and polystyrene.
Class 3 – Semi-permeable materials like gypsum board, unfaced fiberglass insulation, and brick.
Moisture barriers also come in two varieties: membranes and coatings.
Membranes – Membranes are usually thin, flexible, and come in rolls, such as polyethylene sheeting. This form of moisture barrier can be installed during or after a home's construction is completed. This type of moisture barrier is highly recommended by crawl space waterproofing experts.
Coatings – This form of moisture barrier is usually some sort of waterproofing paint. These coatings cannot be applied to the dirt floor, making them ineffective against moisture from the ground. These coatings can also not successfully keep moisture from seeping through your concrete. Overall, experts never recommend waterproof coatings or paints.
How Can A Moisture Barrier For Your Crawl Space Save Energy?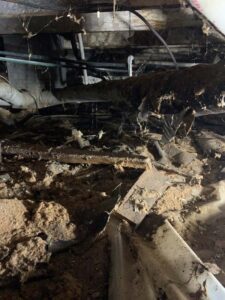 A moisture barrier can save energy because the air inside your crawl space will no longer overload your home's A/C or heating system. As mentioned above, the air inside your crawl space can travel upwards into the rest of your home, especially if the air is hot or humid. Experts have determined that approximately 50% of the air on your first floor comes from your crawl space.
If half of the air on your first floor is hotter or cooler than the other half, your air system will constantly run, attempting to equalize the temperature. This leads to higher utility bills and a poor waste of energy.
Installing a moisture barrier inside your crawl space can save you around 15% on your monthly heating and cooling bills. This means the money you save on your utility bills offset the cost of the moisture barrier.
Besides improving the air temperature in your crawl space and the rest of your home, moisture barriers can improve the air quality. Crawl spaces that encourage outside air and moisture buildup are usually very musty. If your first floor smells like a wet cave, chances are it's coming from your crawl space.
How Much Does A Moisture Barrier For A Crawl Space Cost?
Moisture barriers can cost anywhere from $1,500 to $15,000. This price usually includes a moisture barrier, sump pump, and drain tile system, creating a single foundation waterproofing package. The exact price can depend on the material quality, crawl space size, and if the foundation needs any structural repairs. Here's a quick breakdown of the cost factors.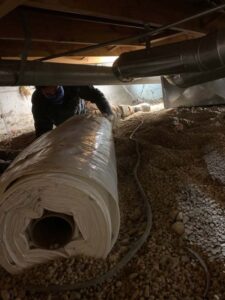 Materials – Make sure the company you hire to install the moisture barrier doesn't use cheaper, poor-quality products. Better products cost more but are well worth the price increase.
Labor and size – The biggest factor in the cost of a moisture barrier depends on the size of your crawl space and the amount of work needed.
Condition – Before a moisture barrier is installed, the crawl space needs to be clean, dry, and in good condition. If experts notice any structural problems inside the crawl space, they'll likely suggest addressing those first.
Permits – Crawl space moisture barriers usually don't require any permits if the work is under $15,000. Permits are only required when the work is paired with a sump pump, drain tile system, or foundation repair.
Inspection – Most crawl space waterproofing experts will inspect your crawl space for free before they install a moisture barrier. If you hire a private inspector, you could spend anywhere from $300 to $1,000.
Vent sealing – Professionals also recommend closing and sealing any vents that expose your crawl space to outside air and moisture.
Who Should You Call?
If you need a moisture barrier for your crawl space in Chicagoland, call The Real Seal. Our team of experts will inspect your crawl space for free, find out if there's a moisture or structural issue, and install a solution that works. Some blogs and companies suggest DIY solutions or ineffective products, such as waterproofing paint. Not us. We pride ourselves on our craftsmanship and materials. Call today and ask more about a moisture barrier for your crawl space.