If you want to know how to level a concrete floor that slopes, this is the article for you. Most articles online recommend using self-leveling compounds, mudjacking, or replacement. In this short blog, you'll learn why the best companies always recommend polyjacking or underpinning to level sloping concrete floors.
How To Level A Concrete Floor That Slopes
Most skilled professionals recommend polyjacking or underpinning to level sloping concrete floors. These solutions actually solve the problem and don't contribute to further issues like other solutions.
Polyjacking Concrete Floors – Voids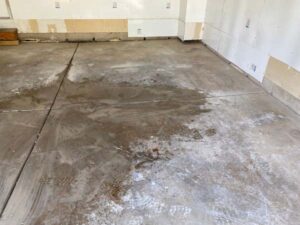 Some concrete floors are sloping because there's a void underneath your slab. This void could have formed if the soil wasn't properly compacted together, leaving space between the soil particles. Sometimes, a sewer pipe could have broken under the slab, allowing wastewater to wash the soil out from under your home. Other causes include poor drainage, expansive soil, and more.
If a void forms under your concrete floor (slab), you might notice sloping in the middle of the room. In this case, professionals will use polyjacking to fill the void and level your floor. Here's how it works.
Small holes are drilled into the sloping sections of concrete.
Polyurethane foam is injected through the holes into the void below.
As the foam fills the void, your concrete floor is lifted until it's leveled.
Once the foam cures, you'll need to wait 15 minutes before driving or walking over the concrete floor.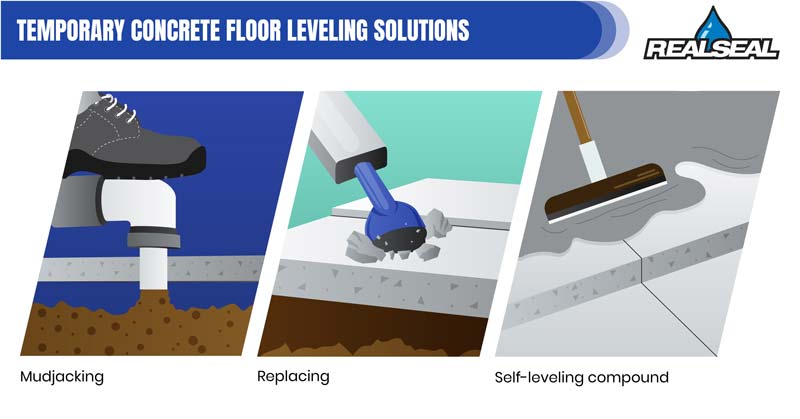 Polyjacking is a cost-effective and permanent solution. The only downside of polyjacking interior concrete floors is the amount of foam needed. If the void below your concrete floor is very large, professionals will need to use more foam. This could increase the overall cost of the repair.
Underpinning Concrete Floors – Settlement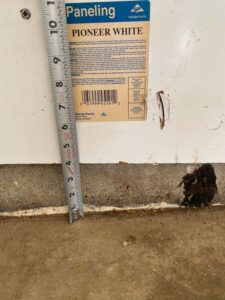 If your concrete floor is sloping toward one end of your home, there's a chance that section of your foundation is settling into the soil. This can occur if the soil below your foundation is improperly compacted, filled with clay, washed away, saturated with moisture, or affected by a natural disaster. Most homes experience some form of settlement within seven years of being built. After seven years without any disruption from exterior elements, foundations will not usually move for another 250 years.
Here's how underpinning corrects extreme settlement.
Professionals determine what sections of your home require lifting in order to correct the settlement. This is usually identified with elevation measurements.
Once the settling section is identified, professionals use standard distance measurements to plan out how many piers are needed. The cost of underpinning is usually factored by how many piers are needed.
Experts dig pits around your foundation that expose the footers.
The piers are anchored to the foundation footer and are pushed or drilled into the soil below based on the chosen pier type (helical or push).
Once the piers reach load-bearing soil, hydraulic jacks use the piers to lift your foundation back to the maximum practical level.
The pits are backfilled and the dirt is tamped down and rough-graded.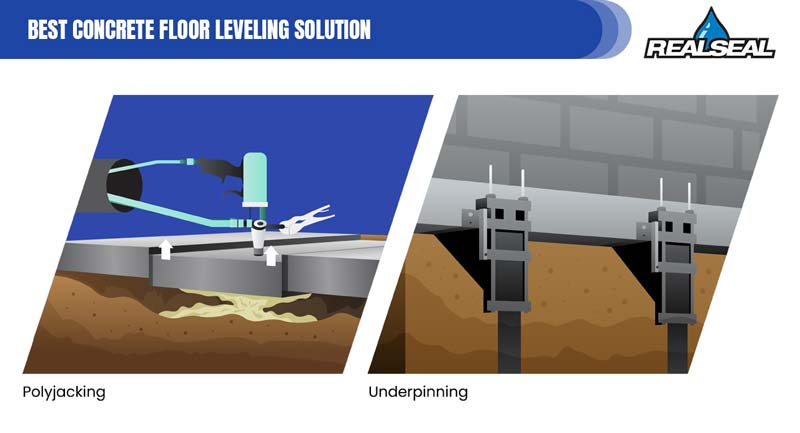 Underpinning is extremely effective, leveling settling foundations in under a day. This process can also correct cracks that result from the settlement.
Solutions You Should Avoid
If you're researching different ways to level a concrete floor that slopes, chances are you've come across articles promoting self-leveling compounds, mudjacking, or total replacement. Be warned. These companies offer these solutions because they're temporary and lead to repeated callbacks. This gives them more business, guaranteeing your return to them.
Here's a quick outline of the solutions pushed by other companies.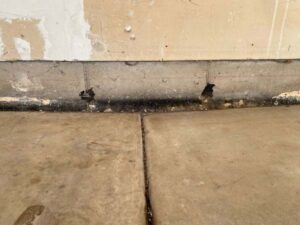 Self-leveling compounds – Self-leveling compounds are cementitious mixtures used to even out uneven concrete floors. They're labeled as easy to use and effective, but they are actually a temporary cosmetic solution. While the compound is very light, it can still add weight to the sloping concrete floor and add to the issue. You should also know that since you are adding a layer of compound to your concrete floor, you're going to lose some space in your room. This could make it hard to open a door into the concrete floor or require you to remove the baseboards. Overall, self-leveling compounds don't solve the actual problem.
Mudjacking – Mudjacking involves pumping a thick slurry of cement and sand into the void under your slab. While this solution sounds similar to polyjacking, it's nowhere as effective. The mudjacking slurry is very heavy, weighing over 100 pounds per cubic foot. This will add more weight to the already weak soil, causing your slab to slope deeper than before. Mudjacking is also extremely messy and involves much more cleanup than polyjacking. If any slurry spills onto your concrete floor, you'll be left with a huge mess. You might find a few blogs online discussing how mudjacking is more environmentally friendly than polyjacking, but it's not true. Polyurethane foam is inert and won't leak any chemicals into your grass or soil. The only companies promoting mudjacking are mudjacking companies. 
Replacement – Replacing a concrete floor that slopes will not solve the issue either. The new concrete floor will sink soon after it's installed, leaving you with the same problem. The cost of replacing a concrete floor that slopes adds up fast. The old concrete needs to be chipped and hauled away. Then, you'll have to pour a new slab and wait for that to cure. Replacing is slow and ineffective, only recommended if your concrete floor is completely cracked apart.
Who Can Level A Concrete Floor That Slopes
If you live in Chicagoland and need to level a concrete floor that slopes, call The Real Seal. We've been lifting and leveling sloping, sunken, and uneven concrete floors since 2011. That includes garages, sidewalks, driveways, patios, and other concrete surfaces. Call today for your free inspection and estimate.