If you want to know some common crawl space vent cover ideas and why they help control moisture under your home, this is the article for you. We talk about the original purpose of crawl space vents, why they are counterproductive, and how covers can help.
What Are Crawl Space Vents?
Crawl space vents are openings into your foundation meant to promote air circulation under your home. This would allow cool air to enter your crawl space and allow hot air to escape. Unfortunately, if there are no fans or machines inside the crawl space to control the circulation, hot and cold air can build up.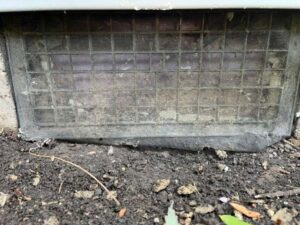 This leads to waste of energy and utility bill spikes. If uncontrolled air is allowed to circulate inside your crawl space, it will eventually make its way up into the rest of your home. This will cause your air conditioning and heating systems to overload in an attempt to regulate the influx of crawl space air. Some reports estimate that around 50% of the air inside your first floor is from your crawl space. If the air inside your crawl space is filled with mold, you could notice health issues start to worsen or allergies become unbearable.
Are Crawl Space Vents Required?
The International Residential Code requires ventilation openings for every 150 square feet of under-floor space. But these are not required if the crawl space floor is covered by a Class 1 vapor retarder material (polyethylene sheet). Polyethylene sheeting (vapor barrier) prevents the flow of moisture from the dirt floor, reducing, if not eliminating, the need for ventilation. Other codes require the edges of the vapor retarder to be lapped up against the inner foundation walls and any overlapping sheets lapped at least 6 inches, sealed with seam tape.
Another code allows homeowners to exclude and seal vents if they connect their HVAC system to their crawl space if it can handle the amount of air inside the area. If your crawl space vents are closed and sealed, chances are professionals will leave another opening to access the area. This way, homeowners can perform regular maintenance and inspection inside the crawl space, confirming everything is working correctly. This access opening should have a door to prevent outside air from entering the crawl space.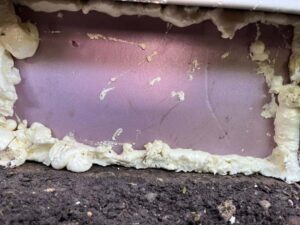 Crawl Space Vent Cover Ideas
If professionals determine that your crawl space vents are causing issues, they'll likely suggest closing them using plastic or aluminum covers. These covers are sealed using silicone or tar, preventing any air from entering or escaping. Since these covers are less expensive than filling in the vent with concrete blocks or brick, you don't have to worry about spending too much money to keep your crawl space dry.
When Do You Need Crawl Space Covers?
Here are some signs that you need to close your crawl space vents.
Odors – When moisture builds up inside your crawl space, you'll start to notice a musty odor.
Condensation – An increase in moisture will leave water molecules on your dirt floor and crawl space walls.
Mold – Organic materials, wood, and water are a bad combination that leads to mold.
Pests – Open crawl space vents are front doors to raccoons, mice, rats, stray cats, and more.
Efflorescence – When water seeps through your concrete crawl space walls, it can leave behind a white, powdery substance called efflorescence.
Rust – If the plumbing, wiring, and ductwork under your home are exposed to moisture, you'll start to notice rust formations.
Wood rot – If moisture seeps into the wooden beams and joists inside your crawl space, you'll notice rot eating away at the structure.
What Comes After Crawl Space Vent Covers?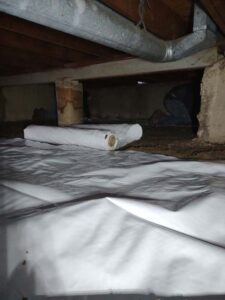 As we mentioned earlier, building codes require certain conditions be met before you close or build without any crawl space vents. These conditions will eliminate the need for vents and control moisture levels inside your crawl space.
Vapor retarder – Also called a moisture barrier or vapor barrier, these polyethylene sheets are laid over your crawl space floor and walls. This 10 to 20-mil thick impermeable barrier will prevent moisture from seeping through the dirt floor and porous concrete walls inside your crawl space. Once moisture is kept out of the crawl space, you eliminate condensation, humidity, and musty air. Many reports show that an encapsulated crawl space creates a healthier and more energy-efficient home.
Drain tile system – A drain tile system is a series of perforated pipes laid in a trench along the base of your crawl space wall. Any groundwater that tries to seep through the dirt floor will be collected by the drain tile system, effectively preventing moisture from rising into your crawl space. The same applies to moisture seeping through the porous concrete walls. As moisture seeps through, it will be blocked by the vapor barrier and drip down the sheeting into the drain tile system below.
Sump pump – The water collected by the drain tile system is carried to a sump pit in your crawl space floor. Once the water reaches a certain level inside the pit, a float valve will activate the sump pump and eject the collected water away from your home using discharge lines.
Dehumidifier – Once your crawl space is encapsulated with a vapor barrier and all vents are sealed, experts can install a dehumidifier to regulate the air inside the space. Most encapsulated crawl spaces don't require a dehumidifier, but if you want the additional moisture regulation, it can be added to the most optimum position.
Who Offers Crawl Space Vent Covers?
If you need crawl space vent covers or any other foundation waterproofing service in Chicagoland, call The Real Seal. Since 2011, we've successfully waterproofed thousands of crawl spaces across Chicago and its suburbs. Call today for your free crawl space inspection and estimate. We also provide foundation repair, concrete leveling, and more.