If you want to know if your crawl space moisture barrier is working properly, this is the article for you. If you've read one of our previous articles on why you need a crawl space moisture barrier, chances are you already know the benefits of having one. Now, we're going to talk about a few things you should look for that lets you know your moisture barrier is working. 
Signs Your Crawl Space Moisture Barrier Is Working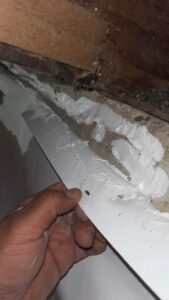 Once professionals have installed your crawl space moisture barrier, you should see immediate improvements in your home. 
Lowered humidity – Once the moisture barrier is installed, you should see humidity levels drop in your crawl space. The ideal crawl space humidity level should be under 65%. Anything higher can lead to mold, rot, and condensation. If you install a dehumidifier inside your crawl space, it should detect humidity levels. Otherwise, you can buy a handheld or wall-mounted hygrometer.
Consistent temperature – Moisture barriers typically keep your crawl space slightly warmer. This change can be hard to detect with human touch, but a consistent crawl space temperature will prevent extremely hot or cold air from entering the rest of your home.
Less condensation – You will notice less condensation around your pipes, walls, and floor. With less moisture in the air, water has a harder time sticking to surfaces. Condensation usually forms when the relative humidity levels in your crawl space reach 100%. This is the point where the air can't hold moisture any longer. A moisture barrier will prevent condensation from turning into mold, rot, and fungus.
No stains or efflorescence – A moisture barrier will prevent water from soaking or staining your floor joists, support posts, and other wood objects. It will also prevent efflorescence from forming on your concrete. Stains on your moisture barrier clearly indicate that water is getting through the barrier or dripping from above.
Tape is intact – The tape at the seams of the polyethylene sheeting that forms your moisture barrier should be intact and not peeling. If it's peeling, it's a sign that water or moisture is getting through the barrier. A trained crawl space waterproofing expert will know how to overlap the sheets and use the right amount of seam tape to prevent seepage.
No mold – If your crawl space moisture barrier was correctly installed, you should never have any mold issues. There is a chance for mold to grow underneath your moisture barrier, but only if organic material was left behind before it was installed.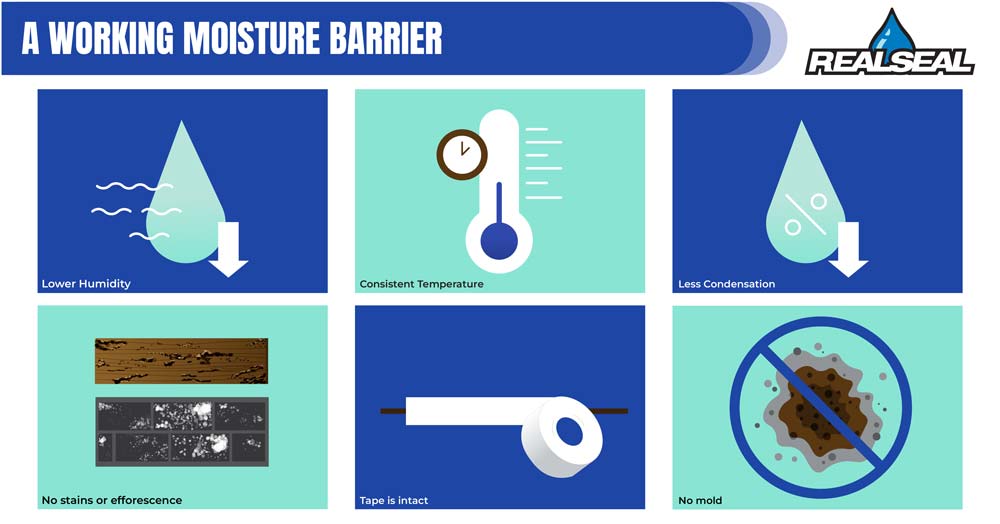 Things To Avoid When You Install A Moisture Barrier 
Here are a few things you should avoid when you install a moisture barrier in your crawl space. 
Don't leave open vents – Once you've installed a moisture barrier inside your crawl space, any open vents will actually cancel out their ability to seal out moisture. These vents were initially designed to keep an open flow of air below your home in order to ventilate the space. However, open vents invite moisture into your crawl space, and most local building codes are changing these requirements.
Don't count a dehumidifier alone – A dehumidifier will not work properly if your crawl space is not sealed with a moisture barrier. Open vents and exposed flooring will cause the dehumidifier to work overtime, battling outside moisture and air.
Seal the floors and walls – While a majority of moisture will enter your crawl space through the floors, your walls are also a significant source of seepage. Because concrete is porous, it's common for moisture to seep into your crawl space using your walls. Wrapping your crawl space walls and floors will help keep moisture levels down, preventing bigger issues like mold.
Don't just insulate – Some homeowners think fiberglass insulation will prevent moisture from building up in your crawl space or prevent the air from rising into the rest of your home. Fiberglass is porous and will absorb moisture, leading to mold, rot, and wet insulation.
Don't let wood supports touch dirt – If you notice your wooden support posts that hold up your crawl space are touching the dirt, call a foundation repair company as soon as possible. These posts can soak up moisture from the ground, grow mold, and rot away. This will lead to serious structural issues for your foundation, which can include sagging floors.
"Waterproofing" paint – Avoid any products labeled "waterproofing paint" or "concrete sealer." These coatings might be inexpensive and easy to apply, but they are not an effective or lasting waterproofing solution. Many professionals have seen mold grow on walls coated with waterproofing paint, disproving their mold-proof claims. Overall, these paints do not penetrate your concrete deep enough to prevent water seepage and will actually keep moisture trapped inside the concrete, leading to honeycombing and efflorescence.
Who Can Help With A Crawl Space Moisture Barrier?
If you need a crawl space moisture barrier in Chicagoland, call The Real Seal. Since 2011, we've successfully waterproofed and encapsulated thousands of crawl spaces, basements, and other foundations. Our team of experts will inspect your crawl space for free and identify the source of moisture. We also provide foundation repair, concrete leveling, and more.