Are you wondering why there's mold in your crawl space? If so, you've landed on the right page, because that's what we're going to talk about in this article. We'll go over the common causes of mold in a crawl space, signs you might have a problem with crawl space mold, why you don't want a crawl space full of mold, how to prevent it, and more. So without further ado, let's get into all things related to crawl spaces and mold!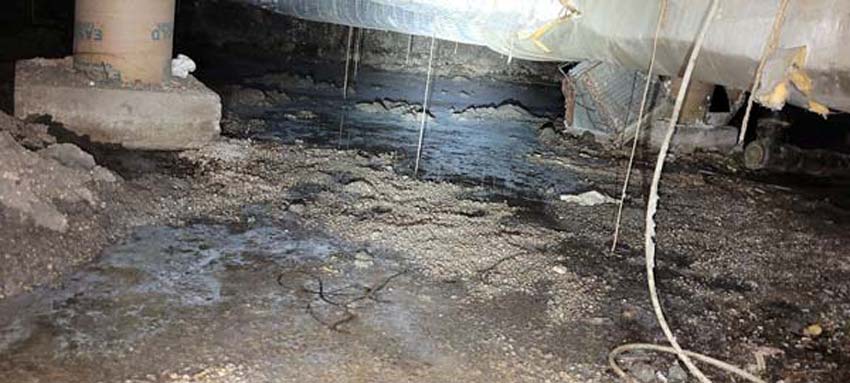 Why Does Mold Grow In A Crawl Space? 
Mold grows in crawl spaces when there's excess moisture in the area. So, the question is, how does that excess moisture enter the crawl space? Crawl spaces become damp for various reasons. The most common are the following:
From the crawl space's dirt floor – Unless you live in an arid region, there's always a certain amount of moisture in the soil, and the dirt floor allows it to enter the crawl space.
From a plumbing leak – The smell and discoloration in the water will be a dead giveaway.
From a high groundwater table – A high groundwater table means the crawl space's dirt floor will contain a high amount of moisture.
Poor drainage – Poor drainage around the foundation can cause hydrostatic pressure to build up and push moisture through tiny cracks in the foundation wall and into the crawl space.
Open vents – Open vents allow warm, humid air to flow into the crawl space and then condense on cooler surfaces.
Once the moisture is trapped inside the crawl space, it creates conditions that enable mold to thrive. Mold not only causes an unpleasant odor but can also trigger various health problems, especially for individuals with allergies or respiratory issues, because a certain percentage of air from the crawl space enters your home's living area via the stack effect.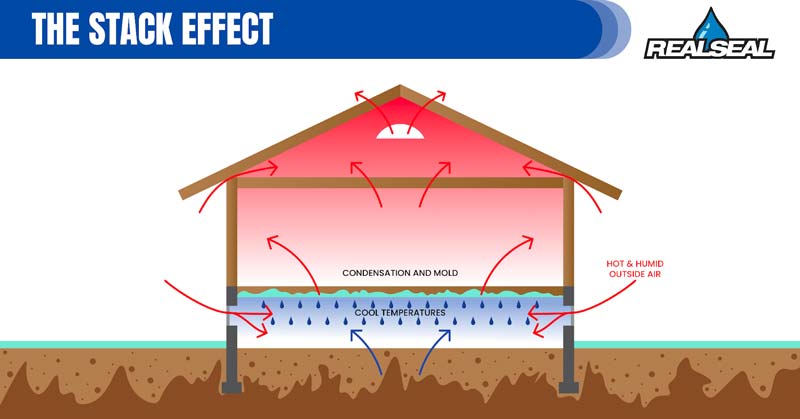 Signs There's Mold In Your Crawl Space 
You might have mold in your crawl space if you see any of the following:
Your home's living area smells musty.
There's mold on your baseboards or hardwood floor above the crawl space.
The floor above the crawl space is warped.
The home's residents are experiencing allergies or respiratory problems.
The humidity level inside your house has increased.
Condensation
Of course, if you see visible mold in the crawl space, pooled water, soggy soil, or wood rot on the crawl space's wooden structures, you've got a problem that needs to be addressed by a professional right away. Mold in a crawl space must be removed as soon as possible to protect your health and your home's structural integrity.
Is It Mold Or Efflorescence? 
Efflorescence is a white, powdery substance that forms on the surface of masonry or concrete when water evaporates, leaving behind salt deposits. Some homeowners mistake it for white mold. While it's not mold, the presence of efflorescence in a crawl space can indicate the presence of moisture, which you don't want.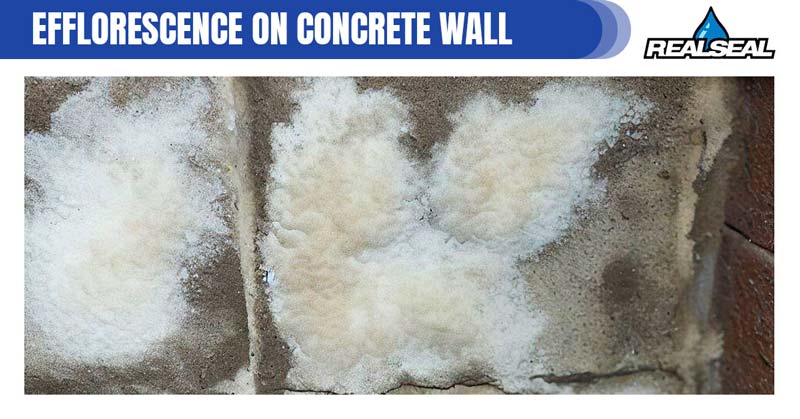 All Types Of Mold Are A Problem  
Don't get hung up on trying to figure out what type of mold you have in your home's crawl space. All types of mold are a potential health risk, especially to those with respiratory issues or weakened immune systems. It's important to address mold in a crawl space as soon as possible, as it can spread quickly and easily. As soon as you spot mold in your crawl space, contact a professional to safely remove it. We do not recommend entering the crawl space and trying to remove the mold yourself. Crawling around under your home can be dangerous.
How To Prevent Mold From Growing In Your Home's Crawl Space 
A leading cause of mold in a crawl space is excess moisture in the soil around the foundation. Therefore, you can go a long way toward preventing mold in a crawl space by getting groundwater under control. Here are some ways to do that:
If necessary, regrade the yard around your home so that it slopes away from the foundation. This will prevent water from draining toward the foundation.
Install a drain tile system, either around the outside perimeter of your foundation or inside the crawl space itself. This is, without a doubt, the best way to prevent excess moisture from building up in the soil around the foundation. We'll talk more about drain tile systems below.
Clean your gutters regularly so that water doesn't spill over the side of your home and soak the ground around the foundation.
Install downspout extensions to channel runoff away from your foundation before releasing it.
Consider relocating any flowers or shrubs planted next to the foundation.
Encapsulate your crawl space. We'll talk more about this in the next section.
The Ultimate Crawl Space Mold Solution: Encapsulation Plus A Drain Tile System  
The best way to prevent mold in a crawl space is to install a drain tile system and then encapsulate the crawl space.
Drain tile system  
A Drain tile system is the ultimate foundation waterproofing solution because it doesn't merely create a barrier to keep water out. It prevents water from building up in the soil in the first place. If there's no excess moisture in the soil around your foundation, it can't get inside your crawl space. Makes sense, no? That's the beauty of a drain tile system.
There are two types of drain tile systems. The exterior type is installed around the outside perimeter of your home's foundation at the footing level. The inside type is installed around the inside perimeter of the crawl space, also at the footing level. Here's the general installation procedure for an exterior drain tile system:
The soil around the foundation is excavated down to the footing.
A shallow trench is dug around the foundation's perimeter and lined with gravel.
A perforated drainage pipe is placed into the trench and then covered with more gravel.
The excavated soil is replaced.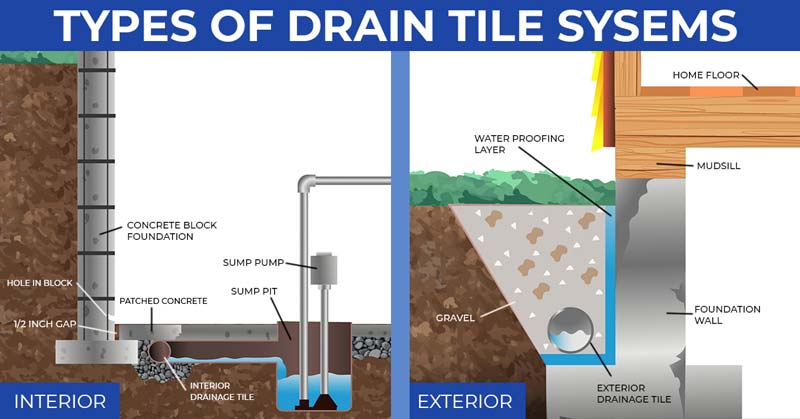 Now, any excess moisture in the soil will flow into the drainage pipe and toward a sump pit. Once the sump pit fills with water, a sump pump will kick in and expel the water away from the foundation.
The installation process for an interior drain tile system is similar. One difference is that the shallow trench containing the perforated drainage pipe is dug around the inside perimeter of the crawl space. Another difference is that the exterior one is solid perforated pipe, while the interior ones tend to be corrugated perforated pipe.
Learn more about – Interior VS Exterior Drain Tile Systems
Crawl space encapsulation 
Crawl space encapsulation is a process of using a thick vapor-retarding barrier to seal off the crawl space from the dirt floor. Crawl space encapsulation helps to protect against mold growth by creating a barrier between the crawl space and the dirt floor. This creates a dry area under the house that can even be used to store things like tools and holiday decorations.
The encapsulation process can vary based on the size of your crawl space and any existing problems, such as water damage or wood rot. However, it generally involves sealing the vents, installing a polyethylene liner along the walls and floors of your crawl space, and then taping the seams with waterproof tape. Insulation can also be added. A dehumidifier is often installed to ensure the humidity level in the crawl space remains low.
Installing a drain tile system (exterior or interior) along with crawl space encapsulation will ensure your home's crawl space stays clean, dry, and free from mold growth.
Removing Mold From A Crawl Space Is A Job For The Pros
If there's mold in your home's crawl space, we strongly advise you to contact a professional for removal. It's just too dangerous to DIY. A professional will be able to identify the type of mold correctly, the extent of the damage, and then proceed to get rid of it safely and effectively.
If you're in Chicagoland and struggling with mold in your crawl space, contact The Real Seal today to schedule a free crawl space evaluation and receive a repair estimate.