Wondering how sidewalk leveling works to repair an uneven sidewalk? If so, you've landed on the right page because that's what we're going to talk about in this article.
Over time, sidewalks can settle and become uneven for various reasons. Fortunately, there's an innovative solution that can make your sidewalk level again without having to replace it – polyurethane foam injection.
In this article, we'll explain why sidewalks become uneven, how polyurethane foam injection works, why polyjacking (another name for polyurethane foam injection) is an excellent choice for sidewalk leveling, the sidewalk leveling procedure, and more.
Why Sidewalks Become Uneven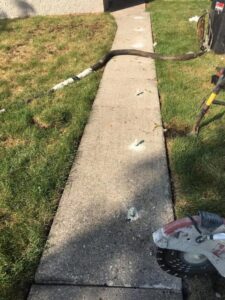 Over time, sidewalks may become uneven due to various factors, including the following:
Expansive soil – Expansive soil contains a lot of clay, and this causes it to expand when it absorbs moisture and then shrink when it dries out. This back and forth, swelling and shrinking, causes movement in the ground under the sidewalk and, over time, can cause it to become uneven.
Soil that's prone to erosion – Some types of soil are erosion-prone. This, along with poor drainage, can cause voids to form under the sidewalk. If the sidewalk sinks into the voids, it will become uneven.
The freeze-thaw cycle of colder climates – When the ground freezes, it swells and pushes up on the sidewalk. When it thaws, this is reversed and the sidewalk falls back down. Over time, this can cause unevenness.
Invasive tree roots – We've all seen examples of tree roots pushing up on a sidewalk and causing it to become uneven.
Soil not compacted before the slab was poured – Soil needs to be tamped down before a sidewalk is poured. If this isn't done correctly, the sidewalk could settle into the soil after it's poured and become uneven.
Why You Don't Want An Uneven Sidewalk  
An uneven sidewalk may seem like a minor inconvenience, but it can lead to an unpleasant lawsuit if someone trips and gets injured. Also, an unlevel sidewalk can be difficult for elderly or disabled individuals to navigate and even pose a hazard for young children. In addition to safety concerns, uneven sidewalks can also decrease the value of your property because let's face it, they're an eyesore. In short, there are plenty of reasons why you don't want an uneven sidewalk in front of your home or business.
Before And After Sidewalk Leveling  
The Sidewalk Leveling Procedure 
The steps to leveling a sidewalk using polyurethane foam injection are as follows:
Small, dime-sized holes are drilled into the affected area of the sidewalk.
Next, the polyurethane foam is injected through the holes and under the sidewalk.
As the foam expands, it fills the voids and lifts the sidewalk back to level.
The holes are patched with a compound that closely matches the color of the concrete.
Fifteen minutes after the repair is complete, the sidewalk is ready for use again.
Sidewalk leveling using polyurethane foam injection is much faster, more efficient, and less expensive than digging up the uneven slab and pouring new concrete. The polyurethane foam used in the leveling process is environmentally friendly and can last for years, making it a sustainable solution.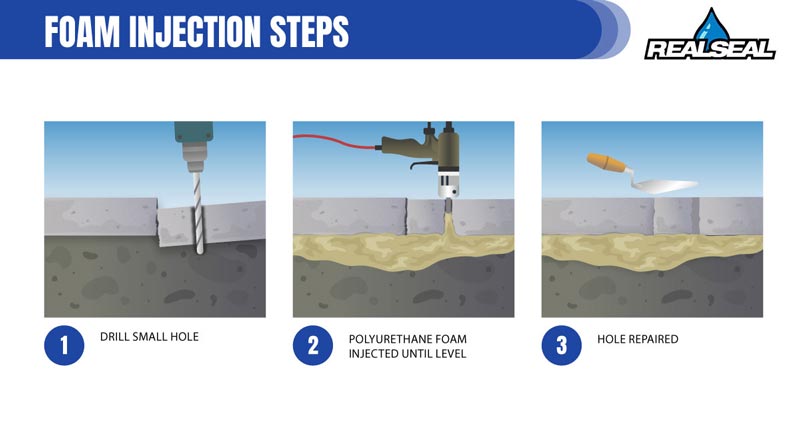 How Much Does It Cost To Level A Sidewalk? 
When it comes to leveling a sidewalk, the cost can vary depending on a variety of factors. One of the main things to consider is the size of the area that needs to be leveled. The larger the area, the more it will cost. Another factor to keep in mind is the severity of the issue. If there is only a slight dip in the sidewalk, the cost will likely be less than if there is significant unevenness. Additionally, the location and accessibility of the slab can also impact the cost of sidewalk leveling. Ultimately, it's best to get a quote from a professional to determine the cost of leveling your sidewalk.
Leveling A Sidewalk Vs. Replacement 
Sidewalk leveling involves injecting something under the uneven slab to lift and level it. Sidewalk replacement involves completely removing the old sidewalk and installing a new one.
Most of the time, an uneven sidewalk doesn't need to be torn up and replaced. The only time a sidewalk would need to be torn up and replaced would be when there's significant damage. A sidewalk that's simply uneven can almost always be fixed using sidewalk leveling.
Sidewalk leveling is also less expensive and time-consuming than digging up the uneven slab and pouring new concrete. Freshly poured concrete needs time to dry and harden before it can be used. Therefore, sidewalk replacement always involves a certain amount of downtime.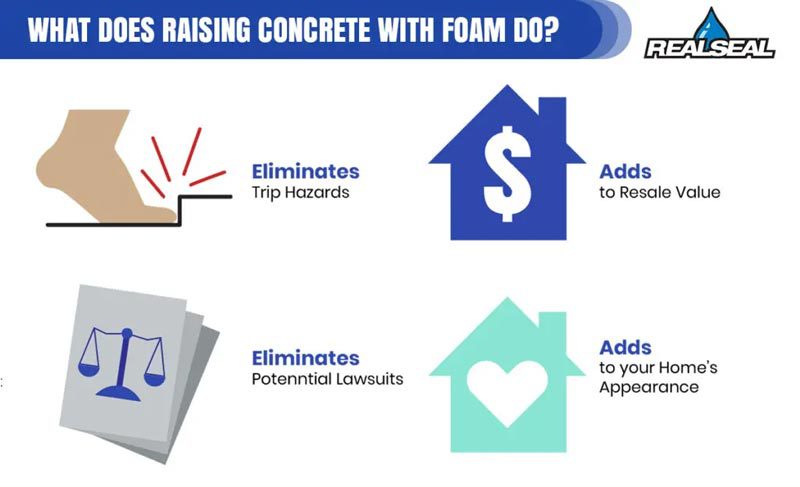 Polyjacking Vs. Mudjacking 
When it comes to leveling sinking concrete, there are two options: polyjacking and mudjacking. Mudjacking is the old-school way of leveling a concrete sidewalk. While it's still being used to level concrete slabs, today polyjacking is more popular.
Both polyjacking and mudjacking involve injecting something under the sidewalk to raise it back to its original position, but they differ in the type of material used. Mudjacking uses a mixture of water, soil, and cement, while polyjacking uses polyurethane foam. Polyjacking has gained popularity in recent years due to its faster drying time and ability to be injected into smaller holes. It's also very lightweight compared to the slurry used in mudjacking. For more information about polyjacking, see, Why Mudjacking Is Not Worth The Cost.
Sidewalk leveling is an excellent solution for homeowners who want to restore the look and function of their sidewalks without the hassle and expense of complete sidewalk replacement. Polyurethane foam injection (also known as polyjacking) is a quick, cost-effective way to level an uneven sidewalk. Most jobs take only a few hours, and then your sidewalk is ready for use again.
If you're here in Chicagoland and need sidewalk leveling, contact The Real Seal today to schedule a free sidewalk evaluation and receive a repair estimate.