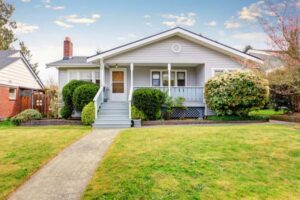 A phenomenon called the "stack effect" could be behind excessive moisture, musty odors, and visible fungal growth in your home. This happens when the stack effect is blowing toxic air full of mold spores into your home's living area.
Yuck!
In this article, we're going to talk about crawl spaces, mold, the stack effect and how it works, how crawl spaces get wet and moldy, the solution to toxic, mold-filled air, and more.
First Things First. What Is A Crawl Space?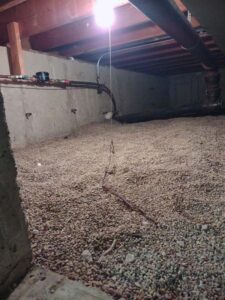 A crawl space is an area underneath a home, typically between 1.5-3 feet high. There's just enough room to crawl around. Hence, the term "crawl space ." Crawl space foundations have been popular for decades because they offer easy access to the home's plumbing, electrical, and HVAC systems.
Although crawl spaces can come in handy for storage (we'll talk more about this in just a bit), they can pose potential hazards if they aren't properly maintained. Moisture, pests, and wood rot are common crawl space problems that can lead to costly repairs if left unchecked.
What Is The Stack Effect?
The stack effect is a phenomenon that occurs in buildings when there's a difference in temperature between indoor and outdoor air. As warm air rises and escapes through any openings or cracks it can find, it creates a vacuum that draws in cold air from the lower levels and from outside.
The stack effect impacts a home's energy efficiency (hard to keep warm during the winter) and indoor air quality. The stack effect can contribute to mold buildup in your crawl space and, even worse – blow this toxic air into other areas of your home.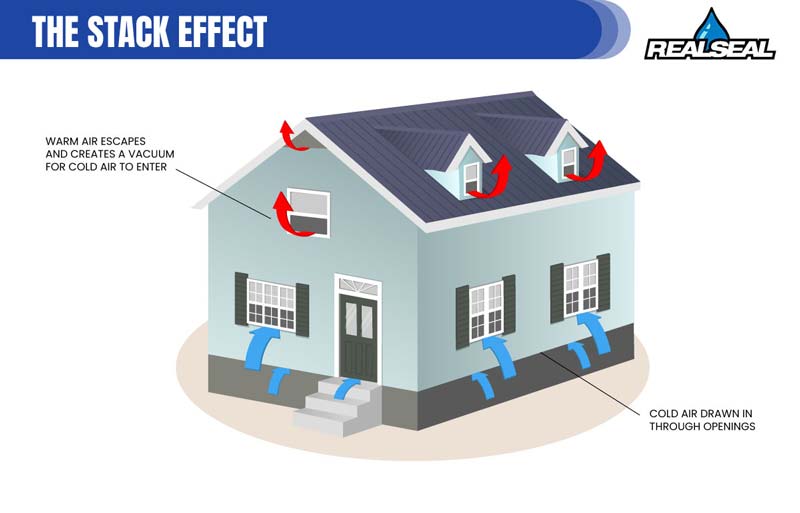 Is The Stack Effect Blowing Crawl Space Mold Into Your Home?
If you've noticed a musty smell in your home that you can't seem to get rid of, it could be the result of the stack effect. As we've just noted, the stack effect is a phenomenon where hot air rises and escapes through the highest points of your home while cooler air is drawn in through the lower levels. This can cause mold and other harmful pollutants to be sucked up from crawl spaces and into your living area. Not only can this affect the air quality in your home, but it can also lead to health issues for you and your family. Preventing mold growth in your crawl space is essential for protecting the structural integrity of your house and the health of anyone living there. You can prevent mold growth by ensuring your crawl space stays clean and dry.
How Crawl Spaces Get Wet And Moldy
When crawl spaces get wet and moldy, they can quickly become a major problem for homeowners. There are several ways that crawl spaces can become damp, including the following:
Poor drainage around the foundation – Poor drainage around your home's foundation can lead to excess moisture in the soil. When this happens, hydrostatic pressure builds up and pushes against the foundation wall. Hydrostatic pressure is strong enough to push water through barely visible cracks in a foundation wall and into the crawl space. Poor drainage can also cause the crawl space's dirt floor to become soggy.
Plumbing leaks – Leaking pipes can drip water into the crawl space, creating the perfect environment for mold formation.
Open vents – Open crawl space vents allow warm, humid air to enter and condense on cooler surfaces. Eventually, this will cause a moldy crawl space.
Once moisture gets into a crawl space, mold and mildew can quickly develop, leading to mold-filled air flowing into your home's living area via the stack effect and structural damage due to wood rot and wood-eating pests that appreciate a damp crawl space environment.
If you suspect your home's crawl space is wet, it's essential to address the issue immediately to protect your home from damage.
The Solution To A Damp, Moldy Crawl Space: Drain Tile And Crawl Space Encapsulation
As we've explained above, moisture in a crawl space can cause serious damage to a home and result in expensive repairs. It can also cause moldy air to flow into your home's living area. Fortunately, there's a solution: drain tile and crawl space encapsulation. Together, these two will ensure that your home's crawl space stays dry and clean.
What is a drain tile system?
Drain tile is a foundation waterproofing system that prevents excess moisture from building up in the ground around the home. When it comes to foundation waterproofing, drain tile systems are a gold standard. They come in two varieties, exterior and interior. An exterior drain tile system is installed around the outside perimeter of your home's foundation at the footing level. An interior drain tile system is installed around the inside perimeter of your crawl space. Both types of drain tile systems work by channeling excess soil moisture toward a sump pit. Once the pit is full of water, a sump pump turns on to expel the water away from the foundation.
What is crawl space encapsulation?
Crawl space encapsulation involves sealing the crawl space vents and covering the floor and walls of the crawl space with a thick, vapor-retarding barrier. Most homeowners also install a dehumidifier in the crawl space to ensure the humidity level stays low. An encapsulated crawl space can be used to store things like tools and holiday decorations.
A drain tile system, along with crawl space encapsulation, is an excellent way to keep your crawl space dry and clean and to protect your home's structural integrity.
Other Ways To Help Keep Your Home's Crawl Space Dry
Keeping your home's crawl space dry is essential to maintaining a healthy living environment. In addition to a drain tile system and encapsulation, there are other ways to prevent excess moisture from building up in the ground around the foundation. These include the following:
If necessary, regrade the yard around your home so that it slopes away from the foundation. This simple adjustment will prevent groundwater from draining toward the foundation.
Consider relocating any water-hungry flowers or shrubs planted next to the house. You don't want any reason to add water to the ground around the foundation.
Use downspout extensions to direct runoff at least 15 feet from your foundation before being released.
Clean your gutters regularly so they're not clogged with dead leaves and other debris. This could cause water to spill over the side of the house and soak the ground around the foundation.
If you're in Chicagoland and concerned about the condition of your home's crawl space, contact The Real Seal today to schedule a crawl space evaluation and receive a repair estimate for encapsulation and a drain tile system.