Looking for information about carbon fiber foundation repair? If so, don't hit that back button because you've landed on the right page. Carbon fiber is a strong, lightweight material used to reinforce bowed and cracked foundation walls. Carbon fiber straps are an increasingly popular option for repairing foundation walls because they're cost-effective and don't protrude like steel I-beams.
In this article, we'll explain carbon fiber foundation repair, how it works, and why it may be the best option for your home.
Why Do Basement Walls Bow?
Hydrostatic Pressure
The most common reason why basement walls bow is hydrostatic pressure. This occurs when water saturates the soil surrounding the foundation with no way to drain off. Eventually, pressure builds up and pushes against the foundation walls from outside, causing them to bend inward.
The build-up of hydrostatic pressure is caused by poor drainage around the foundation. The excess moisture in the soil could be caused by inadequate gutters, an improperly graded yard, a high water table in the area, short downspouts, a plumbing leak, or something else.
Expansive soil
Expansive soil has a lot of clay in it, and because of this, it expands when it soaks up moisture and shrinks as it dries out. As it expands, it pushes against the foundation wall. If the problem isn't corrected, this will eventually cause the wall to bow inward and crack.
Other Reasons
Other reasons why a foundation wall might bow inward and crack include vibrations caused by machinery, the construction of additional stories, and invasive tree roots.
What Is Carbon Fiber Foundation Repair, And How Does It Work?
Carbon fiber foundation repair is a relatively new and innovative method for repairing cracked and bowing foundation walls. It offers a long-lasting solution that does not require excavation or heavy machinery. The process involves installing carbon fiber straps on the wall, which are then secured with epoxy resin. The straps act as reinforcement to stabilize the wall. Carbon fiber foundation repair is popular because, unlike steel I-beams, the straps don't protrude from the wall and take up space.
Why Is Carbon Fiber A Good Choice For Repairing Cracked Or Bowed Foundation Walls?
Carbon fiber is quickly becoming the go-to choice for repairing cracked and bowing foundation walls because its properties make it an outstanding option for long-term stability. It adds strength without needing to be intrusive like steel I-beams, an older repair solution for bowing or cracked foundation walls. When carbon fiber straps are painted over, you won't even know they're there.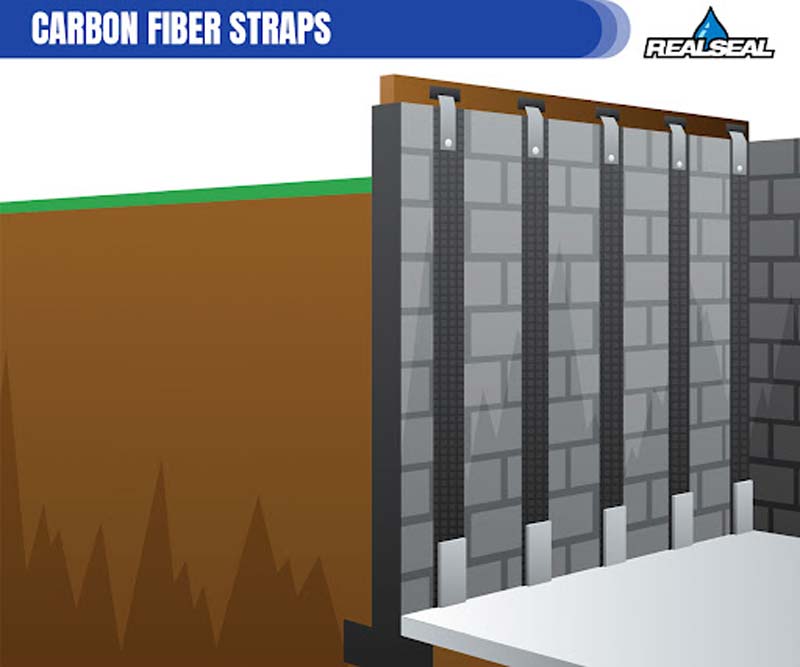 Benefits of Carbon Fiber Foundation Repair
Affordable – Carbon fiber foundation repair is less expensive than repairing the wall using steel I-beams.
Fast, easy installation – Most carbon fiber foundation repair jobs don't take more than a day.
No maintenance – Once the straps are in place, you don't need to give them any more attention. Just let them do their thing.
Strong enough to resist hydrostatic pressure – Carbon fiber is both lightweight and exceptionally strong. They build commercial aircraft and bulletproof vests using it. This makes it the perfect defense against hydrostatic pressure.
You won't know they're there – After you paint over them, the carbon fiber straps will be invisible.
How Are Carbon Fiber Straps Applied To Foundation Walls?
The carbon fiber straps are applied to the wall using epoxy and anchored to the wall at the top and bottom. This forms a strong and permanent bond that can resist any force pushing against the wall from outside and stop the wall from further inward movement.
It's important to note that carbon fiber foundation repair doesn't straighten an already bowed wall. However, it will prevent it from further inward movement.
How Much Does Carbon Fiber Foundation Repair Cost?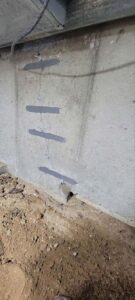 The cost of carbon fiber foundation repair will depend on various factors, including your geographical location and the complexity of the problem. Therefore, without an inspection, it's impossible to say. However, carbon fiber foundation repair to fix a bowing basement wall usually runs somewhere between $800-1000 per strap and is less expensive than repairing the wall using steel I-beams.
The only way to know for sure how much it will cost to fix your bowing wall using carbon fiber straps is to contact a professional foundation repair contractor and ask for an estimate.
Learn more: Do Carbon Fiber Straps Work?
Carbon Fiber Foundation Repair FAQ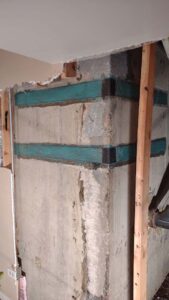 Are there any cases where carbon fiber foundation repair won't work?
If the wall has bowed more than 3 inches, another repair solution will be necessary.
Carbon fiber foundation repair is for poured concrete and concrete block foundation walls. If you have a stone foundation, you'll need to contact a contractor that does masonry repairs.
How long does it take to complete carbon fiber foundation repair?
Depending on the size of the wall, most carbon fiber jobs to fix a bowing and/or cracked foundation wall can be completed within a day.
Will the carbon fiber straps be visible?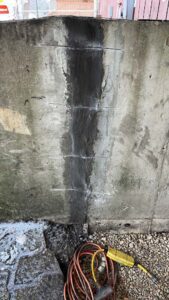 If you paint over the straps, they will be virtually invisible. You can, of course, install drywall over them if you're going to finish the basement.
Do I need to perform any maintenance after the repair is complete?
No, there's no maintenance necessary after the wall has been stabilized using carbon fiber straps.
If you think your foundation wall might need carbon fiber foundation repair and you're in Chicagoland or the surrounding area, contact The Real Seal today to schedule a free foundation evaluation and receive a repair estimate.