Wondering when to walk away from foundation issues? If so, don't hit that back button because you've landed on the right page.
As a potential homeowner, it can be hard to decide whether or not it's wise – and worth the cost – to purchase a home with a foundation issue. Yes, foundation issues are serious, but they can almost always be repaired. However, in some cases, you should walk away from the sale.
In this article, we'll talk about what a foundation is, types of foundation problems, their causes, signs a house might have a foundation problem, foundation repair options, when to walk away from foundation issues, and more.
What Is A Foundation?
A foundation is an essential component of any structure or building, serving as the base upon which the entire building rests. A well-built foundation plays a crucial role in ensuring the longevity and durability of any structure by providing a stable and strong base to support the weight of the building. A bad foundation can lead to all sorts of problems, including cracking, settling, and even collapse.
There are various types of residential foundations. The most common foundation types are slab, basement, and crawl space. Residential foundations are constructed using various materials, including poured concrete, concrete blocks, and brick. The type of soil and climate conditions in an area can affect the design and construction of a foundation.
What Are Foundation Issues? 
When we say a home has a foundation problem, we mean that the foundation under the house isn't structurally sound. Something has gone wrong, and the foundation can no longer adequately support the building sitting on top of it. Foundation issues can manifest in many ways, including wall cracks and uneven floors.
What Are The Main Causes Of Foundation Issues?
The leading cause of foundation issues is a phenomenon known as differential settlement. This is when a building's foundation settles into the soil unevenly. Differential settlement places a significant amount of stress on a foundation, eventually leading to serious foundation issues if it isn't fixed.
So, what causes differential settlement?
The most common causes of differential settlement include the following:
Expansive soil – Not all types of soil are ideal for construction. Expansive soil contains a lot of clay, and because of this, it swells when it soaks up moisture and then shrinks when it dries out. This creates movement under the foundation, which can eventually lead to differential settlement.
Erosion-prone soil – Some types of soil are prone to erosion. If poor drainage causes some of the soil under your home's foundation to wash away, voids could form. If the house sinks into those voids, there will be differential settlement.
Soil not adequately compacted – Soil must be tamped down before anything gets built on top of it. If this isn't done correctly, the structure will settle into the soil after it's built, usually un-uniformly, and this will cause differential settlement.
Poor drainage – Poor drainage around a foundation is a common cause of differential settlement because it causes expansive soil to expand, erosion-prone soil to wash away, etc.
Improper construction – Improper construction can cause foundation issues due to poor workmanship or the use of inferior materials. It happens.
Excavation next to the foundation – If your neighbor digs a big hole too close to your home, it could destabilize the foundation.
Earthquakes and other natural disasters – We probably don't need to explain how seismic events, floods, sinkholes, hurricanes, or other natural disasters can cause differential settlement.
Of course, differential settlement is not the only cause of foundation issues. Hydrostatic pressure is a common cause of problems in basement foundations.
Whatever the cause of the problem, a foundation issue will get worse over time. Therefore, it's essential to address the problem right away. It will save you money in the long run.
Common Signs A House Has A Foundation Problem 
The most common signs a house has a foundation problem include the following:
Wall, ceiling, or floor cracks
Doors or windows that stick or don't close properly
Uneven floors
Stair step cracks in brick or masonry
Diagonal cracks from the corners of doors and windows
Torn or wrinkled wallpaper (The wall behind the wallpaper might be cracked.)
Moldings that are no longer in contact with the wall or ceiling
Bowed walls
A chimney or porch that's pulling away from the house
If you notice any of these signs in your home, it may be time to call a professional to assess the situation and recommend a course of action. Remember, catching foundation problems early can save you time, money, and headaches in the long run.
How Are Foundation Problems Repaired?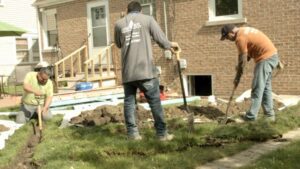 When it comes to foundation problems, the repair process can vary depending on the type of damage, the cause, and the chosen repair solution. Some common repair methods for fixing differential settlement include underpinning using push or helical piers, which are used to lift and support the foundation. The installation process is relatively quick and minimally invasive. However, the repair team will need to excavate around the affected area to access the foundation's footing.
If the problem is a bowed basement wall due to hydrostatic pressure, the drainage issue will be fixed, and then the wall can be repaired using carbon fiber reinforcement.
If you've noticed one or more signs of a potential foundation issue, a professional foundation repair contractor can assess the situation and recommend the best course of action.
Cost Of Repairing Foundation Issues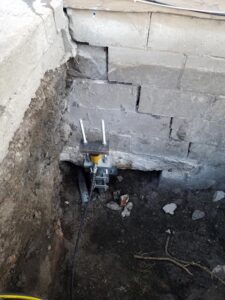 The cost of repairing foundation issues depends on the type of problem, the extent of the damage, the chosen repair solution, and your geographical location. Unless we inspect a home's foundation, we can't say how much the repair cost will run. However, the average foundation repair job is around $20,000.
Don't let the cost of repairing a foundation issue put you off. It's essential to address foundation issues promptly because they will worsen over time and become more expensive to fix. It isn't a bad idea to schedule a regular foundation inspection to detect potential problems early on and avoid costly repairs.
When To Walk Away From Foundation Issues 
You should walk away from foundation issues if the person selling the house refuses to lower the asking price to compensate for the necessary repairs. That means you'll need to have already had the home inspected by either a foundation repair contractor or a structural engineer. Never sign on the dotted line without first asking a professional to inspect the house's foundation.
Please don't consider living in a house with an unrepaired foundation problem. It will only get worse, and then you'll be looking at a more expensive repair. If the seller refuses to lower the price to compensate for the foundation repair cost, don't buy the house.
Contact Us Today 
If you've fallen in love with a house that has a foundation problem, don't despair. Foundations can be repaired. While some foundation repair companies don't go out for evaluations unless you're the homeowner, others will do an inspection, but for a fee.
If you're a homeowner, The Real Seal will perform a free foundation evaluation to help assess the scope and severity of any potential damage from a foundation issue. We'll also provide you with a detailed report about any repairs needed.
If you live in Chicagoland, contact us today to schedule a free foundation evaluation.