Looking for information about polyjacking vs. mudjacking? If so, you probably have an uneven sidewalk, driveway, patio, or some other type of uneven concrete slab. While polyjacking and mudjacking are common solutions to concrete settlement issues – uneven surfaces caused by ground movement or poor compaction from the soil beneath concrete slabs – it can be difficult to decide which is best. This blog post will provide an overview of concrete leveling, why concrete slabs become uneven, polyjacking vs. mudjacking, which is better, and more.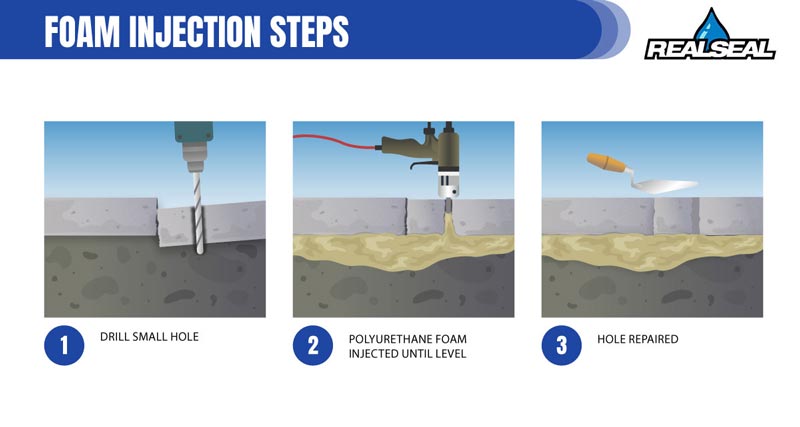 What Is Concrete Leveling?
Concrete leveling is the process of raising and leveling sunken or uneven concrete surfaces. It involves injecting something underneath the affected area, which lifts and levels the concrete slab. This is a quicker and more cost-effective alternative to completely replacing the slab.
Concrete leveling is a commonly used repair solution for uneven driveways, sidewalks, patios, and pool decks. Not only is it a practical fix for safety concerns and curb appeal, but it also extends the life of the concrete by preventing further damage from water pooling and erosion. Trusting a professional to level your concrete instead of tearing up the old slab and pouring a new one can save you both time and money.
Why Do Concrete Slabs Such As Sidewalks And Driveways Become Uneven?
Concrete slabs become uneven for various reasons, including the following:
Soil erosion – Soil erosion can cause voids to form under the slab. If the slab settles into the voids, it will become uneven.
Expansive soil – Soil that contains a lot of clay will swell as it soaks up moisture and then shrink as it dries out. This creates movement in the ground under the slab and, over time, can cause the slab to become uneven.
The freeze-thaw cycle – In areas that experience cold, harsh winters, the repeated expansion and contraction of the soil can cause the concrete to crack and eventually become uneven.
Invasive tree roots – We've all seen examples of this.
Seismic events – We probably don't need to explain how ground movement can cause a slab to become uneven.
Soil that wasn't adequately compacted – Soil needs to be correctly tamped down before the slab is poured. If this isn't done, there could be settlement later causing an uneven slab.
Whatever the cause of the uneven concrete slab, it's essential to address the issue as soon as possible, as uneven concrete is a trip hazard. You could face an unpleasant lawsuit if someone trips, falls, and gets hurt.
What Is Mudjacking?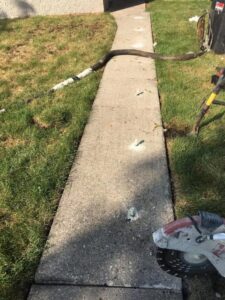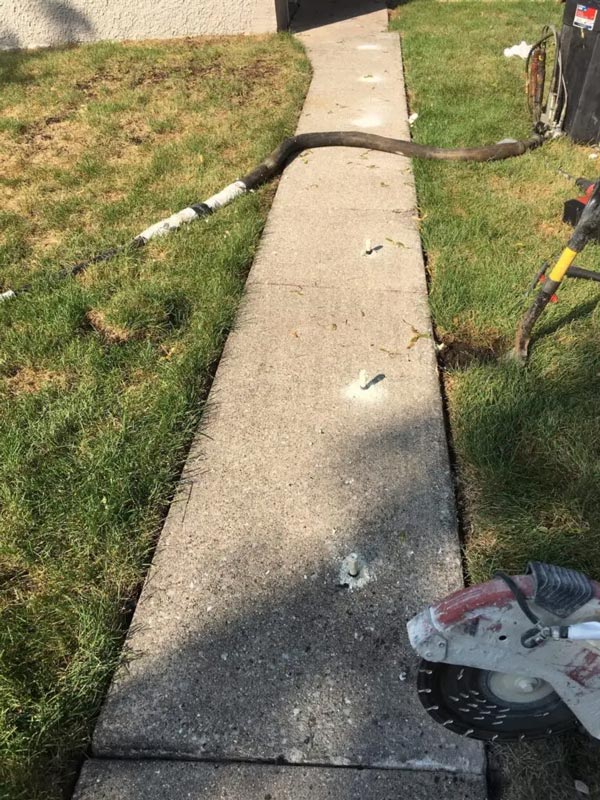 Mudjacking is an old-school concrete leveling method. While it's still being used, it's not as popular as it once was. The general procedure is as follows:
The first step involves drilling 2"diameter holes into the concrete. Unfortunately, these holes can sometimes crack the entire slab. Compare with polyjacking which only needs dime-sized holes.
A mud slurry is injected under the slab via the holes. The slurry fills any voids underneath the concrete, and this lifts and levels the slab.
Once the repair is complete, the holes are patched with a compound similar to the color of the concrete.
You'll need to wait up to 24 hours before you can use the slab.
Mudjacking is cost-effective compared to completely replacing the concrete. However, there is a certain amount of downtime before you can use the slab again.
Read more about – Why DIY Mudjacking Is A Bad Idea?
What Is Polyjacking?
Today, polyjacking is the most common method used to repair settled or uneven concrete surfaces. Like mudjacking, polyjacking offers a quick, efficient, and cost-effective alternative to digging up an uneven slab and pouring a new one. The procedure is similar to that of mudjacking:
Small dime-sized holes are drilled into the affected area of the slab.
Polyurethane foam is injected through the small holes, and it immediately begins to spread and expand, filling the voids underneath and raising the slab back to its original level.
Once the slab has been lifted and leveled, the holes are patched with a compound that closely matches the color of the concrete.
Fifteen minutes after the repair, the slab is ready for use again.
Polyjacking is a safe and sustainable alternative to tearing up an uneven slab and pouring new concrete. The results are immediate, allowing you to resume your normal activities soon after the work is done.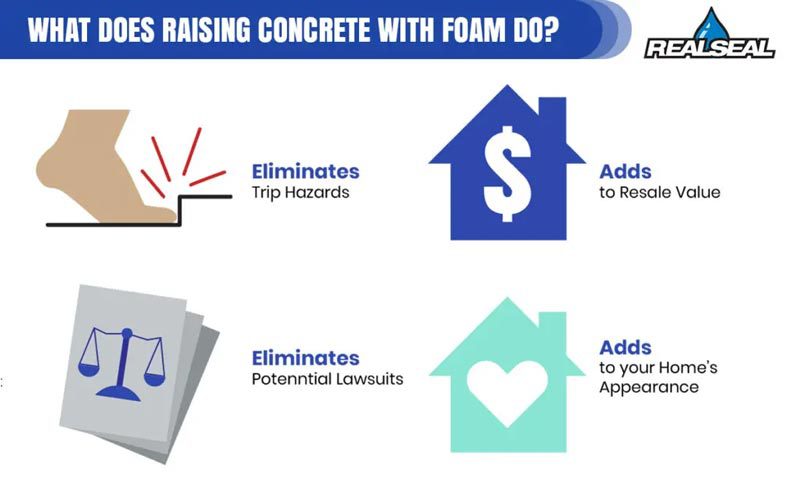 So, Polyjacking Vs. Mudjacking. Which One Is Better?
When it comes to fixing uneven concrete surfaces like sidewalks and driveways, there are two main options: polyjacking and mudjacking. Polyjacking uses high-density polyurethane foam to lift and level the concrete, while mudjacking involves injecting a mud slurry beneath the surface.
Polyjacking is the go-to concrete leveling option today for the following reasons:
It's fast – Most jobs take only a few hours, and then the slab is ready for use again. After mudjacking, you'll typically need to wait about 24 hours before you can start using the slab again.
Dime-sized holes – The dime-sized holes used for polyjacking are smaller than those used for mudjacking. That makes for a more visually appealing finish.
Polyjacking foam is hydrophobic – While it's possible for the slurry used in mudjacking to erode, polyjacking foam is hydrophobic and won't wash away.
The foam used in polyjacking is very strong and lightweight – It can support the slab without adding a lot of weight to soil that may already be having trouble supporting it. In contrast, the slurry used in mudjacking is very heavy and could cause the slab to sink deeper into the ground.
It compacts the soil under the slab – This helps stabilize the slab.
How Much Does Polyjacking Cost?
The cost of polyjacking depends on various factors, including the size of the area that needs leveling (because this determines how much foam is necessary), how much it has sunk, and ease of access. Your geographical location will also play a role. On average, our typical polyjacking job ranges from $1,500-$3,000. Larger jobs require more time and material and would cost more, but this is a good average.
It's important to note that the cost of polyjacking is significantly lower than replacing the slab, and it offers long-lasting results with minimal disruption to your property. Contact a reputable polyjacking contractor near you for a customized estimate.
Concrete Leveling Vs. Replacing The Concrete
When faced with an uneven sidewalk, driveway, patio, or some other type of slab, many homeowners wonder if it's better to level the concrete via polyjacking or replace it entirely. While concrete replacement may seem reasonable, it comes with a higher price tag and a certain amount of downtime. Most of the time, it's also unnecessary. Concrete leveling can usually fix an uneven slab in just a matter of hours and at a fraction of the cost. Of course, the decision ultimately depends on the severity of the damage. A badly damaged slab may need to be replaced.
If you have an uneven slab on your property, such as a driveway or sidewalk, and you're in Chicagoland, contact us today to schedule a free evaluation and receive a polyjacking estimate.