Looking for concrete leveling solutions? If so, you've landed on the right page because that's what we're going to talk about in this article.
Uneven sidewalks, driveways, patios, etc., are a common problem homeowners face. The causes of the problem include settlement, poor drainage, and invasive tree roots. Uneven concrete slabs look unsightly and pose a safety hazard if left unaddressed. Fortunately, concrete leveling solutions are available that can quickly level an uneven slab without pouring new concrete.
This blog post will discuss why concrete leveling is important, concrete leveling solutions, their cost, and more.
The Good News Is Most Uneven Concrete Slabs Can Be Re-Leveled
Uneven concrete sidewalks, driveways, pool decks, patios, etc., don't need to be torn up and replaced by pouring fresh concrete. There are cost-effective, minimally invasive concrete leveling solutions that can fix the problem in a matter of hours without making a big mess. This means you can restore your sidewalk or driveway in less time and at a fraction of the price compared to replacing the slab.
Why Concrete Slabs Like Sidewalks and Driveways Become Unlevel
Concrete slabs, including sidewalks, driveways, pool decks, and patios, become unlevel for various reasons, including the following:
Expansive soil – Expansive soil refers to soil with a high percentage of clay. This causes the soil to expand when wet and contract when dry. This creates movement in the ground under the slab, which can cause unevenness.
Erosion under the slab -Without a proper drainage system in place, soil erosion under the slab can cause voids to form. If the slab sinks into the voids, it will become uneven.
Invasive tree roots – We've all seen examples of tree roots pushing up on a concrete slab.
Soil that wasn't adequately compacted before the slab was poured – Before a slab gets poured, the soil needs to be tamped down. If this isn't done correctly, the slab will settle into the ground later and could become uneven.
Decayed organic material – If the slab is poured on top of organic material like leaves, voids could form later as the organic material decays. If the slab sinks into the voids, it will become unlevel.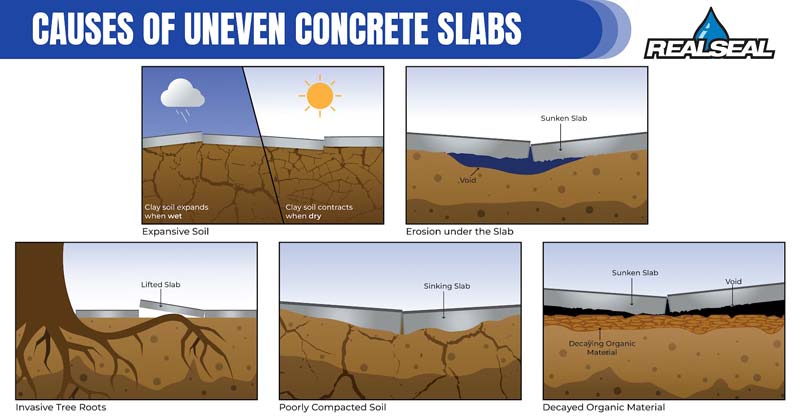 Different Concrete Leveling Solutions to Consider
The two most common concrete leveling solutions in use today are polyurethane foam injection and mudjacking. Mudjacking is an older technique for leveling an uneven concrete slab. Today, it's being pushed out in favor of polyurethane foam injection. While you still find contractors who use mudjacking to level an uneven slab, it's not as popular as it once was. Here at The Real Seal, we do concrete leveling using polyurethane foam injection.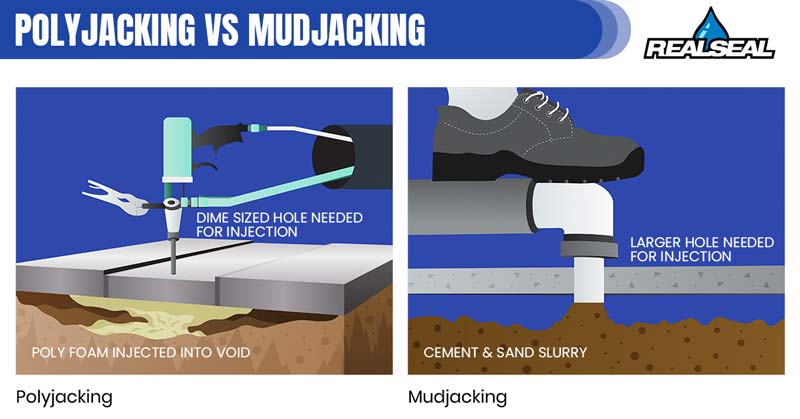 Polyurethane Foam Injection
Polyurethane foam injection (sometimes called polyjacking) involves injecting high-density polyurethane foam below the concrete's surface to fill any voids caused by shifting soil underneath the pavement.
The general procedure is as follows:
Dime-sized holes are drilled into the affected slab.
The polyurethane foam is injected under the slab through the holes.
The foam begins to expand immediately, fills the voids, and raises the slab.
Once the repair is complete, the holes are patched with a compound that matches the color of the concrete, and within 15 minutes, the slab is ready for use again.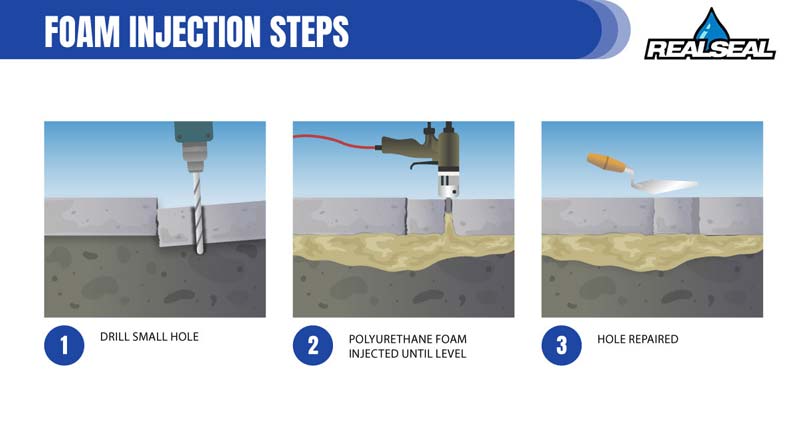 Mudjacking
Mudjacking, an older technique, involves pumping a slurry of sand, cement, water, and other materials under the unlevel slab to raise it. While the general procedure is similar to polyurethane foam injection, the cement slurry requires drilling larger holes into the affected slab.
Benefits of Concrete Leveling
Eliminates dangerous trip hazards that could lead to lawsuits
Improves the appearance of your sidewalk, driveway, patio, etc.
Less expensive than digging up the uneven slab and pouring new concrete
Most concrete leveling jobs can be completed within a few hours.
Long-term results
How Much Does Concrete Leveling Cost?
The cost of concrete leveling depends on various factors, including the size of the affected area, because this determines the amount of foam necessary. Your geographical location may also play a role in cost. For information about the cost of concrete leveling in the Chicago area, see How Much Does Concrete Leveling Cost?
How to Find a Reliable Contractor for Your Concrete Leveling Project
If you have an uneven concrete slab that needs leveling, it's essential to select an experienced contractor that you can trust. Asking for references from trusted friends and family is a great place to start if you're looking for contractors in your area.
You should also research potential companies online to ensure they have the expertise for this type of work and read relevant customer reviews about their services.
The Better Business Bureau is another excellent resource for verifying the reputation of any company you're considering hiring for the job.
Once your decision is made, make sure to get a written contract detailing all job specifications, timelines, and payment terms before they start working on your project. Following these steps will provide peace of mind that your project will be completed in a timely fashion with quality results.
If you live in the greater Chicago area and have an uneven sidewalk, driveway, patio, or some other type of concrete slab, contact The Real Seal today for a free evaluation and repair estimate.