If you want to know how hydrostatic pressure can affect your basement, this is the article for you. We've compiled answers to the most frequently asked questions about hydrostatic pressure in basements so that you have everything you need to know before you call a foundation waterproofing specialist. 
How Do I Relieve Hydrostatic Pressure In My Basement?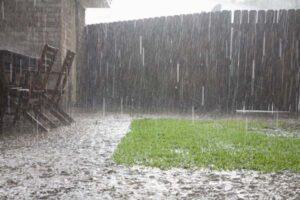 You can relieve hydrostatic pressure around your basement by channeling the built-up groundwater away from your home using a drain tile system, sump pump, and vapor barrier. Hydrostatic pressure isn't in your basement but around it. This pressure forms when groundwater builds up in the soil around your foundation and has nowhere to go, causing it to force itself against your basement walls.
A drain tile system will collect the excess groundwater outside your basement and channel it to a sump pump that ejects the water away from your home. By including a vapor barrier, you can also catch moisture seeping through your concrete walls and channel it into the drain tile.
How Much Hydrostatic Pressure Is In A Basement?
Water weighs around 60 pounds per cubic foot. If the soil around your basement is saturated with water, thousands of pounds of pressure could be sitting against your walls. Once this pressure builds to a point where your basement walls can no longer handle the weight of the soil and water, your foundation will bow or crack.
How Do I Stop Hydrostatic Water In My Basement Floor?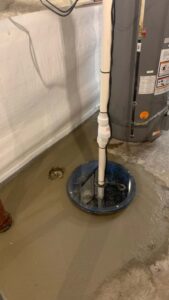 While there is no way to completely stop hydrostatic pressure from building up underneath or outside your basement, there are steps you can take to minimize it and catch anything that does gather around your floor and walls. A drain tile system placed at the base of your foundation walls will collect rising groundwater trying to seep through your cove joints (the space where your basement walls and floor meet).
Some homeowners believe if they fill the cove joint with caulking or a concrete sealer, they'll prevent water seepage. This isn't true. Any trained foundation waterproofing expert with years of experience will tell you that a drain tile system is the best solution for cove joint seepage.
Will A Sump Pump Relieve Hydrostatic Pressure?
Yes, a sump pump will relieve hydrostatic pressure by ejecting the collected water away from your home using discharge lines. Once water is collected inside the drain tile, it's channeled to a sump pit in your basement floor.
Inside the sump pit is the sump pump equipped with a float device. This device will detect how much water is inside the pit and activate the pump once it reaches a certain level. From here, the pump ejects the water through a discharge pipe away from your home, deposited into a lower part of your property, dry well, or bubbler pot.
Is Hydrostatic Pressure Covered By Home Insurance?
In most cases, damage caused by hydrostatic pressure is not covered by homeowners insurance. Most insurance companies classify hydrostatic pressure under the same category as floods and/or groundwater, so you'll have to purchase a separate policy in most cases.
What Happens If Hydrostatic Pressure Is Too High?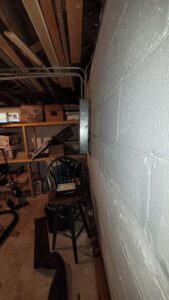 If the hydrostatic pressure outside your basement walls gets too high, it could lead to major structural damage to your foundation. The main issues are bowing walls and foundation cracks. If the center of your foundation wall is pushed inward, but the top and bottom are still in their original position, it's bowing.
You might also notice a long horizontal crack running along the center of the wall where it's pushed inward the most. This crack can seep water and lead to moisture issues like mold, humidity, and rot. If the bowing is left untreated, the wall is at risk of total collapse.
What Causes Hydrostatic Pressure In Basements?
Hydrostatic pressure is directly caused by excess groundwater building up in your soil. This can result from various sources. Here are just a few.
Poor grading – After it rains, water drains toward your foundation because your property is sloped in its direction. This can be corrected with some skilled landscaping or a French drain.
Poor gutter downspout placement – If your gutter downspouts are dumping water at the base of your home, it can build up inside your soil. Experts recommend extending your downspouts at least 20 feet away from your home.
Clogged gutters – If your gutters are clogged with leaves, branches, or debris, water can pour over the sides and drop directly onto your foundation.
What Are The Signs Of Hydrostatic Pressure?
Signs of hydrostatic pressure include,
Bowing walls with horizontal cracks and water seepage.
Water seepage where your basement floor meets the wall.
Water seepage where your ground floor meets your basement wall.
Water seepage near your basement windows.
Deteriorated sections of concrete seeping water (honeycombing).
Who Can Help You With Hydrostatic Pressure In Your Basement?
Call The Real Seal if you have issues with hydrostatic pressure in or around your basement. Our team of experts have successfully controlled and resolved hydrostatic pressure issues for thousands of homes across Chicagoland. Call today for your free inspection and estimate.