Searching for information about basement dampness? If so, don't hit that back button because you've landed on the right page. In this article, we'll go over what causes dampness in basements, signs you have a moisture problem in your basement, and how to combat it.
What Causes Dampness In A Basement? 
Three things cause damp basements:
Infiltration by rainwater or groundwater
Interior moisture sources such as unvented clothes dryers
Open windows that allow humid air to enter
Infiltration by rainwater or groundwater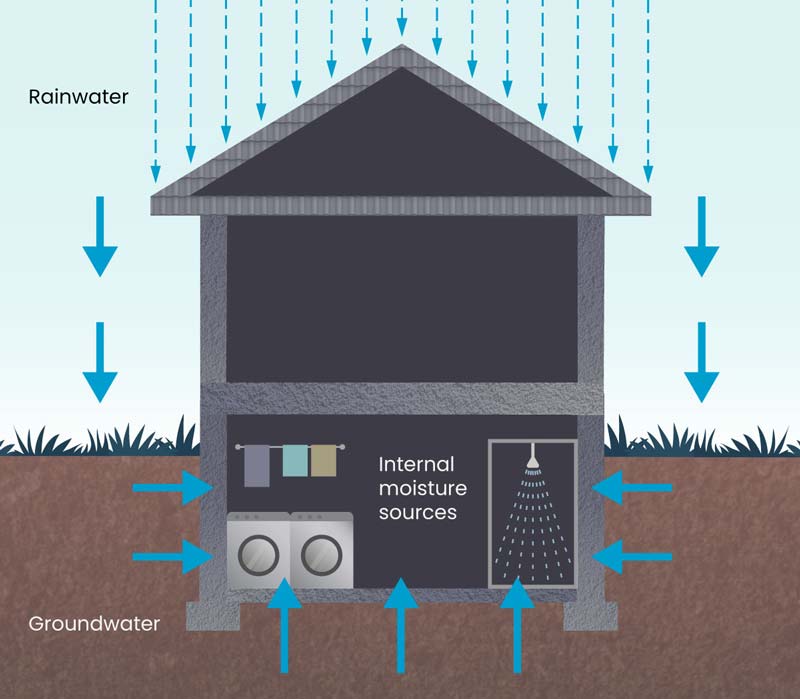 Rainwater often seeps through cracks in the foundation, walls, and floor, leading to dampness and, eventually, mold growth. Groundwater is also a major cause of moisture in basements, especially for homes built in areas with high water tables.
Infiltration by rainwater or groundwater is assisted by poor drainage that has caused hydrostatic pressure to build up in the ground around the foundation. Hydrostatic pressure is powerful enough to push water through invisible cracks in a foundation wall. The basement wall might even bow inward and crack if the pressure isn't relieved. For more information, see Everything You Need To Know About Hydrostatic Pressure In Your Basement.
Interior moisture sources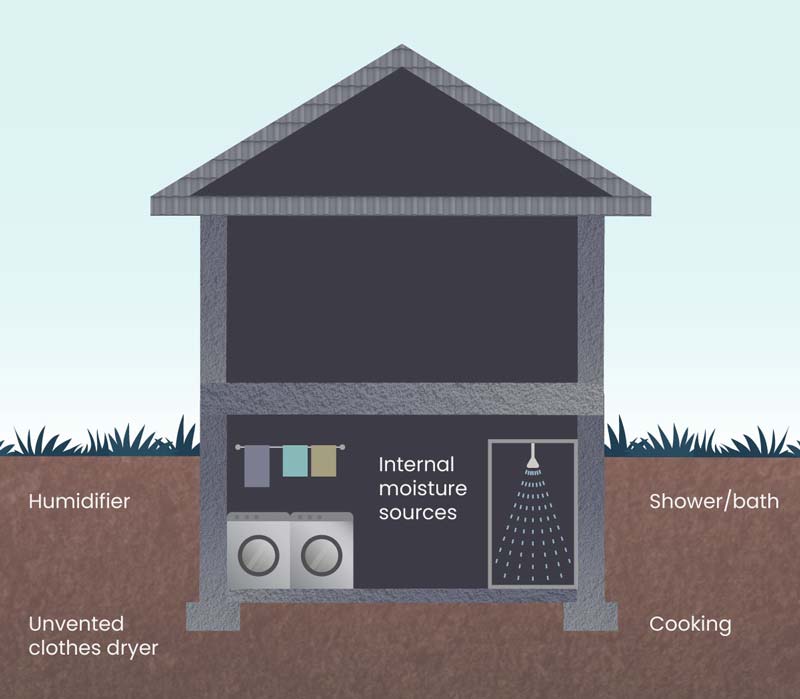 Interior sources of moisture, such as unvented clothes dryers, kitchens, bathrooms, and poorly vented crawl spaces, also contribute to dampness in basements. Clothes dryers release hot, moist air that condenses on walls, ceilings, and floors, leading to dampness and mold. Similarly, bathrooms and kitchens release steam and moisture, which can penetrate walls and floors, creating a humid environment that fosters mold growth.
Open windows that allow humid air to enter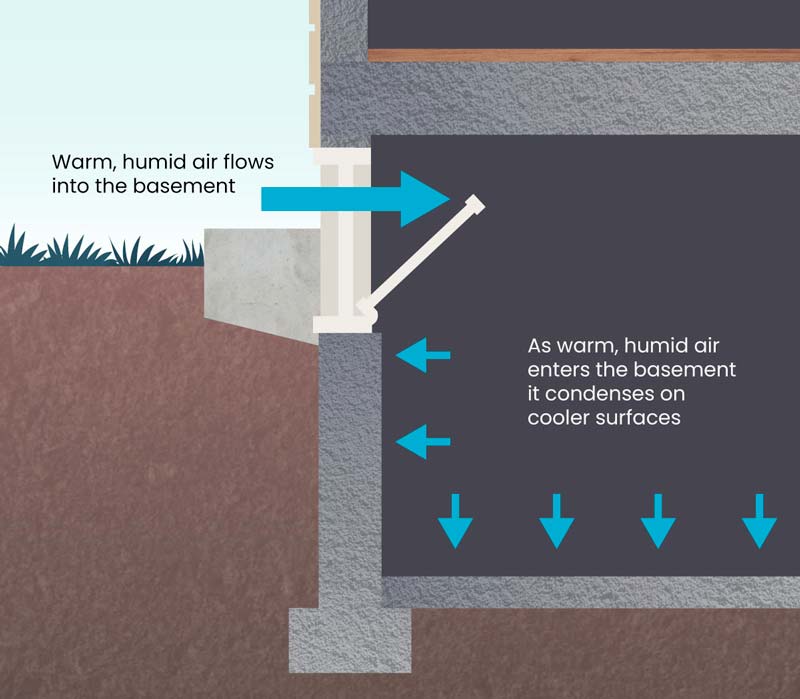 Leaving windows open in the basement can lead to humid air entering and causing dampness. Humid air can be heavy, and when it comes into contact with the cool surfaces of the basement, it can condense and saturate the area with dampness.
It's crucial to address the dampness issue in basements as it can pose serious health risks to homeowners. Mold growth, for instance, can cause respiratory problems, allergies, headaches, and other health issues. Additionally, dampness can affect the structural integrity of a home, leading to rot and decay in wood and other building materials.
Signs You Have A Moisture Problem In Your Basement
Signs you have a moisture problem in your basement include the following:
One of the most obvious signs of a moisture problem in your basement is standing water or visible dampness on walls or floors.
Another sign of a moisture problem in your basement is a musty odor. This can indicate the presence of mold or mildew, which can grow rapidly in damp environments. In addition to the unpleasant smell, mold and mildew can also cause health problems, especially for those with allergies or respiratory issues.
If your basement feels damp or humid, even with no visible water or mold, this could also indicate a moisture problem. High humidity levels can cause condensation on walls and ceilings, leading to water damage over time. It's essential to monitor the humidity levels in your basement and take steps to reduce them if necessary.
Peeling paint or wallpaper
Warped or buckled flooring
Visible mold growth
Efflorescence – Efflorescence often gets mistaken for mold. It's actually salt, and it means moisture has penetrated the foundation wall.
If you notice any of these issues in your basement, it's important to address them promptly to prevent further damage and protect your home and health.
How To Prevent A Damp Basement
The best way to prevent a damp basement is to make sure the ground around the foundation isn't saturated with water, and the best way to do that is to install a drain tile system.
What Is A Drain Tile System?
A drain tile system is designed to redirect water away from the foundation, preventing moisture from seeping into your basement. If you don't have one installed, you may experience significant moisture issues.
There are two types of drain tile systems: exterior and interior. The difference between these two systems lies in the installation method and the drainage system's location.
An exterior drain tile system is installed around the exterior perimeter of the foundation at the footing level. The system comprises perforated pipes that collect water from the surrounding soil and channel it away from the foundation via gravity or a sump pump. This system also incorporates a waterproof membrane, which is placed between the foundation and the soil to prevent water penetration.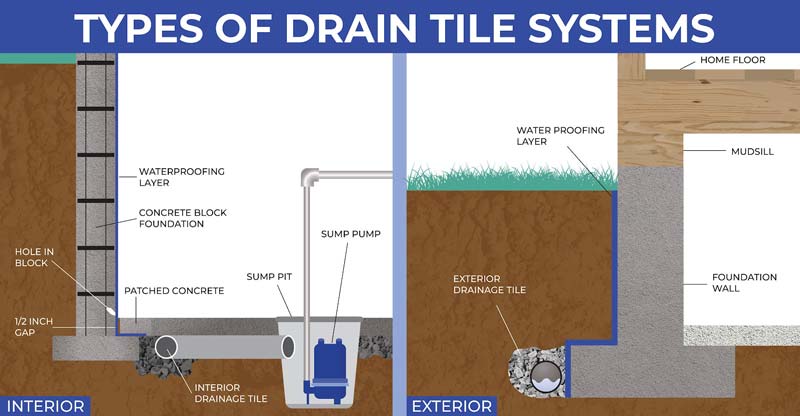 An interior drain tile system is installed on the inside perimeter of the basement or crawl space, just beneath the floor. The interior drain tile system includes a sump pump, which removes the collected water and pumps it away from the foundation.
Both exterior and interior drain tile systems will prevent water damage to your home, and choosing between the two methods depends on your home's specific requirements. Consult a professional waterproofing contractor to determine which option suits your property's needs.
For more information about drain tile systems, see A Beginner's Guide To Interior & Exterior Drain Tile Systems.
Other Things You Can Do To Help Prevent A Damp Basement
Regrade your yard
If necessary, regrade your yard so it slopes away from the foundation. If the ground around your foundation slopes toward your house, water can pool against your foundation walls, eventually seeping into your basement.
Fun fact: The average American home's roof produces roughly 900 gallons of water per inch of rain.
Install downspout extensions
Downspouts that are too short can cause water to accumulate near your foundation, creating a damp environment that promotes mold growth. Downspout extensions should expel water at least 15 feet from the foundation.
If your gutters are missing, this could also allow rainwater to soak into the ground next to the foundation.
Clean your gutters regularly
Gutters clogged with leaves and debris can overflow, causing water to cascade down your siding and pool at the base of your walls.
Check your window wells
Window wells that weren't built correctly or that don't have a drainage system can allow water to collect and seep into your basement through the windows.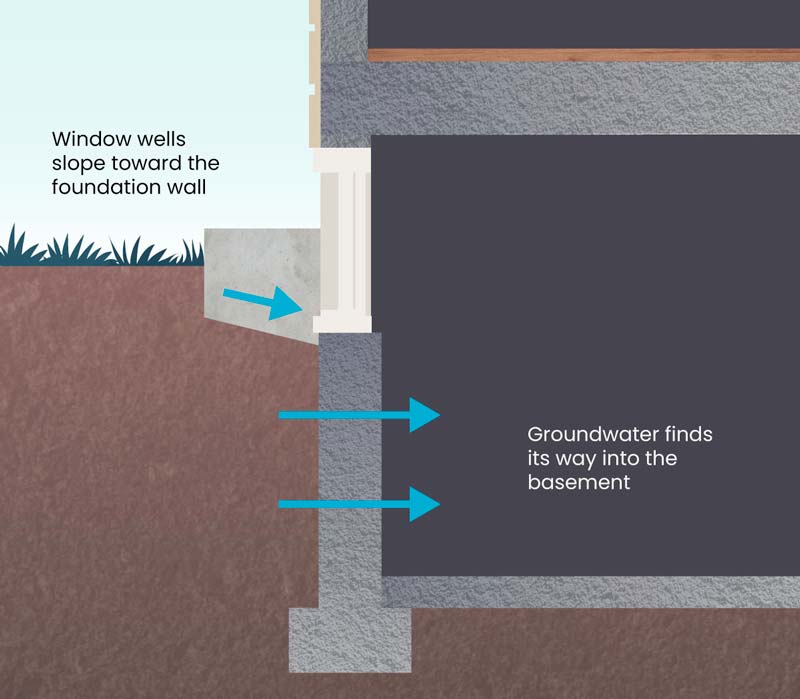 Ensure there are no cracks in your foundation wall
Cracks in your foundation walls can allow water to seep in, leading to moisture problems and even structural damage.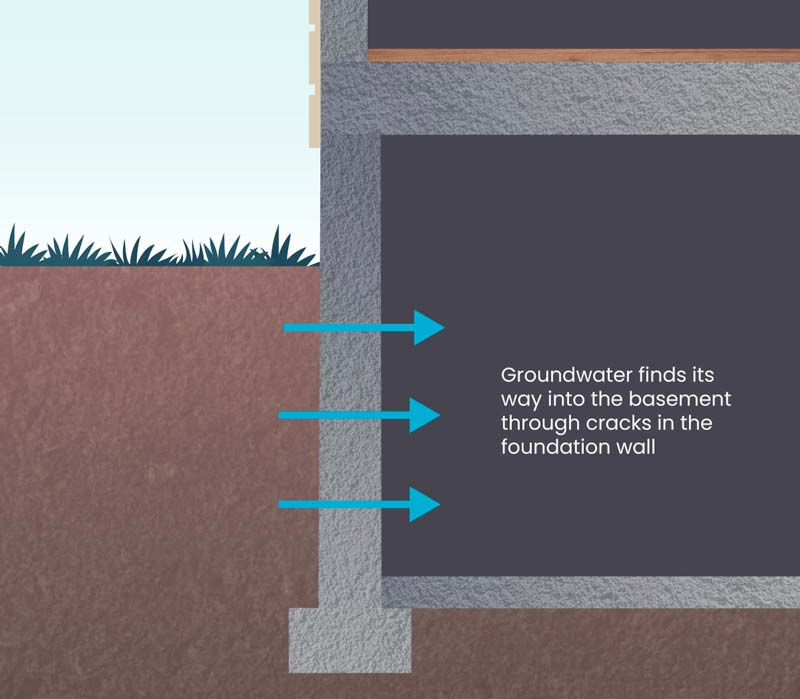 If you're concerned about a damp basement in your Chicagoland home, contact The Real Seal today to schedule an appointment.