Are you searching for "leaky basement repair solutions?" If so, look no further because we have the article for you. Learn about the most common places where leaks form in your basement and why outside elements are forcing water through your walls. All that and more will be taught to you in this brief article.
Leaky Basement Repair: Most Common Leak Spots
Here are a few common places where you might notice leaks.
Foundation cracks – Foundation cracks usually accompany bowing or shearing walls. Whether they are larger or smaller than 1/10th of an inch, these cracks can allow water to seep into your basement.
Cove joints – A cove joint is the space where your basement wall meets your basement floor. These gaps are usually in basements where the walls and floors were poured and built separately. This type of seepage can also appear as if water is seeping through your floor.
Pipe penetration – If you notice water leaking around the pipes sticking out of your basement walls, it might not be the pipe itself. There's a chance water is leaking through the gaps around the pipe. This usually happens because the hydraulic cement that plumbers placed around the pipes starts to break down.
Honeycombing – Honeycombing is when sections of your concrete begin to deteriorate and allow water to seep through the degrading material.
Over-the-top seepage – For the same reason water can leak through the gaps between the bottom of your walls, it can also leak over the top between your ground floor.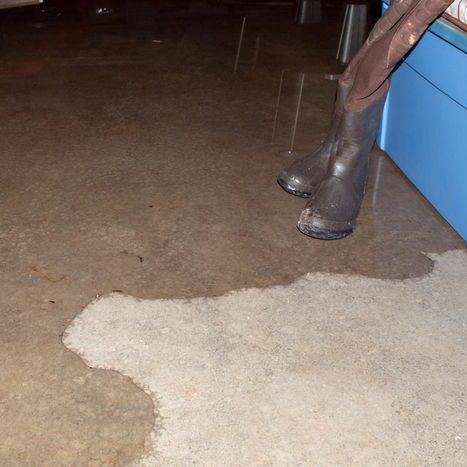 Signs You Have A Leaky Basement
Here are a few signs that your basement is leaking water.
Any signs of mold growth – Leaking water can increase humidity levels inside your basement. Once it reaches around 70%, mold can begin to grow, which can smell musty and affect your health.
Puddles – If you spot any puddles or damp spots in your basement, there's a chance water might be leaking through your walls or floors. There's also a chance that your basement might be "sweating." This is when water appears to be seeping through your basement walls or floors, but it's actually just condensation sticking to your concrete.
Water damage or wood rot – When water comes in contact with wood, furniture, or floor joists, it can cause them to deteriorate. Wood rot, also called wet rot, makes your wood feel soft or spongey, which can compromise the structural integrity of your home if it reaches your floor joists.
Buckling hardwood floors – If you notice your hardwood floors are starting to warp, buckle, or bend, it could be due to moisture rising from your basement and spreading into your home.
Musty odors – Once mold begins to grow inside your basement, air can travel up throughout the rest of your home and cause your whole house to smell. This is because you breathe the air from the floor below you. This can also occur if you have a crawl space instead of a basement.
High humidity levels – Your basement should be somewhere below 50% relative humidity. If you notice the rest of your home is getting more humid, chances are the hot air is coming from your basement.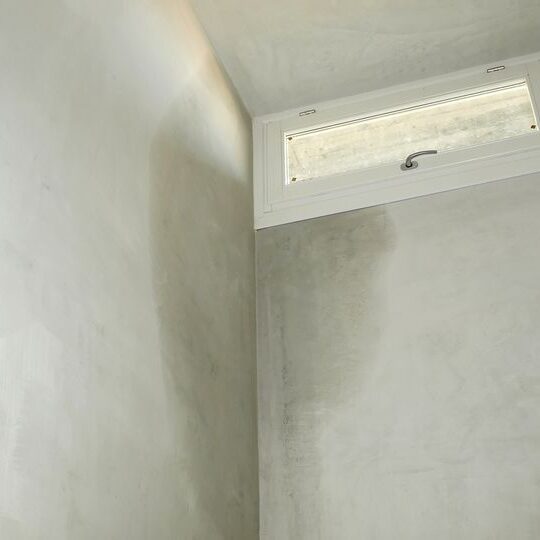 If your basement is leaking, there's a chance foundation problems are the root cause. Bowing walls can cause cracks to form, which can lead to leaks. Hydrostatic pressure can also lead to bowing walls, which is why it's beneficial to have a drain tile system.
Why Is Your Basement Leaking?
The main reason water leaks into your basement is because moisture is building up in the soil outside. This buildup is called hydrostatic pressure, and it's most common in areas with a low water table. Water weighs around 60 pounds per cubic foot, and when it saturates the soil outside your basement walls or under your basement floor, it'll try to make its way through any openings. There's no way to stop the water from building up, but there is a way to relieve the pressure, collect the water, and channel it away from your home.
The Best Leaky Basement Repair Solutions
Here's how experts seal your basement and prevent future leaks.
Sealing foundation cracks – If foundation cracks are allowing water to leak into your basement, experts can fill them in using a 2-part epoxy injection. Foundation repair professionals can also fix cracks from the outside of your foundation if you want to avoid removing any drywall or finishes. Read more: Is There A Crack In Your Basement Wall Leaking Water?
Covering your walls – Experts can wrap your walls with a thin polyethylene sheet that will catch moisture seeping into your basement and channel it to a drain tile system connected below.
Installing a drain tile system – As we mentioned above, there's no way to stop water from saturating your soil. There are ways you can minimize how much water gets into your soil, but there's no way to stop it completely. With a drain tile system, you can channel excess built-up groundwater and send it to a sump pit.
Installing a sump pump – A sump pump is a mechanical fixture that sits inside a sump pit (a water collection hole). Your drain tile will carry collected water and deposit it inside your sump pit until it reaches a certain level. When water reaches that point, your sump pump activates and ejects the collected water away from your home using discharge lines.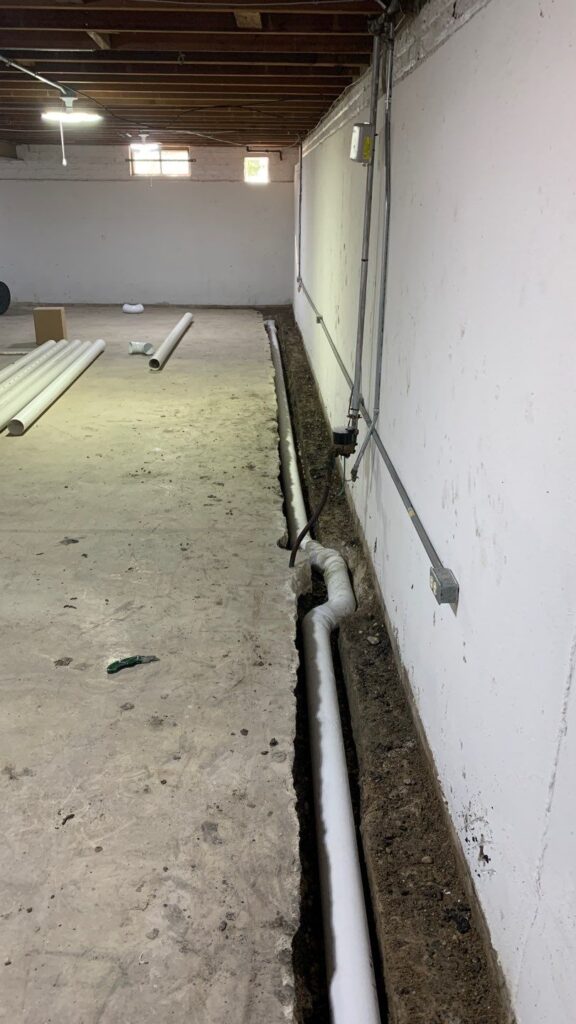 Who Offers Leaky Basement Repair Solutions Near You?
If you live in the Greater Chicago area and are noticing signs of a leaky basement, you need to act fast! Those leaks worsen if left untreated, turning into more expensive problems by the day. Call The Real Seal now!
We'll come out and inspect your basement, find out where the leaks are coming from, why water is building up near your foundation, and the best solutions to counter them. We also offer foundation repair, crawl space repair, crawl space waterproofing, concrete leveling, and more. Get in touch with us today for your free estimate.