Whether you live in a flood zone or a recent storm overwhelmed your area with rain, basement floods are common. Although, even if they're common, you should take them seriously for a few reasons. First of all, when you said you wanted an indoor swimming pool, a flooded basement wasn't what you meant. But in all seriousness, a basement flood can wreak havoc on your home. The more moisture your basement experiences – in this case, a lot – the more likely you are to experience subsequent mold and pest issues. Moreover, a flooded basement can lead to foundation and structural problems such as cracks and sinking floors. There's no question that a basement flood leads to several problems, but here you are with a flooded basement, so where do you begin? In the following guide, our experts break down the steps to take after a basement flood so you can take action and mitigate the risk. Read on to learn more.
Do not enter the basement, call an electrician and possibly the gas company first
There's nothing more surprising than finding standing water in your basement. Everyone's natural instinct is to rush into the water and stop the water source, but that's one of the worst and most dangerous things you could do. Before entering the basement, you should call an electrician and have them shut off the electricity to your home. It's not uncommon for standing water to reach an electrical source whether it's from wires, electronics, or electrical appliances, which could lead to you being shocked. Moreover, if the water is high enough, it's possible that the water extinguished pilot lights of appliances which would result in the gas pumping through your home. If the water in your basement is deep enough, you should ask the gas company to shut off the gas to your home until everything's under control.
Also read – Understanding Differential Settlement
Determine where the water came from
Once the electricity (and possibly the gas) is shut off, you can begin trying to find the water source. If the cause was a pipe burst, then you'll have to turn off the water in your home (or at least in that area). On the other hand, if your area recently experienced strong storms, it's likely that heavy rains were the cause. In fact, if you're still experiencing strong storms, it's in your best interest to wait until the storms pass before you begin cleaning up. You should wait simply because you can't control nature; if your basement flooded from the storms once, it might flood again if another storm is on the way. Another common culprit for a basement flood is a clogged floor drain. The floor drain itself could be the problem, or it could be what the floor drain connects to. In some homes, the floor drain connects to the home's sewage system, but it can also connect to the sump pit which could mean you have a faulty sump pump. Once you find the water source, you should do what you can to shut it off, if possible. In the event you can't locate where the water is coming from, you could call a plumber and they'll likely find the source.
Get rid of the water as fast as possible and begin drying
Finally, you can start cleaning up. There are a few different ways you could get the water out of your home. Obviously, you could hire a professional flood restoration company if you have a lot of water, but you should only do that in the most serious scenarios. If you have a small amount of standing water, you could use a mop, but of course, that's not very efficient, especially if you have a large basement. Instead, we'd suggest using a submersible utility pump and a wet/dry vacuum. Of course, the electricity should be off in the basement, so you'll have to safely run power from another floor or a generator. Moreover, to reduce the chances of mold and mildew building up, you should take any wet boxes, books, rugs, and other moisture-wicking items out of the basement. Once the majority of the water is out you can take a quick breather, but then you'll need to keep the basement dry. A dehumidifier and fans often do the trick, but note that it takes a few days for the basement to fully dry.
Start clean to prevent mold and mildew buildup
Again, depending on how much water was in the basement, you might have to take pieces of drywall out entirely. On the other hand, if there wasn't too much water, you merely need to clean and dry the walls and floors once the basement's dry. You can use warm water and bleach or specially formulated products for mold and mildew resistance. Regardless, you don't want to add more moisture, so you'll need to allow the area to dry before cleaning and repeating the process again.
By now you're probably sick and tired of owning a home with a basement, but there are some measures you can take to prevent a flood in the future. First, you should hire a professional basement waterproofing service so they can identify problems ranging from your foundation, piping, and window wells. Additionally, basic home maintenance such as keeping your gutters clean can reduce your chances of overflowing gutters and water building up near your home's foundation.
Anyone who owns a home with a basement must have the basement waterproofed by professionals. The waterproofing not only reduces (if not eradicates) your chances of flooding, it'll also keep your basement dry and help maintain a reliable foundation in addition to maintaining the structural integrity of your home. In other words, a waterproof basement will help you and your family stay healthier by preventing mold and mildew. Additionally, a dry and waterproof basement isn't attractive to pests; after all, your home is not their home. Now that you know the appropriate steps to take after a basement flood, you're either ready to prevent a future flood or you are well-equipped to handle a current flood with confidence.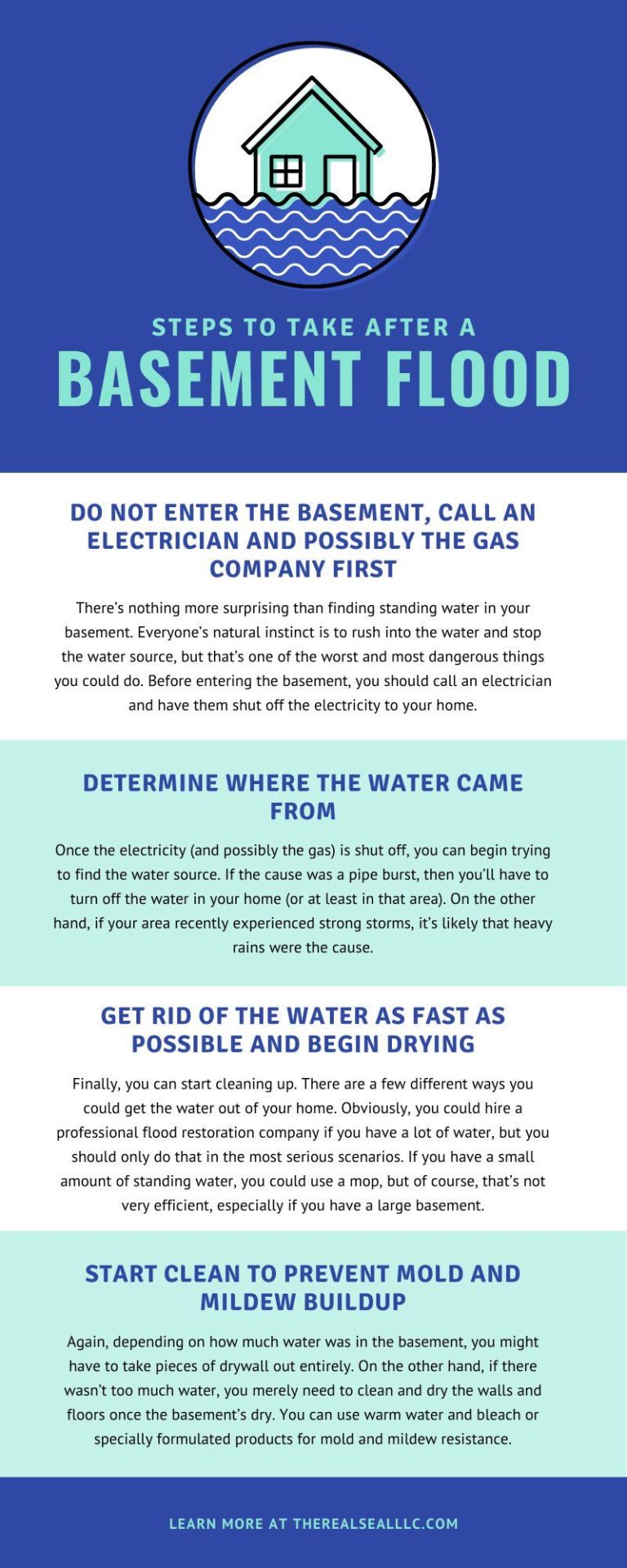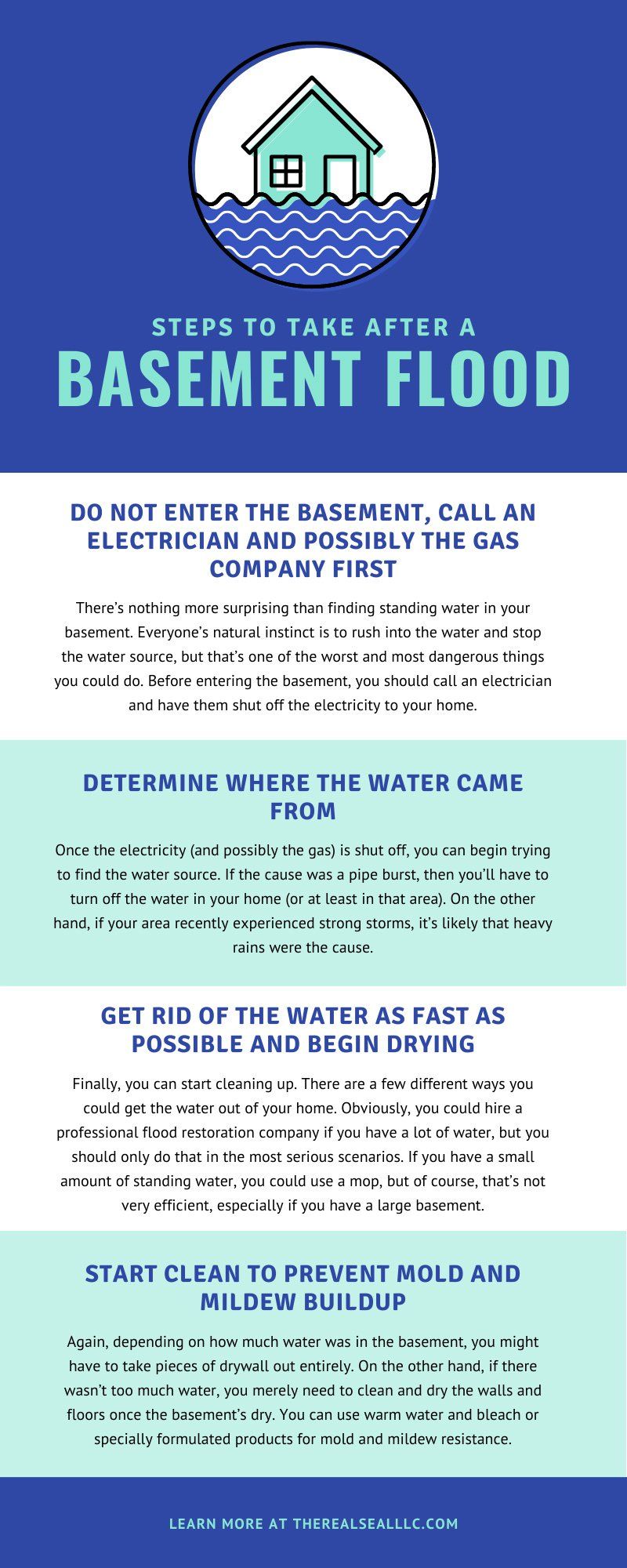 Read more about – How To Identify Water Damage in a Prospective Home?
If you're looking for a Chicago basement waterproofing service, look no further than The Real Seal. Our team of trained experts has extensive industry experience which equips them with the necessary knowledge to solve your problem. We take pride in the service we provide, so much that we will follow up with you after our service to ensure your problem was taken care of. We guarantee our crew will always be timely, professional, friendly, and knowledgeable. Your basement will be sealed and safer with The Real Seal, so contact us today to set up an appointment; we look forward to helping you.