Are you a homeowner thinking about using mudjacking to fix your uneven garage floor? If so, don't hit that back button because that's what we're going to talk about in this article. We'll walk through the basics of why garage floors become uneven, why polyjacking (also known as polyurethane foam injection) is better than mudjacking, how the polyjacking process works, and more.
Mudjacking is often touted as an easy solution to an uneven garage floor, but it isn't the best option. Keep reading to find out why mudjacking a garage floor isn't the best repair method, and discover an alternative approach that's the go-to option today.
Why Garage Floors Become Uneven
Over time, garage floors can become uneven, leaving homeowners wondering what caused this issue. Several factors can contribute to an uneven garage floor, including the following:
Inadequate soil preparation – Installing a garage floor incorrectly can eventually cause it to become uneven. The most common scenario involves backfilled dirt that wasn't adequately tamped down before the garage floor was poured. This will cause the slab to settle unevenly into the ground.
Settlement – Settlement occurs when the ground beneath the garage floor shifts. Various things can cause this, including expansive soil (soil that swells when it absorbs moisture and then shrinks when it dries out), erosion-prone soil (can leave behind voids), or invasive tree roots.
Regardless of the cause, it's best to address uneven garage floors as soon as possible to prevent further damage and costly repairs.
Why Polyjacking Is Better Than Mudjacking
Mudjacking is often touted as the solution to an uneven garage floor, but it isn't the best option. Today, polyjacking is the go-to method for leveling a garage floor.
While mudjacking was once commonly used to level uneven concrete slabs, today polyjacking is the go-to method for raising and leveling sunken concrete garage floors, sidewalks, and driveways.
The process involves injecting a specialized foam material beneath the sunken garage floor, which then expands and raises the concrete back to its original position. Leveling an uneven garage floor using polyjacking has significant advantages over mudjacking, including faster installation time, longer-lasting results, and improved aesthetic appearance.
Polyjacking is also more environmentally friendly, as it uses fewer materials and produces less waste. With all these benefits, it's no wonder that polyjacking is quickly becoming the preferred method for leveling concrete garage floors.
For more information, see Concrete Leveling Solutions For Uneven Sidewalks And More.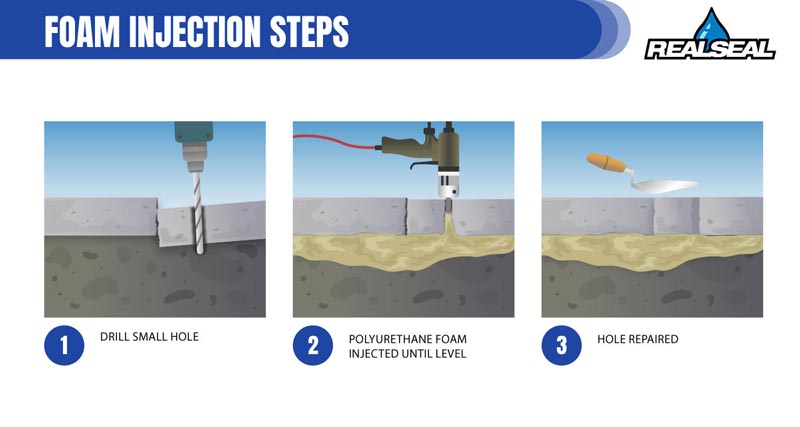 How Polyjacking Works
The procedure for using polyjacking to lift and level an uneven garage floor is generally as follows:
Dime-sized holes are drilled into the garage floor in the area to be leveled.
The polyurethane foam is injected under the garage floor via the holes. The foam rapidly expands, and as it does, it raises the floor.
Once the garage floor has been raised, the holes are patched with a compound that closely matches the color of the concrete.
Fifteen minutes after the repair is complete, the garage floor is ready for use again.
Polyjacking is better than mudjacking to level a garage floor (or driveway, sidewalk, or some other type of concrete slab) due to its quick curing time, versatility, and strength. Whether it's a residential property or a commercial building, polyjacking is a practical and efficient option for raising and leveling uneven concrete slabs.
How Much Does It Cost To Level A Garage Floor Using Foam?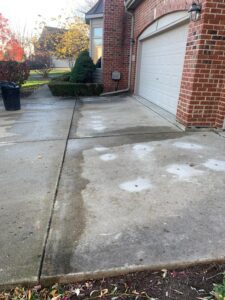 The cost to lift and level an uneven concrete garage floor using polyjacking depends on various factors, including the size of your garage, the size of the affected area (because this determines how much foam is necessary), and your geographical location. Some areas are more expensive than others.
Generally, leveling a concrete garage floor using polyjacking costs between $3-$10 per square foot. However, without personally inspecting your garage floor, we can't say for sure how much polyjacking will cost. Contact a contractor in your area with experience using polyurethane foam to lift and level uneven concrete slabs and ask for a repair estimate.
Is Leveling The Garage Floor Using Foam Better Than Replacing The Floor?
In most cases, an uneven garage floor doesn't need to be torn up and replaced. It can usually be fixed using polyjacking. Since replacing a garage floor is costly and time-consuming, the answer is yes. Most of the time, it's better to level the floor using polyjacking. The only time you'd need to replace the garage floor would be when there's severe damage.
Besides being less disruptive and less time-consuming, leveling a garage floor using foam eliminates the need for expensive demolition and disposal costs, making it a greener option compared to complete floor replacement. Polyjacking is an excellent choice, especially if you want a quick and convenient way to level your garage floor.
If you're a homeowner with an uneven garage floor, we don't recommend mudjacking as a repair solution. Polyjacking is cost-effective and will provide a more structurally sound outcome. So if you're in the market for a reliable, long-term fix for your uneven garage floor, we recommend polyjacking.
If you live in Chicagoland and have an uneven concrete garage floor, contact The Real Seal today to schedule an appointment and learn more about polyjacking.