If you've searched "drain tile system," chances are you're trying to find out what foundation waterproofing experts are talking about when they say your basement needs waterproofing. In this article, we're going to explain what a drain tile system is, two types of drain tile systems, and how they can save you money.
What Is A Drain Tile System?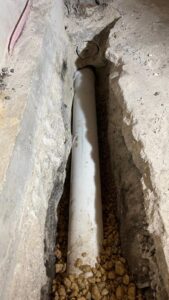 A drain tile system is a series of perforated pipes that collect excess groundwater building up under and around your foundation. Without a drain tile system, excess groundwater can push against your walls and seep through gaps in your foundation, such as cove joints (the space between your foundation wall and floor), poorly sealed window wells, and foundation cracks.
Drain tiles were first used in 1838 by John Johnston, a farmer in Seneca County, New York. Soon after, another farmed named Henry French wrote "Farm Drainage; the Principles, Processes, and Effects of Draining Land," which further popularized drain tiles. At this point, drain tiles became so popular they were also known as French drains. So, French drains are named after a person and not the country.
It wasn't until 1954 that builders and municipalities realized the potential for drain tile systems to be incorporated into house foundations. Homes built before 1954 and in areas where drain tile systems weren't required at first can be missing this vital and beneficial foundation waterproofing solution.
Types Of Drain Tile Systems
Foundation waterproofing experts can install drain tile systems inside or outside your foundation walls.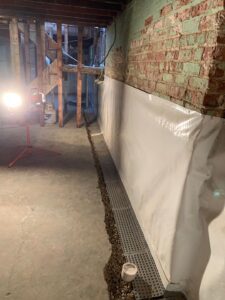 Interior – Interior drain tile systems are placed in the ground at the base of your basement or crawl space wall. This can involve chipping and removing concrete from your basement floor or digging into the crawl space ground. Then, perforated pipes are slipped through a sediment filter sock in order to prevent rocks, gravel, and dirt from entering the pipe. Once all the pipes are laid, gravel is poured into the trench and covered with a sheet drain to create a base for the new concrete. Once the trench is covered with concrete or gravel (for crawl spaces), experts call it good.
Exterior – Sometimes, homeowners don't want to remove any concrete or finishes inside their basement foundation. To accommodate this, professionals can lay the drain tile outside your foundation at the base of your footer. This process involves digging around your foundation, which may include removing any bushes or plants around your home. Whichever drain tile system you choose, both will collect excess groundwater building up under or around your home, decreasing the chances water enters your foundation.
Both drain tile systems are hooked up to a sump pump to remove the collected excess groundwater, ejecting it away from your home and preventing future issues.
Learn more about the differences between interior and exterior drain tile system.
How Can A Drain Tile System Save You Money?
Here's how a drain tile system can save you money.
Lowered utility bills – An increase in moisture in your basement or crawl space can lead to higher humidity levels in your entire home. This can force your air conditioning system to work harder to circulate the influx of unregulated air from your foundation. Once you install a drain tile system, vapor barrier, and sump pump, you lower the amount of moisture in your foundation and relieve your air conditioning system, lowering overall utility costs. Most experts estimate the money you save on utility bills makes up the cost of foundation waterproofing.
Water damage replacement – Once you've minimized the amount of water entering your foundation, you lower the chances moisture and mold damage structural or stored items. Wooden beams, joists, flooring, cardboard boxes, and furniture are all at risk of water damage and need to be kept in a dry environment. Otherwise, you'll have to spend money replacing any damaged structural items or stored goods.
Foundation repair costs – Built-up groundwater around your foundation can lead to differential settlement and hydrostatic pressure. Differential settlement can cause your foundation to sink or shift into the soil below it, leading to sloping floors, separating walls, and more. Hydrostatic pressure can push against your basement walls, causing them to bow, which can lead to foundation cracks, water seepage, and potential wall collapse. By installing a drain tile system, you can prevent paying for underpinning or bowing wall repair costs.
Who Can Install A Drain Tile System Near You?
If you need a drain tile system installed in your foundation, call The Real Seal. Since 2011, our team of experts have installed thousands of drain tile systems all across Chicagoland. We'll inspect your foundation, find out if excess groundwater is building up in the soil, and choose a drain tile system that saves you money. Call today for your free inspection and estimate.