If you want to know about basement leak repair, you're in the right place. Your basement should be dry and free of any water. If you're noticing a sudden increase in humidity, puddles of water, or leaking cracks, this is the article for you. In this short blog, we teach you about when you need basement leak repair, how to seal basement leaks, and how to prevent basement leaks.
When Do You Need Basement Leak Repair?
If you notice any of the following signs, you might need basement leak repair.
When you spot mold – Once water starts to leak inside your basement, it can cause humidity levels to increase. Mold needs at least 70% relative humidity to start growing and thriving. Look for any white, black, or brown spots growing on your walls or floors.
When you spot water damage, wood rot, or buckled hardwood floors – Water and wood do not mix very well. If you have wooden beams above your basement, or you have hardwood floors on your ground floor, leaking water can cause them to rot, buckle, or warp.
When you smell musty odors – If you smell musty odors in your basement or ground floor, it could indicate that water is leaking into your basement.
When your basement becomes humid – Leaking water can cause humidity levels to rise in your basement. That humid and hot air can then travel up to the rest of your home, increasing temperature levels everywhere.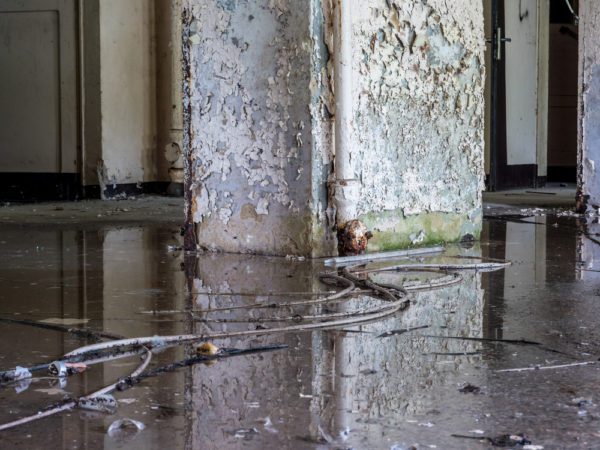 Where Do Basement Leaks Come From?
Below are the most common places water leaks into your basement.
Cove joints – Cove joints are the space between your basement walls and basement floors. When water builds up outside your basement walls, it will try to find its way through any gaps. In this case, water is using your cove joints.
Honeycombing – Honeycombing is when sections of your basement walls start to deteriorate and allow water to seep through the concrete. You might find concrete honeycombing on your walls, footings, columns, beams, and slabs.
Over-the-top seepage – It's very common for water to leak into your basement through the space between the top of your basement wall and your ground floor. This is called over-the-top seepage.
Pipe penetration – When plumbers install pipes in your basement, they drill holes slightly larger than the pipe itself, filling in the gaps with hydraulic cement. Once the hydraulic cement breaks down, water will fill the void and seep into your home.
Cracks – If hydrostatic pressure is pushing against your basement walls, it can cause them to bow, lean, or sheer (the top of your basement wall is moving inward while the bottom stays put). Once your wall starts to move, it can crack under pressure. No matter the size, water can use these cracks to enter your basement.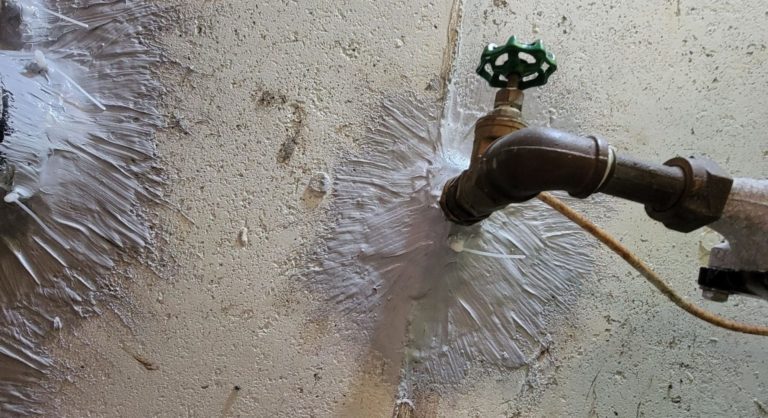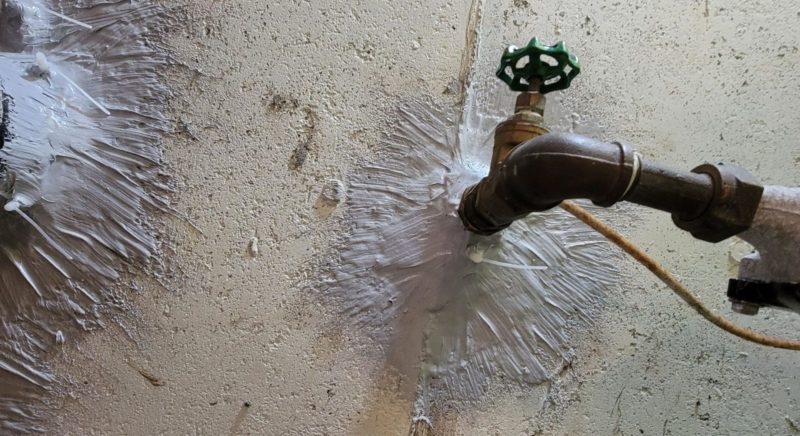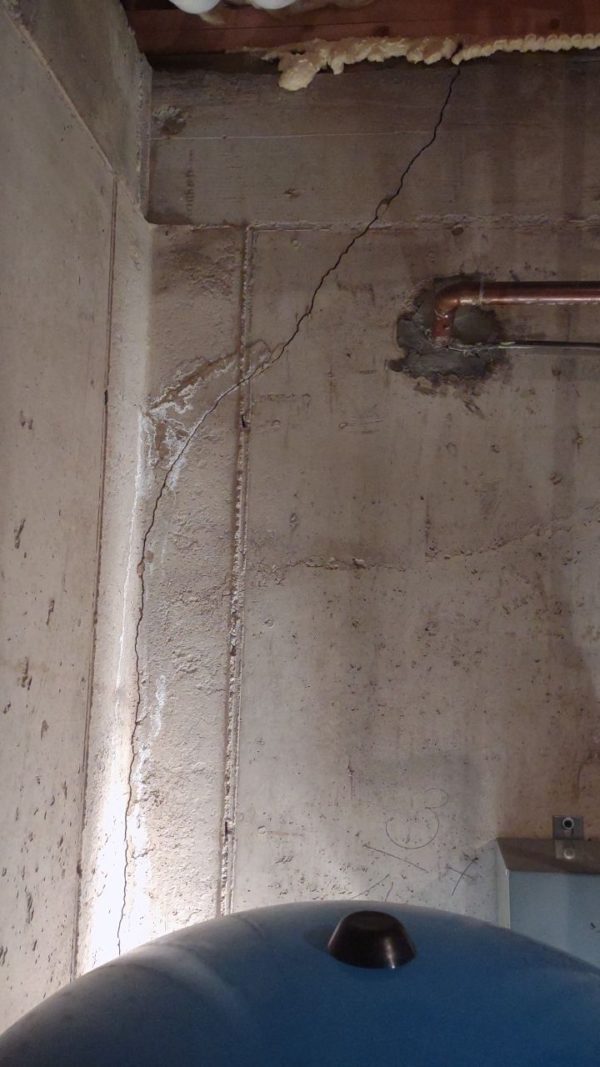 Before You Seal Any Basement Leaks
If your basement walls are cracking, and that's why water is leaking into your basement, the problem might be bigger than you think. If your wall cracks are accompanied by bowing, leaning, or sheering walls, experts recommend fixing those problems before you seal any leaks.
Read more: Everything You Need To Know About Basement Foundation Repair.
How To Seal Basement Leaks
The first step in stopping water from leaking into your basement is by sealing any cracks, joints, or spaces that are allowing leakage. The best way to seal any leaks is by using epoxy injection. First, a surface patch is created using an epoxy bonding solution. Then, the crack or any other area that's leaking water is injected with a 2-part epoxy. This injection waterproofs and reinforces your basement walls.
How To Prevent Basement Leaks
The main reason you have leaks in your basement is because there is excessive water building up in the outside soil. Here are a few ways you can prevent basement leaks.
Install a vapor barrier – A vapor barrier is a thin polyethylene sheet that is applied along your basement walls. This 10 to 20-millimeter thick sheet keeps moisture from seeping through your basement walls, channeling it into a drain tile system where it's carried away.
Install a drain tile system – There are two types of drain tile systems: interior and exterior. An interior drain tile system collects water that's building up in the soil under your basement floor. An exterior drain tile system collects water that's building up outside your basement walls. Both systems collect any gathering water and carry it to a sump pump.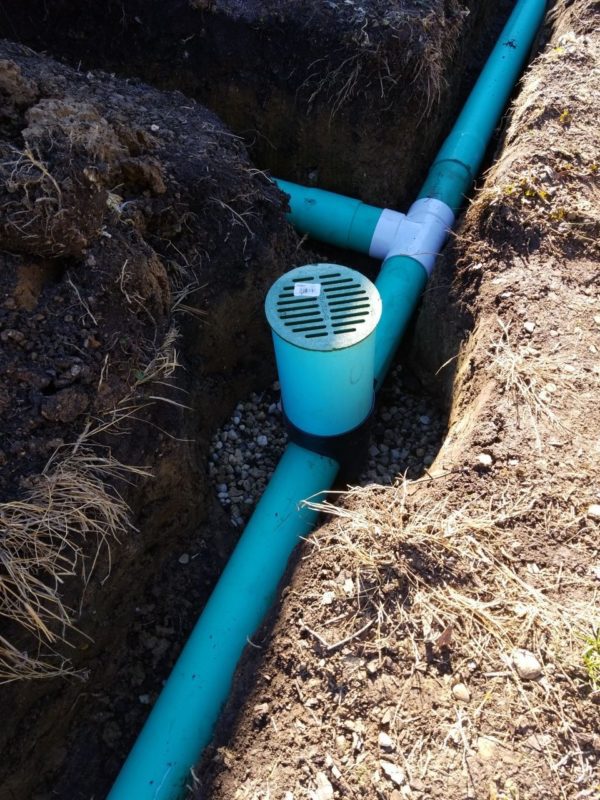 Install a sump pump – A sump pump is a fixture that sits in your basement floor. The water that's collected by your drain tile system is then deposited inside the sump pit. When the water reaches a certain level, the sump pump activates and ejects the collected water outside of your basement using a discharge line.
Install a French drain – A French drain is a perforated pipe that is placed just below the surface of your yard. These drains are usually placed in areas of your yard that are prone to pooling water.
Install gutter extensions – Also called downspout extensions, gutter extensions prevent water from pouring directly at the base of your foundation.
Grade your yard – Your yard should be sloped away from your home and basement. Otherwise, water will drain towards your basement can cause loads of problems. You can make minor adjustments to your grading using a shovel and wheel barrel, but we recommend calling in the professionals for any larger work.
The Real Seal And Basement Leak Repair
If you live in the Greater Chicago area and need basement leak repair, who do you call? Get in touch with The Real Seal. Call us today, and we'll get you started with an in-depth inspection, free repair estimate, and a list of our finest solutions. We also provide foundation repair, crawl space repair and waterproofing, concrete leveling, and more.