If you want to know how to level an uneven basement floor, this is the article for you. Many online blogs and DIY articles advertise self-leveling compounds, mudjacking, and pouring new concrete over uneven basement floors. Once you finish this blog, you'll learn about solutions that actually work and why skilled professionals never recommend these other temporary fixes.
Why You Have An Uneven Basement Floor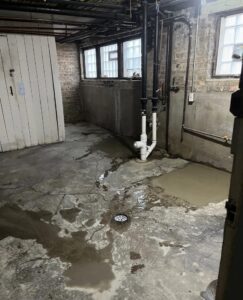 You probably have an uneven basement floor because the soil under the slab cannot support its weight. This can result from compaction issues, problematic soil types, and poor groundwater management. Since your basement floor is part of your home's foundation, chances are it's experiencing settlement problems since larger structures don't sink into voids unless they are big enough.
Since basement floors are usually a single slab, uneven sections are caused by differential settlement. This is when sections of your foundation sink into the soil at different rates. One part of your basement might be sloping because that section is sinking into weaker soil. Differential settlement can be caused by all of the issues we list below.
Compaction issues – Before all foundation slabs or basement floors are poured, the soil needs to be compacted. This decreases the space between soil particles and lowers the chance a void forms under your foundation. If this important step was missed or done incorrectly, there's a chance one or multiple pockets will open under your foundation after it's poured.
Problematic soil types – Foundations built over soil containing mostly clay can experience a swelling-shrinking cycle. If clay-rich soil is saturated with water, it will swell and lift your basement floor. Then, when the soil dries, your basement floor is allowed to settle back down. This back-and-forth movement can crack or cause your basement floor to become uneven.
Poor groundwater management – If groundwater builds up under and around your foundation with nowhere to go, it can lead to all sorts of issues. If water is heavily draining toward your foundation, the soil may wash out from underneath the basement floor and leave behind pockets. This can also directly contribute to expansive soil and hydrostatic pressure, which can both severely affect your foundation and basement floor.
2 Ways To Level An Uneven Basement Floor
There are two ways to level an uneven basement floor: polyjacking and underpinning. Each solution solves a different problem that causes uneven basement floors. Polyjacking is used to lift concrete floors sinking into isolated pockets between the slab and soil. If the entire basement floor is uneven, chances are the soil is weak beyond the ground surface, and the foundation needs to be leveled using underpinning.
Polyjacking (voids between the soil and slab) – If a void opens below your basement floor, chances are that section of concrete will dip into the ground. To solve this, contractors can drill small holes into the concrete floor and inject an expanding polyurethane foam into the void. Once the foam fills the entire void, your basement floor will start to lift and level out. With most voids below basement floors, the space between the slab and soil must be big enough to sink your heavy concrete slab. This means the void requires a lot of polyurethane foam in order to lift and level the floor.
Underpinning (differential settlement) – In most cases, an uneven basement floor is caused by differential settlement and weak soil. To counteract this settlement, contractors can lift your foundation and home using steel piers (helical or push). Both pier systems will reach deep below the weak soil your foundation is sinking into and find soil strong enough to support your structure's weight.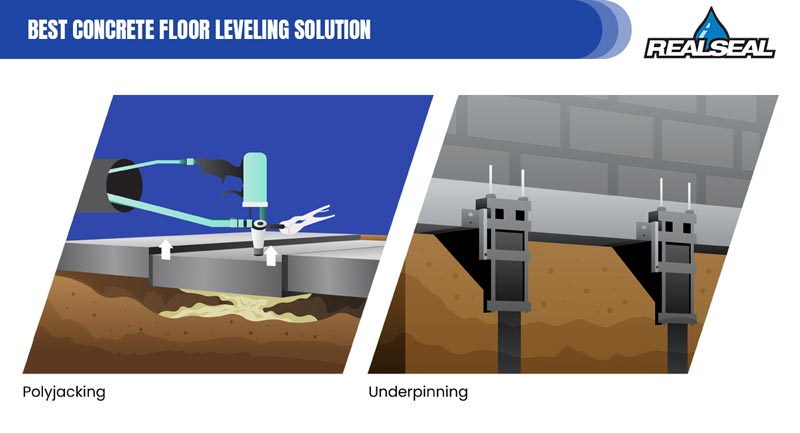 How Not To Level An Uneven Basement Floor
As we mentioned, some blog articles advertise self-leveling compounds, mudjacking, and pouring new concrete. Those solutions are temporary fixes for a problem that lies beneath the concrete. Let's break down why each of these promoted solutions doesn't work.
Self-leveling compounds – Since the issue stems from the soil, adding more weight to the already heavy concrete slab will cause it to sink deeper. This is why polyjacking and underpinning are the better solutions because they go beyond the concrete slab and into the soil.
Replacing or pouring new concrete – If you were to replace the basement floor with brand new concrete, you'll have to break apart and haul away the old debris, pour a new slab, and wait for it to cure, only for it to sink a few months later.
Mudjacking – This concrete leveling solution involves drilling large holes in your uneven basement floor to pump a heavy combination of cement, sand, and other materials. Unfortunately, this slurry will only fill the void and lift your slab temporarily. On the other hand, polyjacking will strengthen the soil and create an immovable base for your basement floor.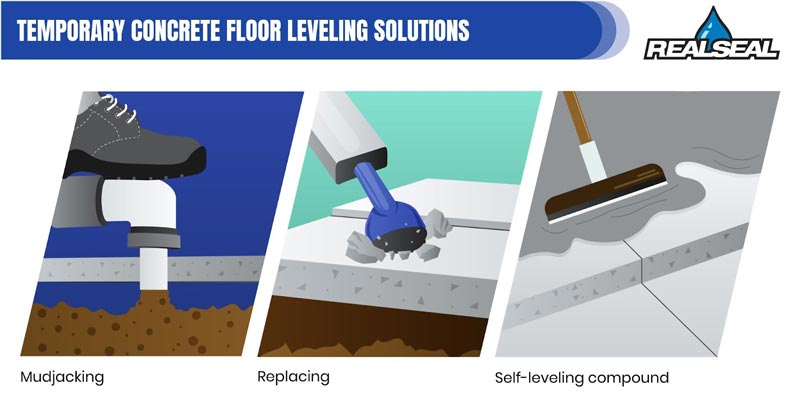 Who Can Level An Uneven Basement Floor Near You?
If you live in Chicagoland and have an uneven basement floor, call The Real Seal. Our team of experts will inspect your basement, find out why it's uneven, and choose a solution that will solve the problem indefinitely. If we find other signs of basement issues, such as moisture seepage, we can solve those problems with our foundation waterproofing solutions. Call today for your free inspection and estimate.