If you want to know more about foundation leveling, this article is for you. We've compiled all the information you need about foundation leveling, including its different methods, estimated cost, signs you need it, and why it's necessary. Once you've finished this short blog, you'll have everything you need before you call your local foundation repair contractor.
What Is Foundation Leveling?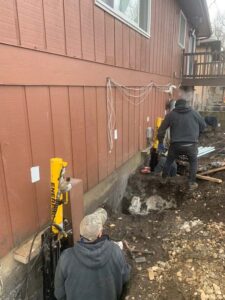 Foundation leveling is when contractors lift settling foundation using steel piers until it's back to the MPL (maximum practical level or the point before any further movement causes unnecessary damage). This process, also known as underpinning, has been used by builders and foundation repair companies for decades.
An unlevel home is unsafe, loses value, and can affect everyday life. Your furniture or appliances might lean or slope to one side. Eventually, you'll notice issues ranging from sticking windows to large foundation cracks that expose your basement or crawl space to moisture. Overall, foundation leveling corrects your home's settlement and prevents it from settling in the future.
How Much Does Foundation Leveling Cost?
The cost of foundation leveling depends on how many steel piers are used during the underpinning process. Standard piers with no depth clause are usually about $2,000 each. The amount of piers needed depends on how much your foundation is settling. By measuring the perimeter of the settling areas and mentally spacing one pier for every 4 to 6 feet, you can determine a rough estimate of how many piers you'll need and the total cost.
Signs You Need Foundation Leveling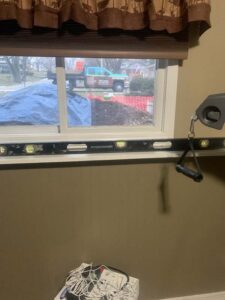 By the time you realize your foundation needs leveling, chances are you're spotting some strange occurrences in your home. If you're unfamiliar with the common signs of foundation settlement, here's a quick recap.
Sticking windows and doors – If you notice several of your windows and doors don't seem to close or fit inside their frame correctly, there's a chance the foundation is settling and throwing the house off alignment.
Sloped, cracked, and warped flooring – First floors will likely shift and move if your foundation begins to settle since they rest over your slab, basement, or crawl space. If you notice large floor cracks running wall to wall, it's probably from foundation settlement. Warped floors can be a sign of foundation settlement and a sign of moisture buildup under your home.
Separations – Foundation settlement can cause your walls, floors, and ceiling(s) to separate. You might also notice your chimney or deck is separating from your home, but this might be an issue with their foundations and not your main structure's foundation.
Foundation cracks – Long and wide cracks on your foundation are a good sign it's experiencing movement or settlement. Smaller cracks can signify normal aging or weak concrete, but if they start to grow, it's definitely a foundation leveling problem. Take a ruler or measuring tape and perform regular inspections on your foundation, looking for any cracks wider than 1/10th of an inch. If you have a concrete block foundation or brick fascia, look for stair-step cracks since these are major structural issues that must be addressed immediately.
Drywall cracks – Cracks on your drywall are a good indication your foundation is settling, and the walls above are shifting. This movement can also peel wallpaper and reveal hidden cracks on your walls. Before you patch or caulk any drywall cracks, we always recommend a foundation repair expert perform an initial inspection. Because foundation leveling raises your structure, any preemptive crack or floor repairs may need to be redone.
Why Is Foundation Leveling Necessary?
Foundation leveling is necessary because foundation settlement can lower the value of your home, create structural hazards, and lead to more expensive repairs if left untreated. The best foundation repair companies always recommend spotting issues as early as possible to avoid spending more money on more extensive and invasive repairs.
Why Do Homes Need Foundation Leveling?
Homes need foundation leveling because the soil beneath your structure is unable to support its weight. This is usually caused by,
Voids in the soil – If the soil below your foundation was not compacted before the concrete was poured, there's a chance the soil particles are too spread out. This can cause the soil to settle until the voids are filled, leaving large spaces between your foundation and the soil surface.
Shrinking and swelling soil – If the soil below your foundation contains too much clay, it could experience a swelling-shrinking cycle based on how much groundwater is in the soil. During the wet seasons, the soil will swell with groundwater and expand. Then, during the dry seasons, the soil will shrink. This constant cycle places stress on your foundation and can cause settlement, cracks, and more.
Groundwater buildup – If your property is sloping toward your home, chances are groundwater is building under and around your foundation. This can lead to a wide variety of issues for all types of foundations. Excess groundwater buildup can heave against your basement walls and cause them to bow inward. Without a foundation waterproofing system, water can seep through cracks, cove joints, and other gaps around your basement or crawl space.
Natural disasters – Earthquakes, mudslides, soil creep, sinkholes, and other natural disasters can disrupt the soil below your foundation and cause it to settle.
Badly planned renovations – Before you add any additional floors to your home, have an inspector confirm your foundation is able to hold the new weight.
Who Offers Foundation Leveling Near You?
If you live in Chicagoland and need foundation leveling, call The Real Seal! Our team of experts have lifted and leveled thousands of settling homes across the city since 2011. Even if you don't know if your foundation needs leveling, a quick inspection from one of our professionals can give you the peace of mind you need. We also offer foundation waterproofing, concrete leveling, and more.