If you're searching for information about polyurethane concrete raising, you've landed on the right page because that's what this article is about. It covers what polyurethane concrete raising is, how it's done, its benefits, how it differs from mudjacking, and more.
What Is Polyurethane Concrete Raising?
Polyurethane concrete raising is a fast, minimally-invasive concrete lifting technique that's the go-to solution for leveling uneven concrete slabs such as driveways, sidewalks, and patios. Polyurethane concrete raising, commonly called polyjacking, involves injecting a lightweight, high-density, expanding polyurethane foam under a sunken concrete slab to lift and level it.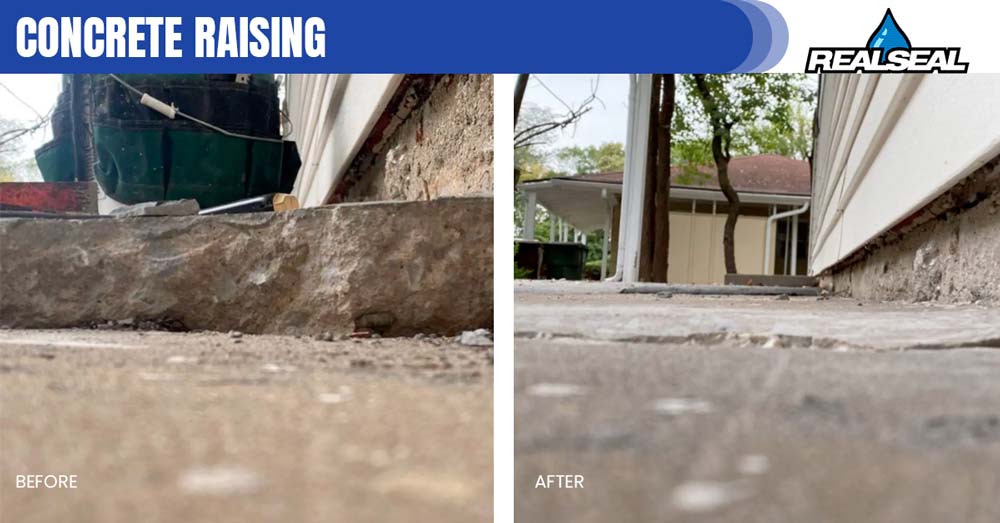 Unlike mudjacking, an older method of concrete lifting, polyurethane concrete raising doesn't require heavy equipment or large amounts of a messy concrete slurry. Polyurethane concrete raising is a quick, clean procedure that causes minimal disruption to the surrounding area. The foam is injected precisely where it's needed, and its expansion can be controlled and adjusted according to the level of lift required.
How Is Polyurethane Concrete Raising Performed?
The process of polyurethane concrete raising is as follows:
Polyurethane concrete raising starts with drilling small, strategically-placed dime-sized holes into the sunken slab. After the holes are drilled, a portable injection pump injects the foam through the holes and into the voids beneath the slab.
The foam immediately begins to expand.
As the foam expands, it fills the voids and lifts the sunken concrete back to its original position. The foam also hardens and solidifies the area, providing a stable base for the slab to rest upon.
Once the foam has cured, which typically takes around 15 minutes, the holes are patched with a compound that closely matches the color of the driveway.
The slab is ready for use again.
Benefits Of Raising A Driveway Using Polyurethane Foam
Polyurethane concrete raising has several advantages over other lifting methods:
It's minimally invasive, requiring only small, strategically placed holes in the concrete.
It's a long-lasting solution, as the polyurethane foam is resistant to water and erosion. It won't wash away like the cement slurry used in mudjacking. In fact, the polyurethane foam will last indefinitely.
It's a quick, clean repair. Most polyurethane concrete raising jobs take only a few hours tops, and unlike mudjacking, it doesn't make a big mess of the surrounding area.
It's less expensive than replacing the slab. Digging up an existing driveway and pouring new concrete is more time-consuming, expensive, and disruptive to your daily routine. It's also overkill in most cases, as most uneven driveways can be repaired using polyurethane concrete raising.
Is Raising An Uneven Driveway With Polyurethane Foam Better Than Mudjacking?
Yes, raising an uneven driveway with polyurethane foam is a better option than mudjacking for two main reasons:
Polyurethane foam is much lighter than the cement slurry used in mudjacking. This means it places significantly less stress on the soil beneath the driveway, minimizing the risk of future settlement or damage.
Polyurethane foam sets and cures much faster than the cement slurry used in mudjacking, meaning the driveway can be used immediately after the repair. This is especially beneficial for commercial properties or residences where driveways are frequently used, and downtime is not an option.
For more information, see How Long Does Foam Jacking Last?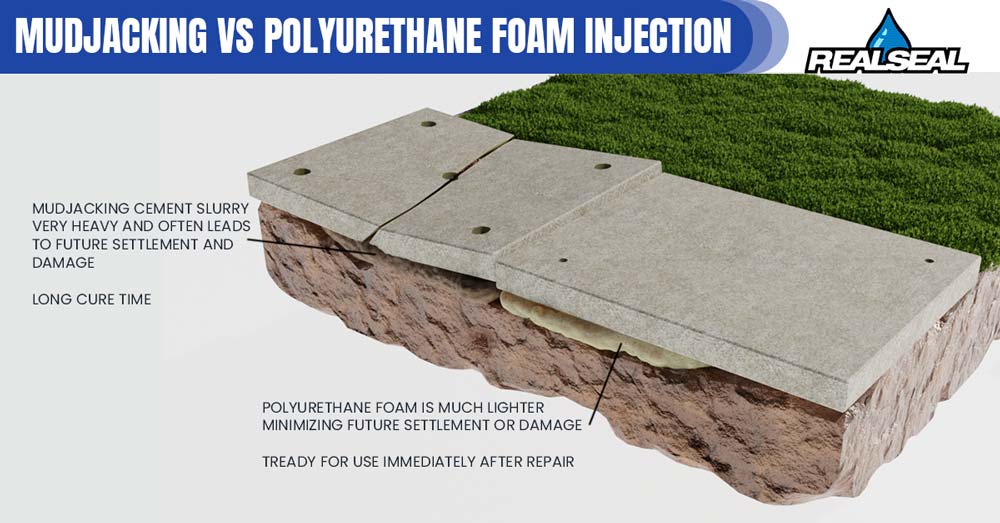 Are There Any Downsides To Polyurethane Concrete Raising?
Polyurethane concrete raising is more expensive than mudjacking. However, it's less costly than tearing up the damaged slab and pouring new concrete.
Is Raising An Uneven Driveway Better Than Replacing The Driveway?
In most cases, raising an uneven driveway is a better option than replacing the entire driveway.
Raising your uneven driveway is less expensive and can be completed in a shorter time frame. Typically, the process takes only a few hours to complete, and then you can resume regular use of your driveway. In contrast, replacing a driveway can take weeks, depending on the project's scope. Replacing a driveway is only necessary when there's severe damage.
If you're worried about the aesthetics of the final result, don't be. The small, dime-sized holes used to inject the polyurethane foam will be patched with a compound that closely matches the color of the concrete.
Why Do Driveways Become Unlevel?
Driveways become unlevel for various reasons, including the following:
Expansive soil
Expansive soil contains a high percentage of clay, and because of this, it expands when it soaks up moisture and then shrinks when it dries out. Over time, as the soil swells and shrinks, it creates movement under the driveway, leading to cracks, bumps, and unevenness.
Erosion-prone soil
Erosion-prone soil is a type of soil that's susceptible to erosion due to its composition. The soil's fine texture and low density make it highly susceptible to being washed away. This is because water tends to follow the path of least resistance, and when it encounters soil that's easily eroded, it can cause the soil to wash away. This process can result in the formation of voids under the driveway, which can significantly affect the slab's stability.
Poor drainage
Poor drainage or improper grading around the driveway can result in water accumulation, leading to increased swelling and heaving in expansive soils and the washing away of erosion-prone soils.
Heavy vehicles
Heavy vehicles parked on the driveway can cause the surface to compress, leading to cracking and unevenness.
Poor construction practices
The soil must be adequately tamped and compacted before the driveway gets poured. If this isn't done correctly, the driveway could settle into the ground unevenly.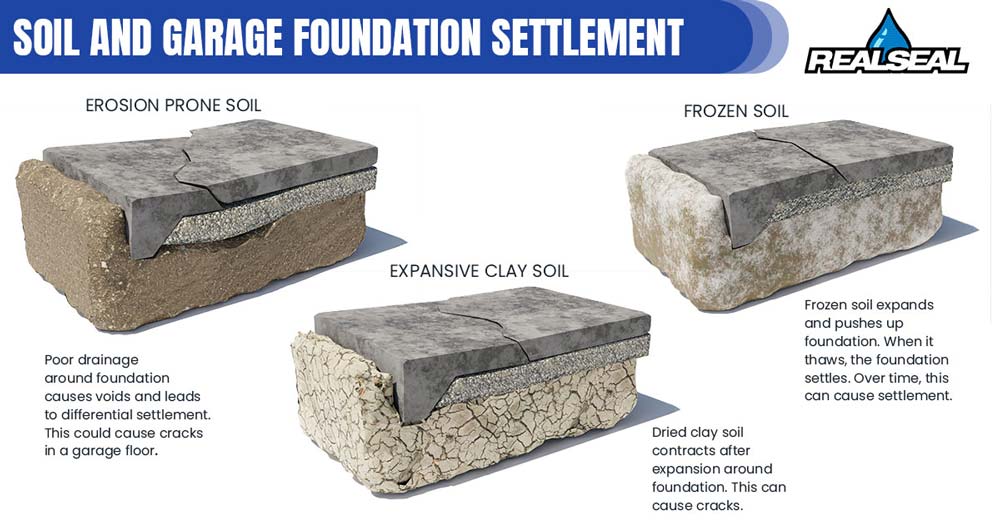 To sum up, polyurethane concrete raising is a highly effective solution for many concrete leveling and repair issues. It's used to fix everything from sunken driveways, sidewalks, and patios to uneven parking lots and concrete floors. The resulting repair is incredibly durable and long-lasting, providing a stable surface that can withstand heavy loads.
If you're in Chicagoland and tired of looking at an uneven driveway, contact The Real Seal today and schedule an evaluation and receive an estimate for polyurethane concrete raising.