Don't skip over your basement spring cleaning responsibilities this year. Instead, schedule them and read here why it's very important to them.
With springtime in the air, it might be time for you to schedule your annual spring cleaning. However, many times when homeowners do spring cleaning they forget about their basement. Don't do this! Make sure you understand the importance of spring cleaning for your basement and get it done quickly—because, before you know it, summer will be here.
How often does one go through the contents of their basement? It's undoubtedly crammed with seasonal and holiday decorations, old, unused furniture, family keepsakes, and more. Without ample cleaning and decluttering, this can get out of hand. That's exactly why it's important to make sure that cleaning your basement is part of your spring cleaning!
Problems and Issues are Found
When going through your basement and cleaning it, you can see things differently than if you only go down there to put your winter decorations away. Thoroughly cleaning your basement can allow you to uncover and identify any issues, problems, or maintenance that must be taken care of. For example, when you move some boxes you might just find a new crack in the wall of the foundation you wouldn't have found before.
Read more about – Why Your Basement May Flood in the Winter?
Gives Opportunity for Better Quality
Your basement—if not taken proper care of—can cause many issues for the rest of your home. Not only can it cause mold and mildew problems when moisture and water are present, but it can also cause bad air quality. Keeping on top of cleaning lets you keep your basement in the best possible shape.
Understanding the importance of spring cleaning for your basement will help ensure you never forget to do it. Between keeping up with the space and hiring basement waterproofing you should be able to take care of your basement as best as possible. If you happen to be in the Chicagoland area and need a basement waterproofing company, reach out to us or visit our website. We want to ensure your basement is as good as it can get!


How Often Should You Clean Your Basement?
The frequency in which you should clean your basement will ultimately depend on how often you use it, the kind of activities taking place within its space, and its level of accessibility.
If your basement is regularly used as an additional living space, it is recommended that you clean it at least once a month. This would help prevent the buildup of particles that could trigger allergies or respiratory issues. However, if it is not being used frequently, a thorough cleaning every 3-6 months should suffice in preventing the accumulation of dust and debris.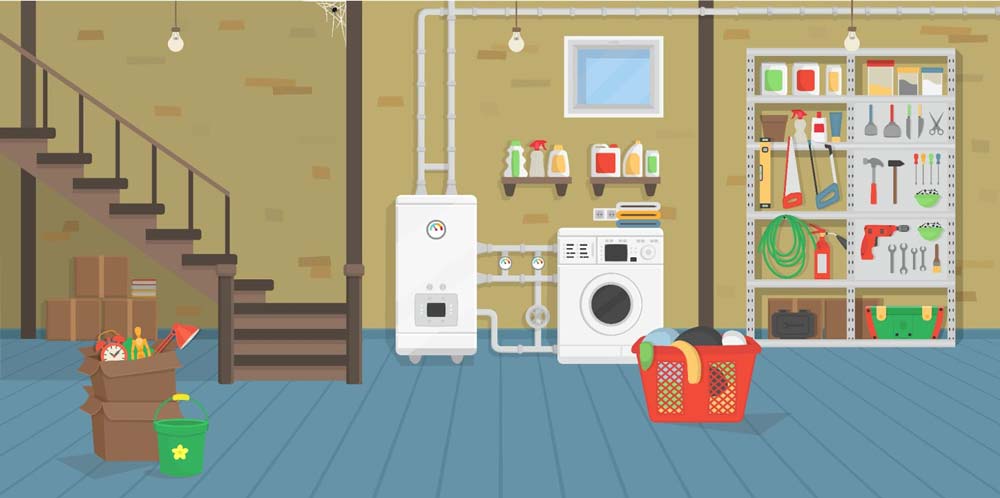 If your basement houses any belongings such as old clothes or furniture, you should ensure that they are stored in airtight containers or bags to prevent moisture and mold buildup. Also, old newspapers and cardboard boxes should be discarded, as they can attract pests like mice and cockroaches.
The kind of activities taking place in your basement will dictate the level of cleaning needed. For instance, if you regularly use your basement for DIY projects that generate sawdust or paint fumes, you should clean it immediately after you're done.