If you're wondering why concrete leveling foam is better than mudjacking, you're in the right place. Mudjacking is an old and outdated form of lifting sunken concrete. In this article, we talk about what concrete leveling foam is, when it's needed, why it's better than mudjacking, and how much it usually costs.
What Is Concrete Leveling Foam?
Concrete leveling foam is a unique polyurethane material that's pumped underneath your sinking concrete slab, sidewalk, driveway, or patio. Concrete is a very heavy material, and if the soil underneath your slab is not strong enough to support the weight, it will just sink into the ground. Injecting concrete leveling foam underneath your sunken slab will lift up your concrete, giving it a stronger foundation to rest on.
The process goes by a few names, such as polyjacking, concrete lifting, slab jacking, foam jacking, foam lifting, and more. But, they all mean and accomplish the same thing. Here's how simple the process is.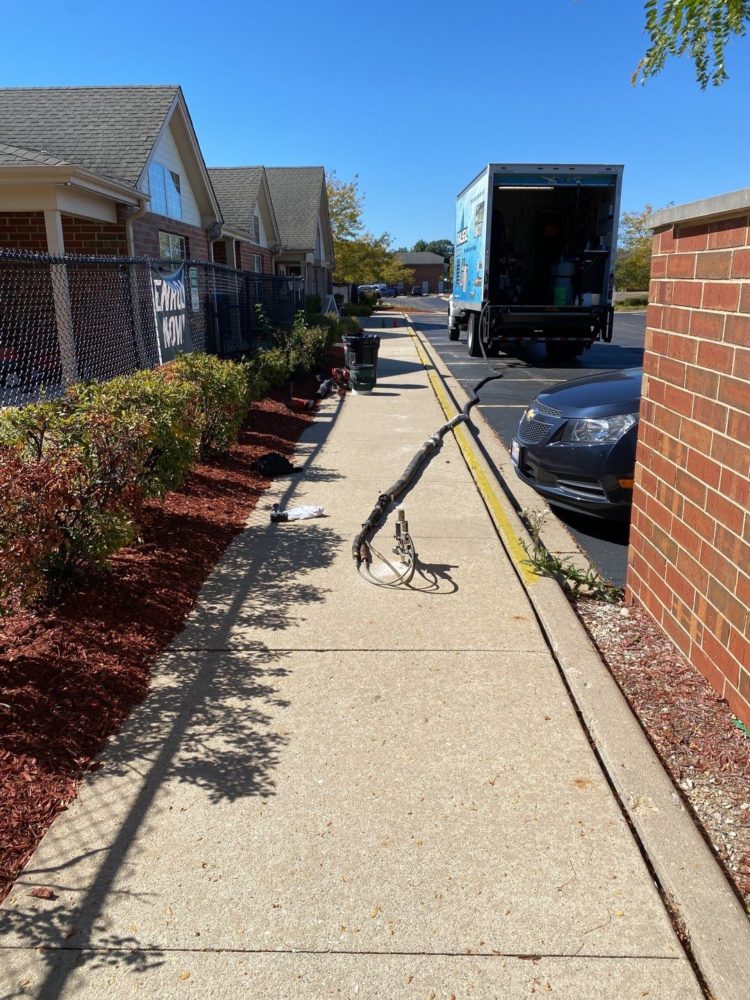 Dime-sized holes are drilled into your concrete slab, sidewalk, driveway, or patio.
The leveling foam is injected into the holes until it fills the entire void beneath your concrete.
In just a few minutes, the polyurethane foam will expand, harden, and lift up your slab.
Why Is Concrete Leveling Foam Needed?
Here are a few reasons why concrete leveling foam is needed.
Water is washing the dirt out from underneath your slab – If your property is sloped towards your driveway, sidewalk, patio, or any other form of slab, water could possibly be washing the dirt away from under your concrete. This can also occur when gutters are pouring water too close to your slab or a sewer line breaks, and wastewater begins to seep into the soil.
The soil underneath your slab was improperly compacted – Before your slab is poured, the soil underneath must be properly compacted. This process shrinks the space between the soil particles and creates a dense foundation. If this process is skipped or done poorly, your slab can begin to sink.
The soil underneath your slab is expansive – Expansive soil swells when it absorbs water, causing your slab to lift up. Then, when the soil dries, your slab can sink back down. This up-and-down movement can cause your slab to lift, sink, and crack.
Tree roots are pushing your slab up – If you have large trees near your concrete slab, their roots can be working their way under your slab unnoticed. Roots can absorb all the water under your slab, causing the soil to shrink. If the tree dies, the roots can disintegrate and leave voids under your concrete.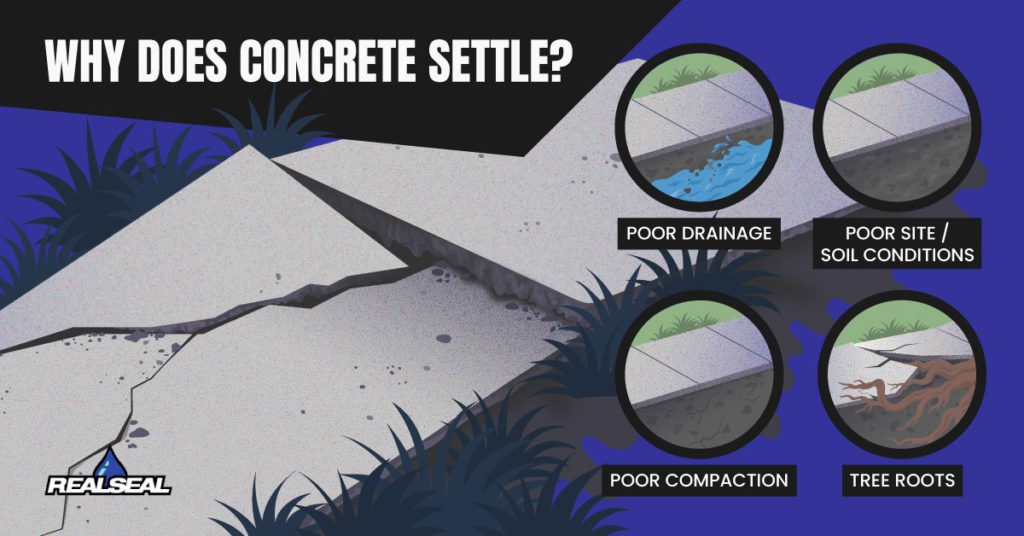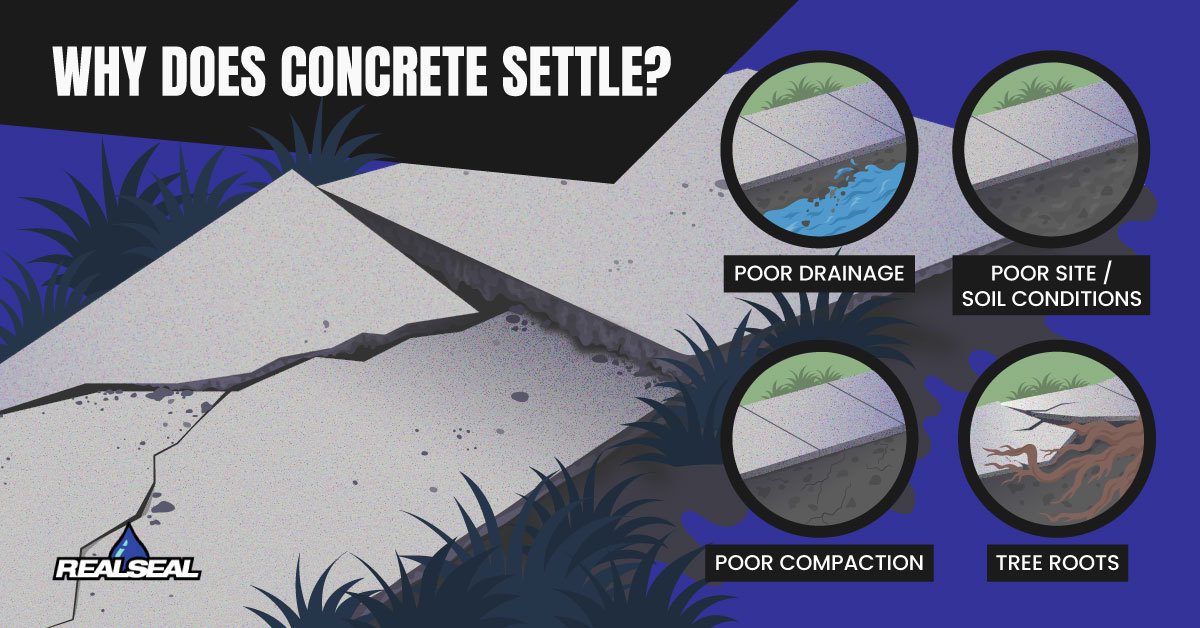 Why Concrete Leveling Foam Is Better Than Mudjacking
Mudjacking was invented back in the 1930s. That's close to 100 years ago. Here are the main differences between concrete leveling foam and mudjacking.
The mudjacking slurry is heavier than leveling foam – Mudjacking uses a combination of sand, cement, and other natural materials to create a mixture called a slurry. This slurry is very heavy, weighing about 100 pounds per cubic foot. Concrete leveling foam only weighs about 2.5 to 4 pounds per cubic foot, making it lighter and more effective than the mudjacking slurry.
Mudjacking is messy and requires more equipment – Mudjacking involves hundreds of pounds of slurry. All that sand and cement needs heavy machinery to carry and pump under your slab. If that slurry accidentally spills everywhere, you'll have a huge mess on your hands.
Mudjacking can damage your concrete – Unlike concrete leveling foam, which only requires dime-sized injection holes, mudjacking needs 2-inch holes to pump the slurry. These holes can crack your concrete slab, even allowing roots to grow through them.
The mudjacking slurry is not waterproof like leveling foam – Concrete leveling foam is what experts call "hydrophobic." This means that it won't move or lose its structural integrity when it comes in contact with water. On the other hand, the mudjacking slurry will wash away if it comes in contact with water, allowing your slab to sink again.
Concrete leveling foam is fast and lasts longer – Once the concrete leveling foam is injected under your slab, it only takes a few minutes before the foam hardens. Mudjacking takes more time and only lasts 2 to 5 years before the slab sinks again. Compare that to concrete leveling foam which can last indefinitely.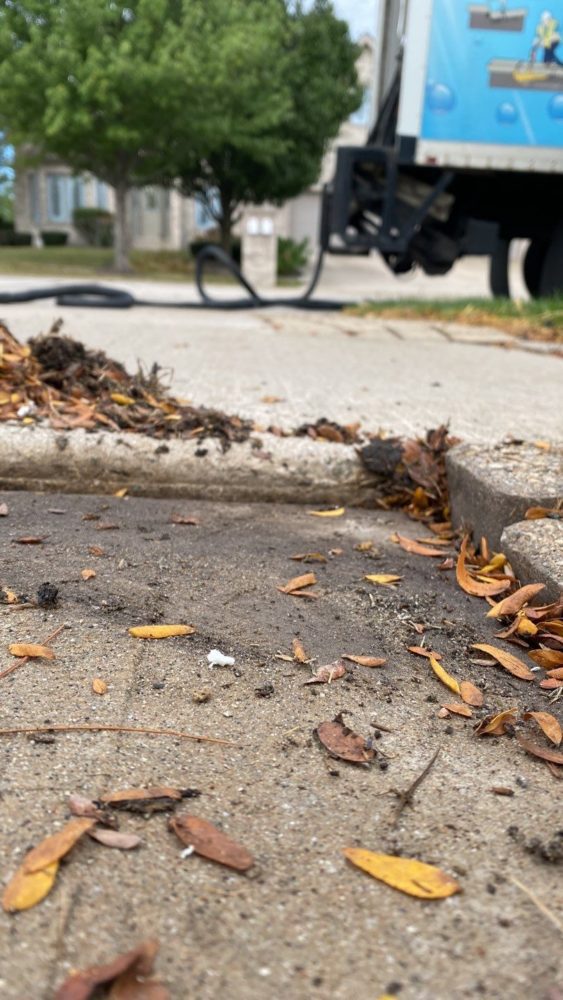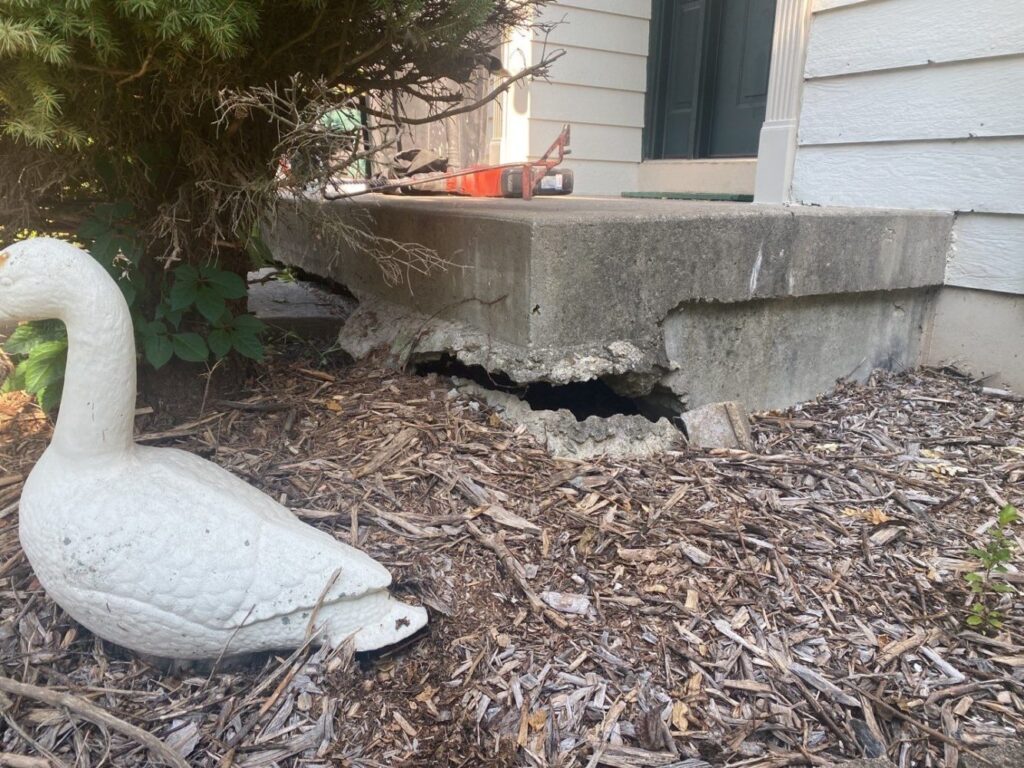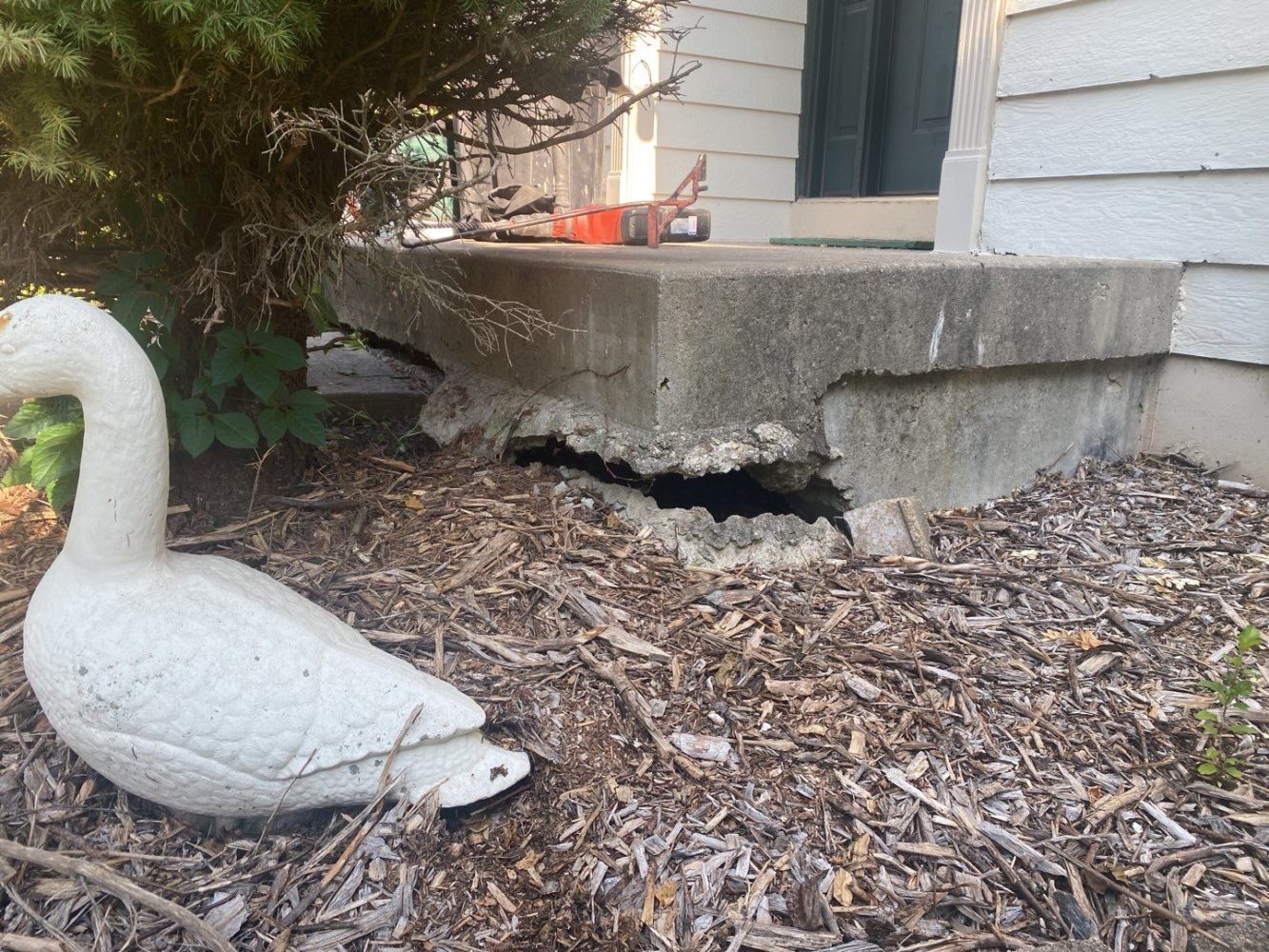 How Much Does Concrete Leveling Foam Cost?
Concrete leveling foam in the Chicago area usually starts at a base cost of $600. Then the price will rise based on a few different factors.
Sidewalks – The cost to lift sidewalks depends on three things: the length of the sidewalk, the drop involved, and how wide the sidewalk is.
Driveways/patios – For driveways and patios, The Real Seal has a base cost of $1,500. The price usually depends on how big the void under your slab is and how much lift is required.
Interior concrete slabs – Leveling a concrete slab inside your home is one of the most expensive types of repairs. The usual cause of sinking slabs has to do with sewer line breaks. If your sewer line break goes unnoticed, it can slowly create a void underneath your concrete slab. It takes a large void to sink your 6-inch thick slab, increasing how much foam is needed to lift your concrete. The bigger the void, the more foam is needed, increasing labor and material costs.
Read more: How Much Does Concrete Leveling Cost?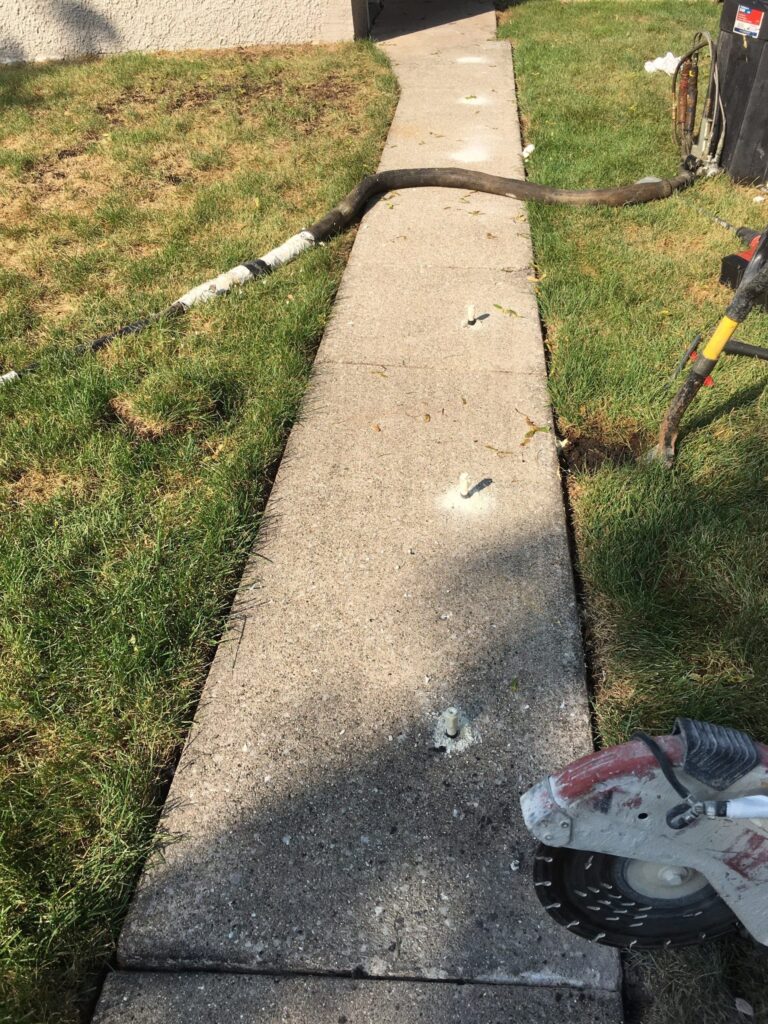 Who Provides Concrete Leveling Foam Near You?
If you live in the Greater Chicago area and need concrete leveling foam, you should call The Real Seal! We offer free in-depth inspections, free repair estimates, and the best solutions available. We also provide basement waterproofing, foundation repair, crawl space encapsulation, crawl space repair, and more.