Should you be raising a concrete slab yourself? Most professionals say no. In this article, we talk about why professionals do not recommend do-it-yourself concrete raising, how professionals raise concrete slabs, why you would need slab raising in the first place, the difference between polyurethane foam vs. mudjacking, and how much slab raising usually costs.
Should You Be Raising A Concrete Slab Yourself?
Concrete raising may seem simple, but if not done correctly, you can create more problems than before. In order to lift your slab, dime-sized holes must be drilled into the concrete. If done poorly, you could potentially crack your concrete, forcing you to have to replace the entire slab.
Unless you have access to polyurethane foam and a slab jacking pump, it's going to be very difficult to create your own slab lifting mixture. Some blogs recommend using one part fly ash (a byproduct of burning pulverized coal), two parts sand, and one part Portland cement. This mixture is what experts call a "mudjacking slurry." Weighing about 100 pounds per cubic foot, this heavy slurry can actually cause your slab to sink all over again.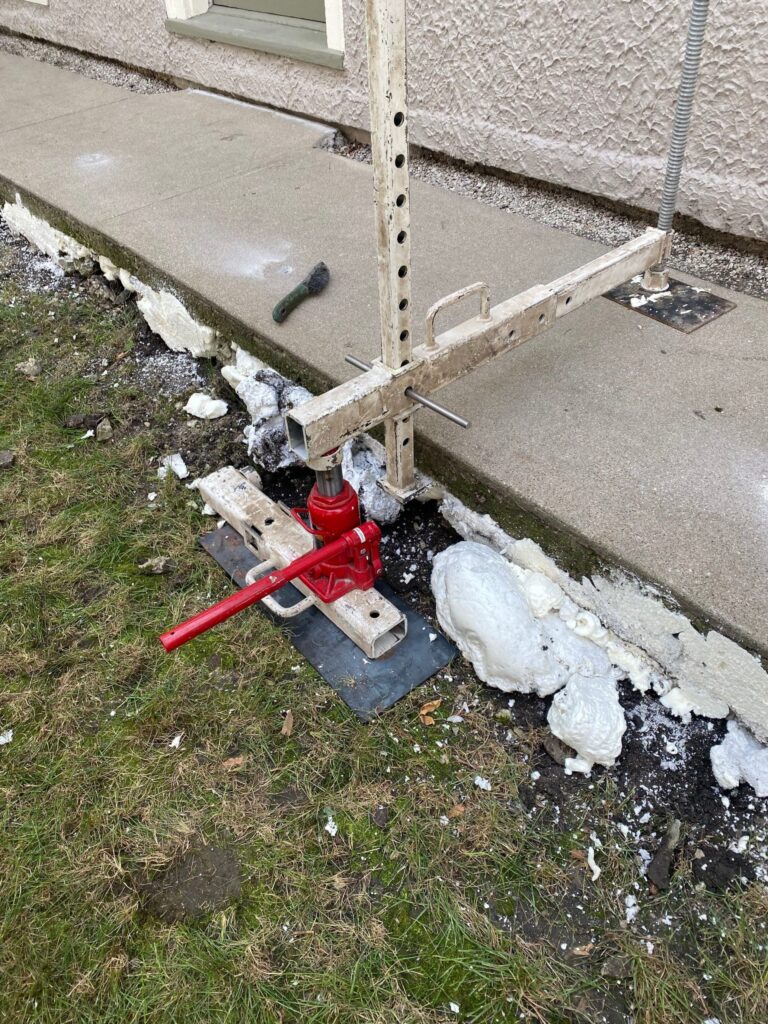 The mudjacking slurry is also very messy, and if you spill some on the ground or it leaks out from underneath your slab, you're going to be left with a tremendous cleanup job. If you have a sunken concrete slab, it's best to leave the repairs to the professionals. You might think you'll save a few hundred dollars if you do it yourself. But, you know the old saying, "buy nice, or buy twice."
How Do Professionals Raise Concrete Slabs?
The concrete raising process goes by many names, such as foam lifting, foam jacking, polyjacking, and more. Here's how professional concrete lifting repair experts lift sunken slabs.
First, dime-sized holes are drilled into your sinking slab. In some cases, a special sidewalk jack is used to lift your concrete instead of drilling holes (only for sidewalks).
Second, the specially-made polyurethane foam is pumped under your slab until it fills the void beneath your concrete.
Lastly, the foam will expand in just a few minutes, harden, and lift your slab back to where it's supposed to be.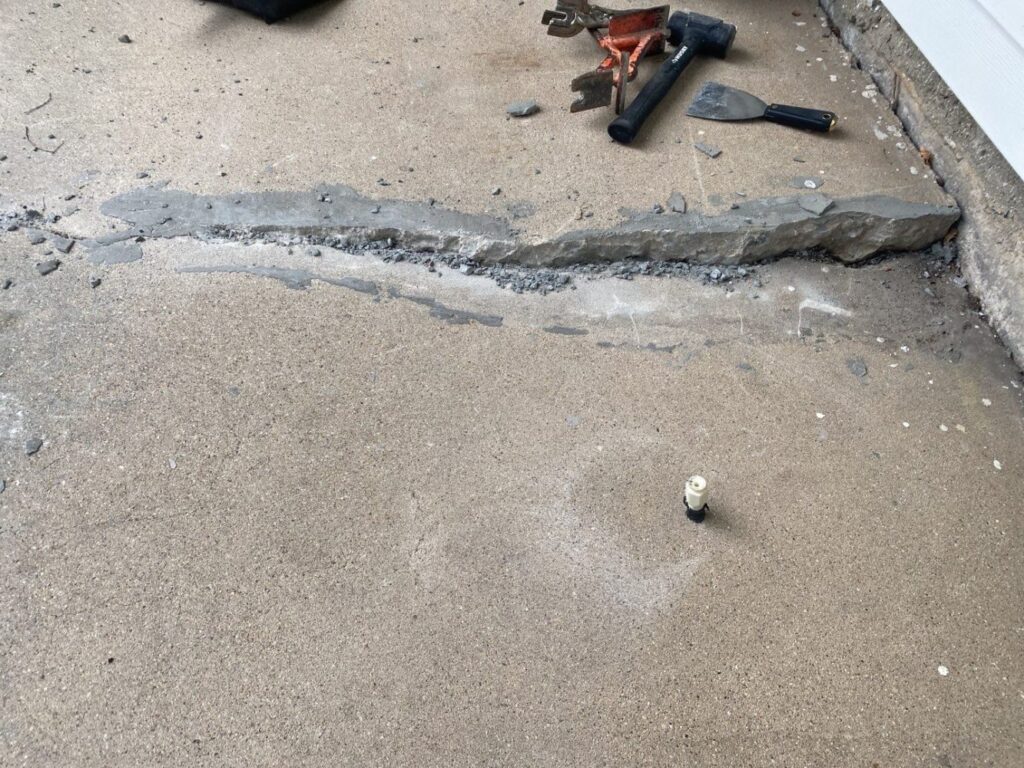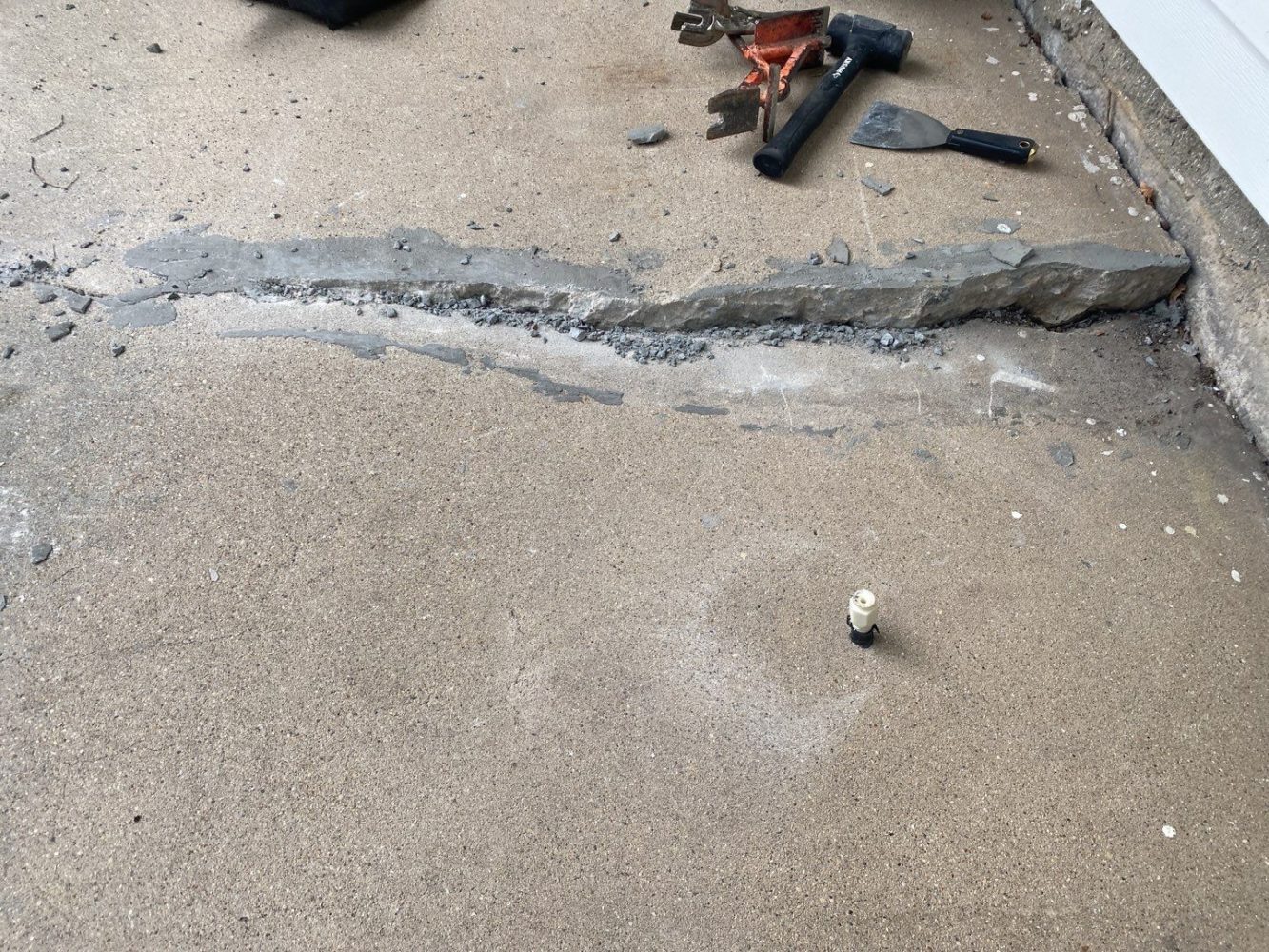 Why Do You Need To Raise A Concrete Slab?
There are a few reasons why you would need to raise a concrete slab.
Water is draining or pouring too close to your slab – If water is draining toward your slab, or your gutters are pouring water too close to your concrete, it can wash away the dirt from underneath your slab. This may also occur if a sewer line breaks under your home, allowing wastewater to wash soil out from under your foundation.
Your slab is resting on improperly compacted soil – If your concrete slab is resting on improperly compacted soil, meaning the soil particles were not packed together tight enough, your slab can begin to sink.
Your slab is resting on expansive soil – If your concrete slab is resting on clay-rich soil, it can lift and crack based on moisture content in the dirt. When expansive soil absorbs water, it grows, lifting your slab. Then, as the soil dries, your slab will fall back down. This up-and-down movement can cause your slab to sink, lift, or crack.
Your slab is too close to trees and their roots – Trees can have root systems double the size of their canopies. If your slab was placed next to a very large tree, its roots could already be making their way under your concrete. Roots can absorb all the water under your concrete and cause them to sink. Or, the tree roots can die, disintegrate, and leave behind voids, allowing your concrete to sink.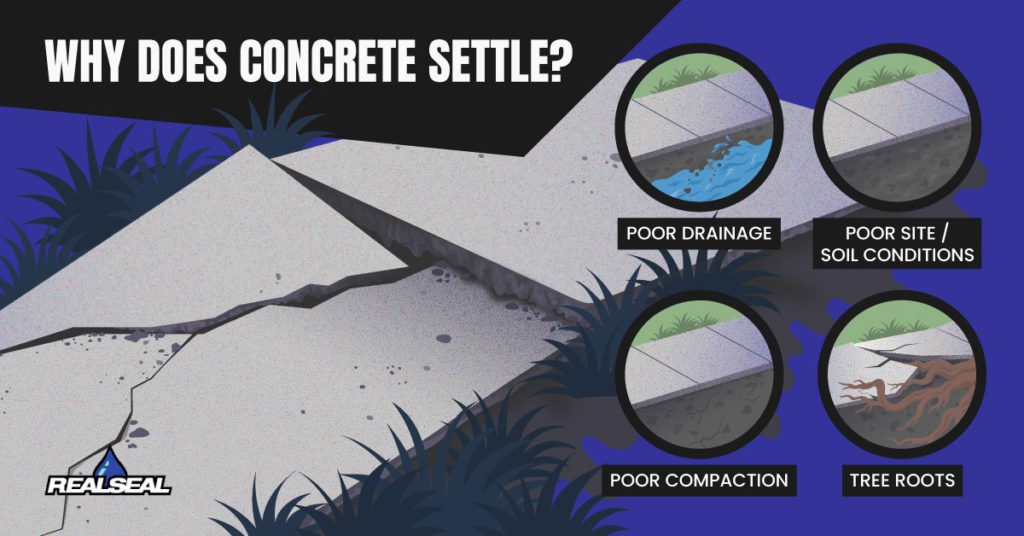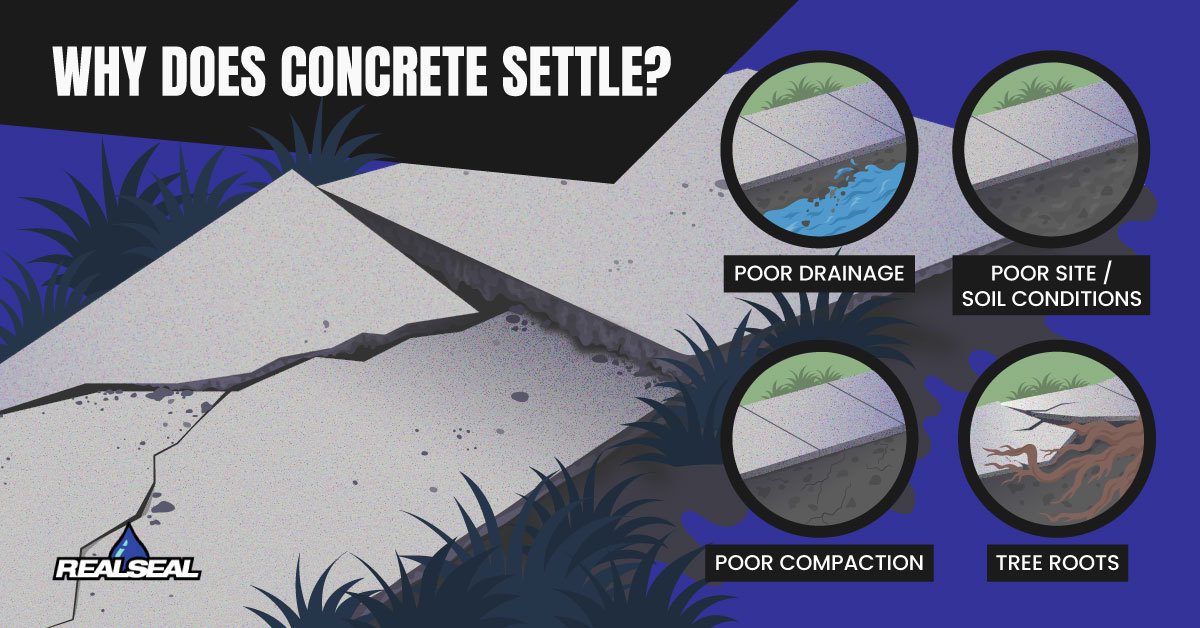 Polyurethane Foam VS Mudjacking
Most experts will recommend using polyurethane to raise concrete slabs rather than using mudjacking. As we mentioned earlier, the mudjacking slurry is very heavy and can allow your concrete slab to settle deeper into the soil. Polyurethane foam is lightweight, weighing about 2.5 to 4 pounds per cubic foot.
Here are a few other perks of using polyurethane foam compared to mudjacking.
It cures faster than mudjacking, allowing you to use your slab just minutes after the foam hardens.
It won't poison your grass and doesn't require any heavy machinery.
It costs less than replacing your entire concrete slab.
It lasts indefinitely.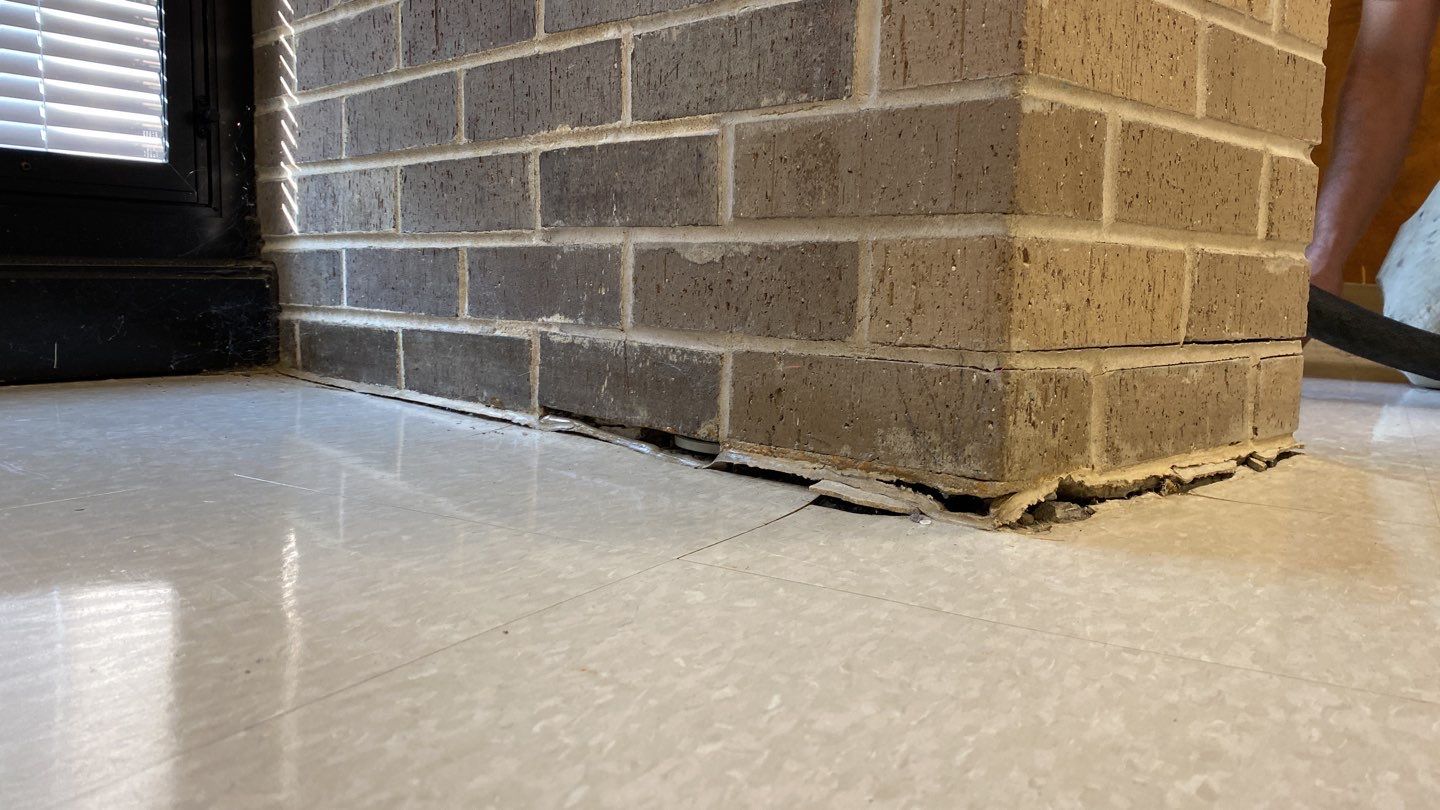 How Much Does Raising A Concrete Slab Cost?
The base price for raising a concrete slab starts at $600. Then the price raises based on a few factors, such as:
How large the void is under your slab.
How wide and long your slab is.
What type of slab needs to be lifted (i.e., sidewalks, patios, driveways, and interior concrete slabs).
Read more: How Much Does Concrete Leveling Cost?
Who's Raising Concrete Slabs Near Me?
Are you living in the greater Chicago area? If you need a concrete slab raised, you should call The Real Seal. We'll come out and inspect your concrete slab for free, give you our best repair estimate, and finally, a list of our finest solutions. Call us if you also need basement waterproofing, foundation repair, crawl space repair, crawl space waterproofing, or more.