Ensuring that your home is in good shape is one of your responsibilities as a homeowner. One common problem that homes in Bolingbrook, IL, face is water seepage, which can lead to foundation issues.
It is important to regularly inspect for signs of water or foundation damage. If you notice some signs of foundation issues or water damage, contact The Real Seal. As the premier basement waterproofing contractor in Bolingbrook, IL, we can fix any of the issues your home might face.
Our team has many years of experience serving the Bolingbrook area, which gives us the knowledge to correctly diagnose and treat any problems your home may suffer from. We specialize in providing sump pump installations, fixing foundation cracks, and more. We pride ourselves on giving each customer the best possible customer service to make the project as painless as possible.
The Real Seal never leaves customers in the dark. We quickly give accurate quotes and work as efficiently as possible to minimize any headaches. When you go with The Real Seal, you can rest assured that the project will be completed correctly the first time.
Unfortunately, water seeping into your basement is all too common of an occurrence in Bolingbrook. If you notice some water damage in the basement, The Real Seal has got you covered. We are the leading basement waterproofing contractor in Bolingbrook and can tackle any problem that you may face. We offer sump pump installation, top seepage, fixing cracks around plumbing pipes, drain tile installation, honeycombs, and more.
Though you may not visit your crawl space too often, you still do not water to seep in. If water does find its way into the crawl space, the result will be a large amount of mold in the space. Mold loves environments that are dark and moist, i.e. a crawl space with a water problem. If mold grows in your crawl space, then the air quality in your home will suffer. We provide crawl space repairs, fix sagging crawl spaces, and dry out crawl spaces in Bolingbrook.
We can fix all of your foundation problems. Foundation issues can be caused by poor construction quality, water pressure, tree roots, and more. The Real Seal offers foundation crack repair, bowing repair, piering, carbon fiber foundation repairs, and more.
Contact the leading foundation and basement waterproofing contractors in Bolingbrook today!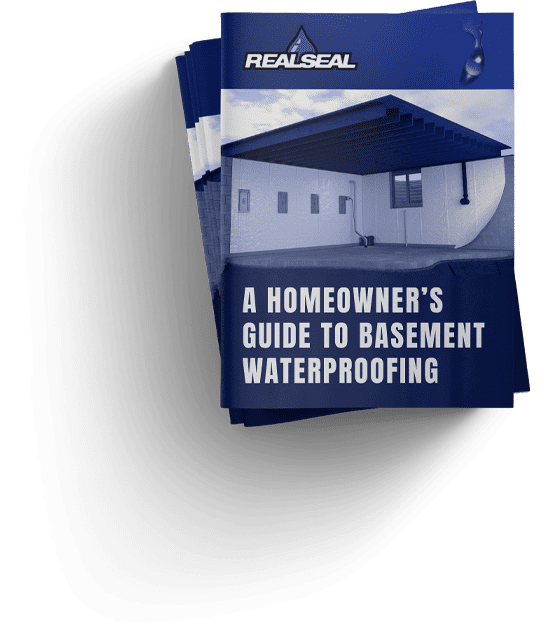 DOWNLOAD OUR FREE GUIDE
We created a guide titled:
"A Homeowner's Guide to Basement Waterproofing" to help you spot common basement issues around your home and learn how to fix them. Enter your email and get the free guide.
"Not Everything's Better When Wet"®