If you have been experiencing problems like cracked or bowing walls, foundation settlement, foundation cracks, and the like, and are not sure what to do, you need professional foundation services. The Real Seal offers all the professional help homeowners need when it comes to foundation repair.
Aurora, Illinois Foundation Repair – Services Offered
As a licensed and insured company, The Real Seal offers basement waterproofing, foundation repair, concrete leveling, and other solutions for the many related problems faced by property owners in and around Aurora, Illinois.
Some of our popular services are:
Basement Waterproofing
Cracks on your basement floor and walls, visual signs of water stains, sticking doors, water puddles in the basement, and condensation on basement doors and windows are all signs that you need basement waterproofing.
As the leading basement waterproofing service provider in Aurora, Illinois, The Real Seal offers a variety of services for waterproofing your basement. Our experts will recommend and employ the right solutions depending on the type of problem in your basement – honeycombing, over-the-top seepage, cove joint basement seepage, etc.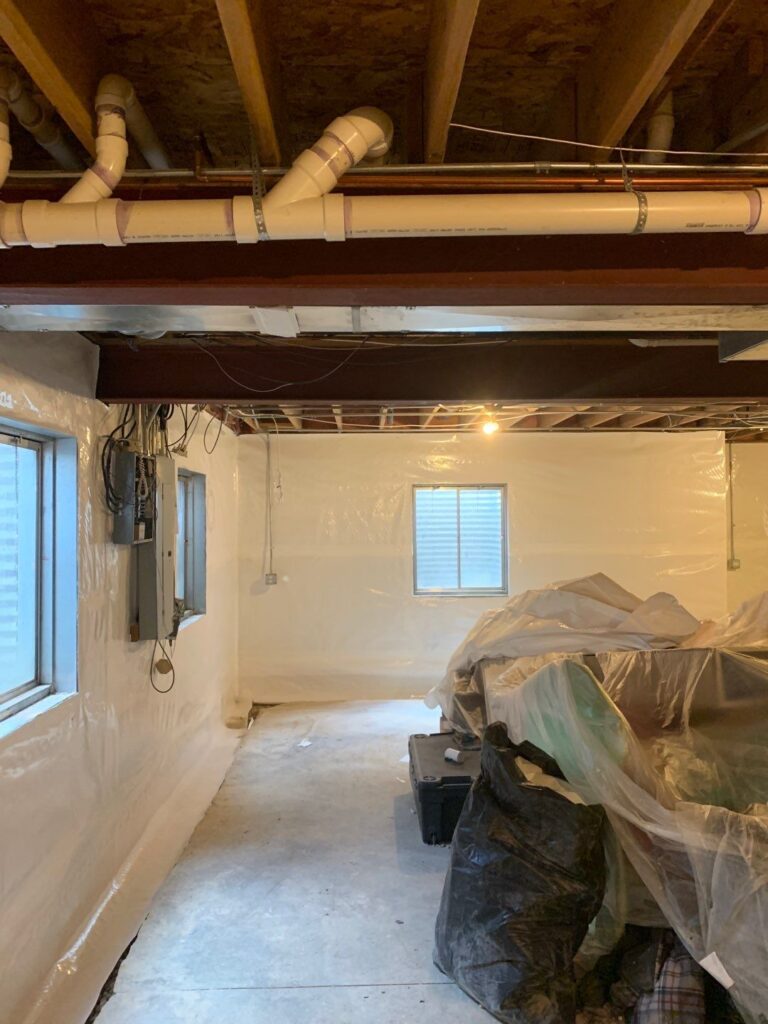 Sloping Crawl Spaces
Not enough support columns, flawed building design and/or construction, poor footings, moisture, rot, etc. are some of the common causes of sloping crawl spaces. Regardless of the cause, having your sloping crawl spaces repaired as early as possible by The Real Seal in Aurora, Illinois is crucial.
Foundation repair experts at The Real Seal offer the most comprehensive repair options for sloping crawl spaces. The most common technique employed is the installation of beam supports, which is an efficient solution to fixing your sagging home.
Foundation Crack Repair
The formation of major cracks in your foundation can lead to a lot of serious issues, not to mention, expensive repairs. This is why taking care of those cracks at an early stage is important because untended cracks can lead to water leakage, which in turn can cause mold formation, pest infestation, and property damage.
At The Real Seal, our foundation repair specialists use a technique called epoxy foundation crack repair, which involves injecting the epoxy into the cracks to seal them completely and permanently. This technique helps prevent leaks, thereby preventing the problem from getting worse.
Basement Window Installation
Apart from a multitude of foundation repair services in Arlington Heights, Illinois, The Real Seal also offers basement-related services, which include basement window installation. Whether your basement needs traditional egress windows or basement sliding escape windows that can be used as escape routes during emergencies, we can help with the installation.
Common Signs of Foundation Damage
Learning to identify the different early signs of foundation damage can help you eliminate potentially high-risk hazards and expensive repairs and replacements. Some of these signs are:
Uneven floors
Cracks in floors, walls, foundation
Warped ceiling
Cracks in exterior bricks
Water seeping through cracks
Formation of mold and mildew
Damp smell in the basement
Tilting chimney
Doors not latching properly
The Real Seal – Serving Areas
The Real Seal has been the go-to foundation and basement expert in Aurora, Illinois, and its surroundings for over 10 years. To know if our services are available in your area, visit our Service Area page.
The Real Seal LLC has been offering extensive basement waterproofing and foundation repair services for property owners in and around Aurora, Illinois for over a decade now. The skillset and expertise of our team have always enabled us to deliver top-notch services, and provide our customers with the right solutions for their problems.
If you think you might be facing a foundation damage issue, call us now!