Is Crawl Space Encapsulation Worth It?  
You bet crawl space encapsulation is worth it and we're going to explain why in this article. We're also going to explain how you can go one step further and really ensure that your home's crawl space remains clean, dry, and a safe place for storing things like tools and holiday decorations.
Why Moisture In A Crawl Space Is A Bad Thing 
Moisture in a crawl space is bad because it can lead to severe structural problems. Moisture also creates the perfect breeding ground for mold and fungal growth. Mold thrives in damp and humid environments, so wet crawl spaces are particularly vulnerable to mold and mildew infestations. Because of the stack effect (see the infographic below), these organisms can compromise the air quality inside your home's living area.
Another problem caused by moisture in crawl spaces is the growth of wood rot. This can happen when the humidity level in the crawl space remains too high for too long, causing the wooden structures in the crawl space to become moisture-saturated and decay over time. This type of damage can be significant and often requires costly repairs.
High moisture levels in the crawl space can also attract pests, including termites and other wood-boring insects. These pests can damage the home's structural integrity, leading to costly repairs.
Finally, excessive moisture in crawl spaces can also potentially lead to higher energy bills because humid air costs more to heat and cool.
Proper crawl space moisture management is essential for maintaining a healthy and comfortable living space and safeguarding your home's structural integrity.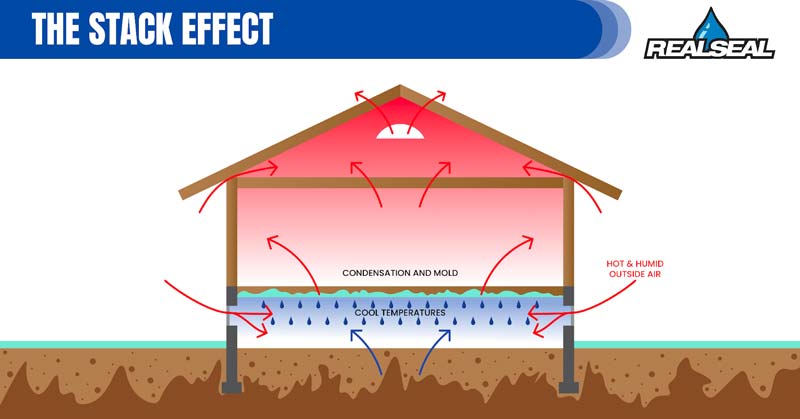 How Moisture Enters A Crawl Space  
Moisture has the potential to infiltrate crawl spaces in numerous ways, including the following:
Through the crawl space's dirt floor – One of the main ways moisture enters a crawl space is through the soil beneath the house. Groundwater can saturate the soil and permeate the foundation walls and floor, causing unwelcome dampness.
Through tiny cracks in the foundation wall – Water can penetrate the foundation wall via cracks. If hydrostatic pressure has built up in the ground around the foundation due to poor drainage, this makes it even easier for moisture to infiltrate the crawl space through a foundation wall.
Open vents – Hot, humid air flows into the crawl space via open vents and condenses on cooler surfaces. This will increase the amount of moisture in the crawl space.
Plumbing leaks – Leaky plumbing is another source of crawl space moisture.
The presence of moisture can lead to a slew of issues, such as mold growth, wood rot, and insect infestations, among other things.
Benefits Of Crawl Space Encapsulation  
Crawl space encapsulation has a host of benefits for homeowners, including the following:
It can improve air quality inside your home's living area – This is because some of the air in the crawl space flows into your home's living area due to the stack effect. (See the infographic below). If your crawl space is full of mold, the air flowing into your living area will be full of mold spores. So, by reducing the amount of moisture and humidity in the crawl space – which can lead to mold growth – the air entering your home from the crawl space will be drier and cleaner.
It can prevent structural damage to the home – Encapsulation protects your home from structural damage by preventing moisture from seeping into the foundation and causing wood rot.
Encapsulation can also improve energy efficiency – While we can't guarantee it, some homeowners have reported lower energy costs after encapsulation. This is probably because encapsulation lowers humidity in the crawl space, so the air flowing into your home's living area is drier. Dry air is less expensive to heat and cool.
The Crawl Space Encapsulation Process 
The process of crawl space encapsulation typically involves a thorough cleaning of the area, followed by sealing off any vents and installing a vapor-retarding barrier on the crawl space floor and walls. Most homeowners also choose to add a dehumidifier to the crawl space to ensure the humidity level stays low.
Crawl space encapsulation is a cost-effective and relatively simple way to improve a home's health, safety, and comfort. Homeowners can enjoy a cleaner, drier, and more energy-efficient living environment by preventing moisture, mold, and pests from entering the crawl space.
Add a dehumidifier for added protection 
Most homeowners also add a dehumidifier to the encapsulated crawl space to ensure the humidity level remains low. There are even ways to monitor the humidity level in the crawl space from inside your home.
Kick It Up A Notch: Drain Tile System Plus Crawl Space Encapsulation 
While crawl space encapsulation is totally worth it, you can really kick it up a notch by installing a drain tile system as well.
What is a drain tile system?  
A drain tile system is a foundation waterproofing method that prevents excess moisture from building up in the ground around the foundation. When it comes to foundation waterproofing, a drain tile system is the gold standard.
There are two types of drain tile systems, exterior and interior.