Wondering which foundation cracks to be concerned about? As a homeowner, it's normal to worry about the structural integrity of your house, and knowing which foundation cracks to be concerned about will help give you peace of mind.
In this blog post, we'll discuss foundation problems in general and what causes them, which foundation cracks to be concerned about, why having them assessed quickly is important, how to prevent foundation problems, and more. Keep reading for helpful advice on foundation integrity!
Why Foundation Problems Should Be Quickly Addressed
The structural integrity of your home is of utmost importance, which means anything that might indicate a foundation issue should be addressed immediately. For example, a tiny wall crack may appear harmless at first. However, if you ignore it, the structural problem behind the crack will worsen, and become a more costly to repair. The sooner you address any foundation issues, the better.
Foundation Cracks To Be Concerned About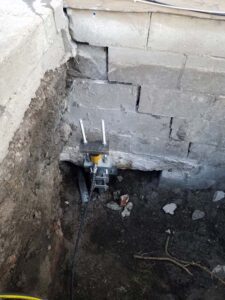 It is important to know when a foundation crack is serious. Here are some foundation cracks to be concerned about. They indicate serious structural issues and warrant immediate attention:
Horizontal wall cracks – These are a sure sign of a foundation issue. Horizontal wall cracks indicate the foundation has moved. Even thin horizontal wall cracks should be checked out.
Stair step cracks in brick or masonry – A common sign the house has a serious structural problem.
Diagonal cracks – These often occur around windows and doors.
Wall-to-wall floor cracks – Cracks limited to one or two tiles probably happened when someone heavy fell on the floor. However, wall-to-wall floor cracks are almost always a sign of a foundation problem.
Series of vertical cracks next to each other – This is usually a sign of a foundation issue.
Ceiling cracks accompanied by sagging – Any ceiling crack should be checked out. However, a ceiling crack accompanied by sagging is a very serious situation that needs to be immediately addressed.
Any crack that's getting bigger – These cracks are a sign of structural damage.
Whether the cracks are large or small, it's essential to have them inspected by a foundation repair contractor as soon as they're spotted. Early detection and prevention are key to minimizing future repair costs.
What Causes Foundation Cracks?
The most common cause of foundation cracks is soil movement and expansion, if the soil is rich in clay. As expansive clay-rich soil around a foundation absorbs moisture, it swells and pushes against the foundation walls. This can lead to cracks forming in the walls.
Other causes of foundation cracks include:
Inadequate drainage around a home's perimeter – This can cause hydrostatic pressure to build up and press against the foundation.
Poorly compacted fill dirt used during construction – Soil needs to be adequately tamped down before anything gets built on top of it. If this isn't done correctly, foundation settlement could happen, causing foundation cracks.
Large trees with deep roots near the foundation – Tree roots can drink water from the soil, leaving behind voids. If the foundation sinks into the voids, there will be settlement, which could cause foundation cracks.
Improperly installed footings – Poor construction happens.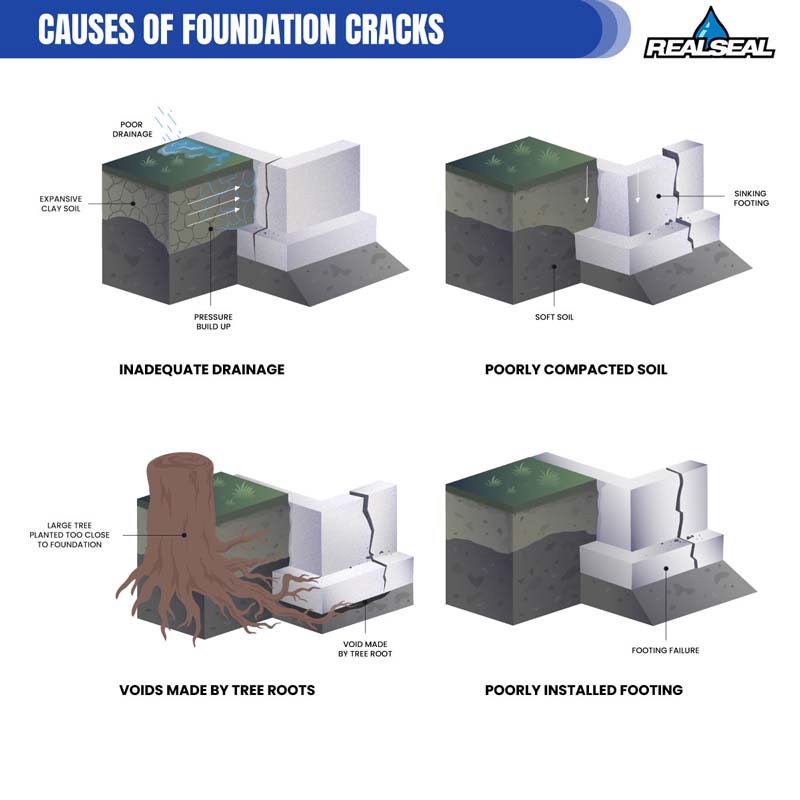 Minor cosmetic surface cracking on poured concrete foundation walls is common and caused by shrinkage as the concrete dries and cures. This type of cracking is usually not an indication of a structural problem.
For more information, see What Exactly Causes Foundation Settlement?
When To Contact An Expert For Further Evaluation
Homeowners should inspect their home's foundation regularly for any signs of possible problems. While some foundation cracks are merely superficial and not cause for immediate concern, if any crack appears to be widening or is over 1/10″ wide, it might require further evaluation by a foundation repair professional.
If you see a foundation crack, act fast. When it comes to foundation cracks, inaction can lead to a more expensive repair. An experienced foundation repair contractor can properly assess the problem and offer long-term solutions that ensure your home remains stable and secure for years to come.
What About DIY Foundation Repair?
DIY foundation repair can be tempting because it comes with a lower price tag. While DIY techniques may have their place in simpler fixes, like replacing the caulking on a window, more advanced foundation repair services, such as installing push piers to correct settlement, or anchors for foundation wall stabilization, or foundation crack repair, should always be performed by an experienced specialist.
Common Signs Of Foundation Problems
If you find any of the following signs in your home, it's time to consult an expert:
Cracked or bowed walls
Uneven floors
Foundation cracks that are wider than hairline fractures
Stair-step cracks in brick or masonry
Windows and doors that no longer open and close properly
Water in your basement
Porches or chimneys that are leaning away from the house.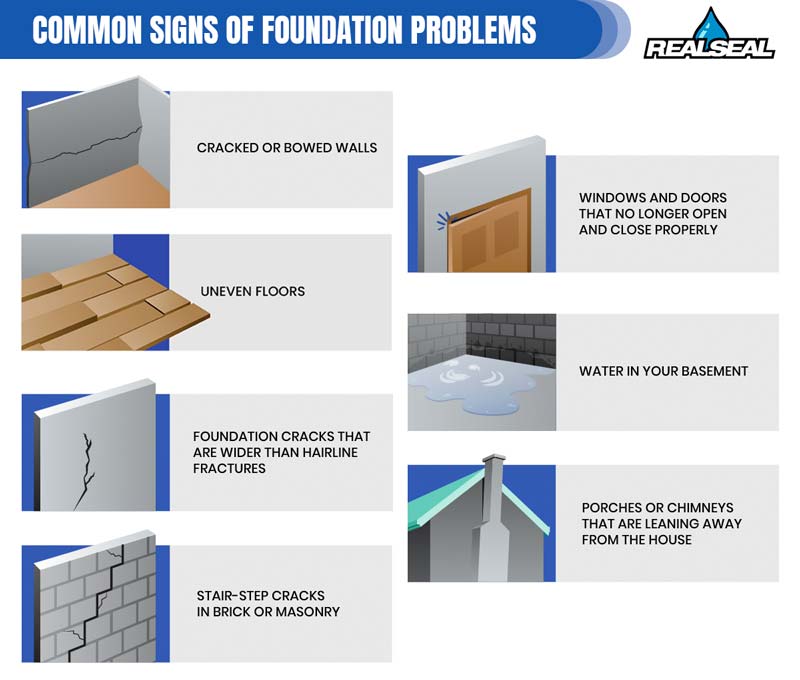 Don't tackle these repairs yourself; they require a foundation repair professional.
How To Prevent Foundation Problems
As a homeowner, proactively preventing foundation problems is essential to keeping your home safe and sound. Since most foundation problems are caused by water, here are some things you can do:
Start by making sure gutters are cleaned regularly and not full of dead leaves and other debris. You don't want water spilling over the side of the foundation and soaking into the ground.
Install downspout extensions that carry runoff away from the house at least 15 feet.
If necessary, regrade your yard so it slopes away from the foundation.
Install a drain tile system. This is, by far, the best foundation waterproofing solution available today. For more information, see How A Drain Tile System Can Save You Money
Don't plant trees too close to the house. Those trees might look nice, but you'll just be adding moisture to the ground around the foundation when you water them.
With these steps in mind, you can keep your foundation safe and sound for years to come.
Foundation issues in your home can be cause for serious concern, but don't lose sleep over them because they can be fixed. If you spot anything suspicious, contact a foundation repair contractor immediately and ask for an inspection.
If you have one or more foundation cracks you're concerned about and are in the greater Chicago area, contact The Real Seal today and schedule a free foundation evaluation and receive a repair estimate.