If you're wondering how much crawl space encapsulation costs, this is the article for you. We give you a complete breakdown of how crawl space encapsulation is priced, so you know what to expect when you call the professionals. Once you've finished this article, you'll see why homeowners with crawl spaces should choose encapsulation and why it's worth the cost.
What Is Crawl Space Encapsulation?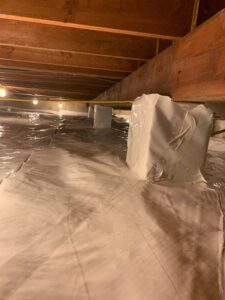 Crawl space encapsulation is when foundation waterproofing specialists line the walls and floors of the space below your home with a thin polyethylene sheet. This antimicrobial barrier will catch the water that seeps through your crawl space walls or floor, channeling it to a system that ejects it away from your foundation, increasing the air quality beneath your home.
Houses with crawl spaces can have what experts call a "stack effect." This means you breathe the air from the floor below you. That's why your second floor might be colder or hotter during certain seasons. Air always rises. By lowering the temperature in your crawl space, you can increase the air quality in your home and save thousands of dollars a year on utility bills.
How Much Does Crawl Space Encapsulation Cost?
Crawl space encapsulation can cost anywhere between $1,500 to $15,000. The total price depends on various things, such as the quality of materials, the size of your crawl space, if you need permits or inspections, and how many waterproofing solutions you add along with encapsulation.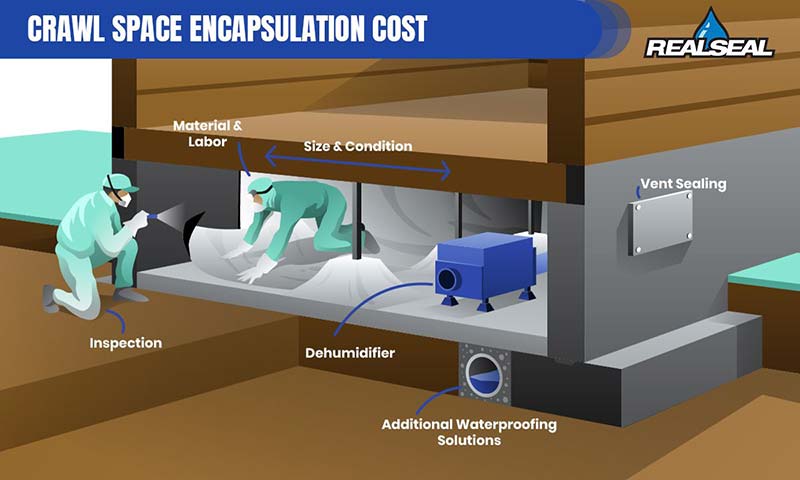 The total cost of crawl space encapsulation depends on the type of materials used and the professionalism of the company you choose. If contractors use cheaper and thinner crawl space liners, you'll notice a price drop. Wall liners (vapor barriers) can range anywhere between 6 to 20 millimeters thick. Make sure the company you hire doesn't use cheaper, poor-quality products.
The size of your crawl space will impact the overall encapsulation cost the most. The larger your crawl space, the more material and hours are needed. If your crawl space is losing its structural support, experts will suggest addressing those issues first, and chances are they also provide foundation repair. Since foundation repair is a separate project, prices will be different.
In most cases, foundation waterproofing companies do not need to pull a permit for crawl space encapsulation alone. Permits are only required when the work is paired with a drain tile system and sump pump, or other foundation repair work.
If you call a foundation repair and waterproofing company, they usually offer free inspections with their quotes. If you hire a private structural engineer or home inspector, they can charge anywhere between $300 to $1,000 to inspect your crawl space.
Additional Waterproofing Solutions
Crawl space encapsulation usually only involves lining the walls and floor with a vapor barrier. As effective as this solution is, if you pair it with a drain tile system and sump pump, you can actively prevent moisture buildup under your home. A drain tile system consists of perforated pipes placed inside your crawl space at the base of your walls and channels moisture caught by the vapor barrier to the sump pump, where it's ejected away from your foundation. Foundation waterproofing experts might also recommend sealing any cracks in your crawl space walls with 2-part epoxy. This will prevent water from seeping through larger openings.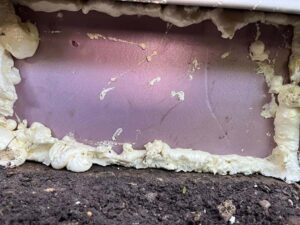 If your crawl space has open vents for air circulation, foundation waterproofing experts will most likely suggest closing them. These vents cause more problems than intended. Instead of the intended effect of airing out your crawl space, vents actually let moist air, cold air, and bugs/insects into your crawl space, causing more harm than good. In the winter, this can freeze pipes. In the summer, this can cause mold and warped floor boards.
If you live in a very humid region, foundation waterproofing experts might suggest installing a dehumidifier inside your encapsulated crawl space. This machine will circulate the clean air inside your crawl space, preventing humidity from increasing. If you have crawl space vents, experts will close them before they install the dehumidifier. Otherwise, the machine will just filter outside air.
If you live in Chicagoland or the surrounding suburbs, call The Real Seal. We've encapsulated thousands of crawl spaces since 2011, ensuring that every single one is equipped with the right solutions to prevent moisture buildup. Call today for your free crawl space inspection, where we will find out why water is building up under your home and choose an effective, lasting solution.