Water damage in your home can be devastating financially, mentally, and emotionally. That is why it is important to keep an eye out for any signs of damage or leakage. Catching water damage or moisture entering your basement early on can save you time, money, and sanity. As soon as you notice some water coming in, it is important to call professionals as quickly as possible. Failure to do so can lead to larger, more expensive fixes. The Real Seal is an experienced basement waterproofing contractor in Wheaton that will help you get the job done right the first time. We provide a variety of waterproofing and foundation repair services including drain tile installation, window well repair, sump pump installation, repairing foundation cracks, bowing repair, and much more.
At the Real Seal, we pride ourselves on providing an excellent experience for our customers. We always keep our customers in the loop throughout the project and ensure they understand why we are doing something before we do it. Our team has many years of experience providing waterproofing services and foundation repairs, so we are able to provide a quick and accurate estimate of cost and time.
As the premier basement waterproofing contractor in Wheaton, we provide a large range of basement waterproofing services. Whether you need window wells repair, a sump pump installation, honeycomb repairing, plumbing pipe installation, fixing over the top seepage, or anything else, we have got you covered.
Whether you keep your crawl space empty or use it for storage of items you have not used in years, keeping your crawl space dry is important. If moisture finds its ways in, the dark nature of the crawl space provides the perfect environment for mold to grow. This mold can get on your belongings and will also lower the air quality of your home.
Foundation issues can be caused by a variety of components including tree roots and poor initial construction, but the most common is water damage. Prolonged water damaged can lead to foundation cracks, bowing, and more. The Real Seal repairs a wide range of foundation damages to keep your home safe.
Contact the leading foundation and basement waterproofing contractor in Wheaton!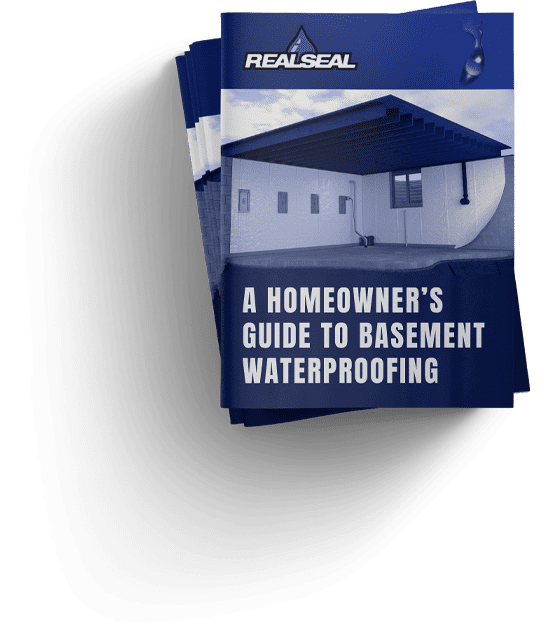 DOWNLOAD OUR FREE GUIDE
We created a guide titled:
"A Homeowner's Guide to Basement Waterproofing" to help you spot common basement issues around your home and learn how to fix them. Enter your email and get the free guide.
"Not Everything's Better When Wet"®