Watching out for foundation issues and water seeping into your basement or crawl spaces is one of your biggest responsibilities as a homeowner.
Without regular inspection, you could be missing a major home foundation or water seepage that can lead to larger and more expensive problems down the road. If you notice water in your basement or crawl space or foundation problems, The Real Seal has covered you.
We are the leading basement waterproofing contractors  In Tinley Park, Illinois with many years of experience serving throughout the Chicagoland area. This experience has taught us how to diagnose and efficiently repair any basement, crawl space, or foundation problems you may face. We pride ourselves on providing high-quality customer service and never leaving customers in dark.
The Real Seal knows that facing foundation and basement projects can be a stressful experience—our team is on a mission to make the experience as painless as possible.
Basement Waterproofing In Tinley Park, Illinois
The Real Seal is the leading Tinley Park basement waterproofing contractor. Our team offers a wide variety of basement waterproofing services including drain tile installation, sump pump installation, honey comb, over the top seepage, fixing cracks around plumbing pipes, window well repair, and more. Our vast experience has given our team the knowledge to efficiently and correctly repair common causes of basement waterproofing in Tinley Park.
Crawl Space Repair In Tinley Park, Illinois
Consistent water seepage in your crawl space could lead to mold growing throughout the space. When this happens, the air quality in your home will diminish. The Real Seal provides crawl space repairs, dries out moisture in the crawl space, and fix sagging crawl spaces in Tinley Park.
Foundation Repair In Tinley Park, Illinois
There are many potential causes of foundation issues in your home. Foundational bowing, cracks, and more can be caused by water pressure, tree roots, poorly constructed foundations, and wear and tear. The Real Seal offers Tinley Park foundation repairs from cracks, bowing, piering, and we even offer carbon fiber foundation repairs.
Contact the leading foundation repair and basement waterproofing contractors in Tinley Park for all your waterproofing needs.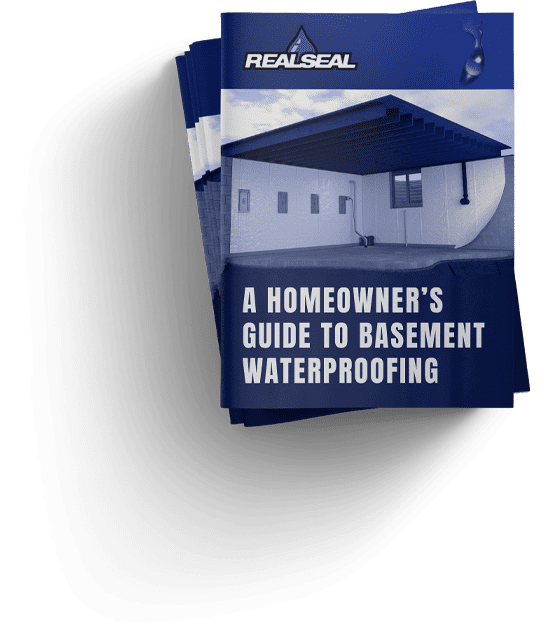 DOWNLOAD OUR FREE GUIDE
We created a guide titled:
"A Homeowner's Guide to Basement Waterproofing" to help you spot common basement issues around your home and learn how to fix them. Enter your email and get the free guide.
"Not Everything's Better When Wet"®