As a homeowner, it is important that you keep an eye out for foundation issues and basement and crawl space water issues. Allowing for consistent water seepage into crawl spaces and the basement can lead to mold and diminished air quality in your home and has the potential to lead to more costly foundation problems.
If you notice problems or want experts to examine your basement and crawl space for damage, The Real Seal has got you covered. We are the leading Oak Lawn basement waterproofing contractors that can help you with all your basement waterproofing in Oak Lawn, Illinois. Our team has the goal to give our clients peace of mind throughout the entire project.
We give accurate estimates and get to work as soon as possible, so we can minimize your stress and limit any additional damages. Our team has many years of experience serving basements, foundations, and crawl spaces throughout the Chicagoland area. This experience has given us the knowledge to complete projects efficiently and correctly the first time.
Basement Waterproofing in Oak Lawn, Illinois
As the premier Oak Lawn basement waterproofing contractors, we offer various waterproofing services to keep your basement and crawl spaces dry. Our services include sump pump installation, over the top seepage, fixing cracks around plumbing pipes, window well repair, honeycomb, and more. With many years of experience, our team will correctly diagnose the water seepage cause and provide timely repair.
Crawl Space Repair in Oak Lawn, Illinois
Unfortunately, water seeping into crawl spaces is a common occurrence in Oak Lawn and throughout the Chicagoland area. Neglecting this issue will result in mold growing in the space, which will lead to low air quality throughout your home. We offer crawl space repair, fix sagging crawl spaces, and dry out the moisture in crawl spaces.
Foundation Repair in Oak Lawn, Illinois
The foundation is one of the most crucial parts of your home. Watching out for and quickly responding to foundation issues can help you save time, money, and headaches down the road. The Real Seal is able to quickly repair many foundation problems in Oak Lawn. Our team offers fixes for foundation bowing, cracks, piering, settling, and carbon fiber foundation repairs.
If you are looking for any Basement Waterproofing quotes in Oak Lawn, Illinois, contact the Real Seal Oak Lawn basement waterproofing and foundation contractors.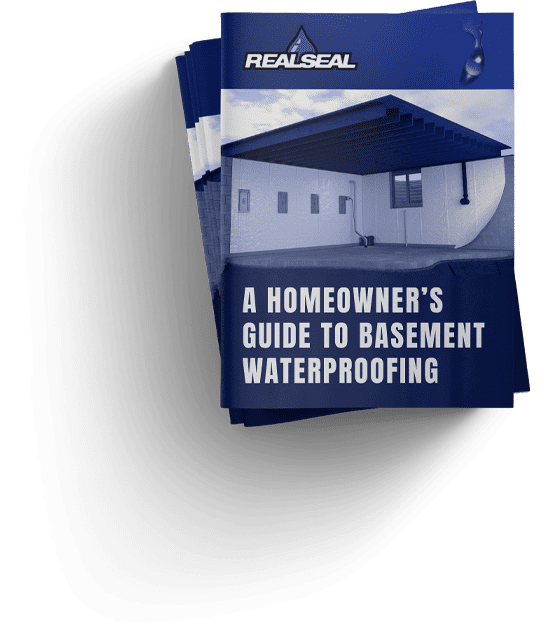 DOWNLOAD OUR FREE GUIDE
We created a guide titled:
"A Homeowner's Guide to Basement Waterproofing" to help you spot common basement issues around your home and learn how to fix them. Enter your email and get the free guide.
"Not Everything's Better When Wet"®