When it comes to waterproofing basement walls from the inside, should you call a professional or do it yourself? That's the question we're going to answer in this article. You'll also learn how water enters through your basement walls, and why water enters your basement. Follow along.
Waterproofing Basement Walls From Inside Using DIY Solutions
You might find a lot of blogs on how to waterproof basement walls yourself. But what these blogs don't say is how long these DIY solutions last.
Hydraulic cement
Several blogs mention filling cracks and gaps using hydraulic cement. These articles fail to mention that hydraulic cement is weak and doesn't bond well with other materials, especially concrete.
Waterproofing paint
Another DIY solution commonly discussed is applying masonry "waterproofing paint" to your basement walls. While this solution sounds easy, it's not effective at all. It will only increase the cost of repairs because the paint will need to be removed if any work is needed after it's installed.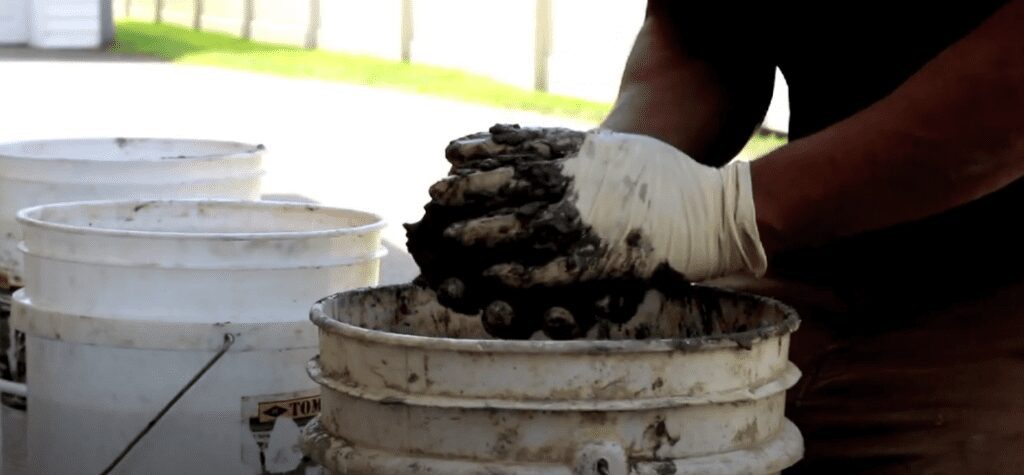 This paint is meant to be installed inside your basement walls, but that won't solve the issue. Any seal to stop water from penetrating your walls needs to be applied from the exterior, such as an elastomeric waterproofing tar. Otherwise, the pressure from the water on the exterior of the wall pushes the paint out. On top of that, waterproofing paint only lasts six months to two years. Overall, experts do not recommend "waterproofing paint."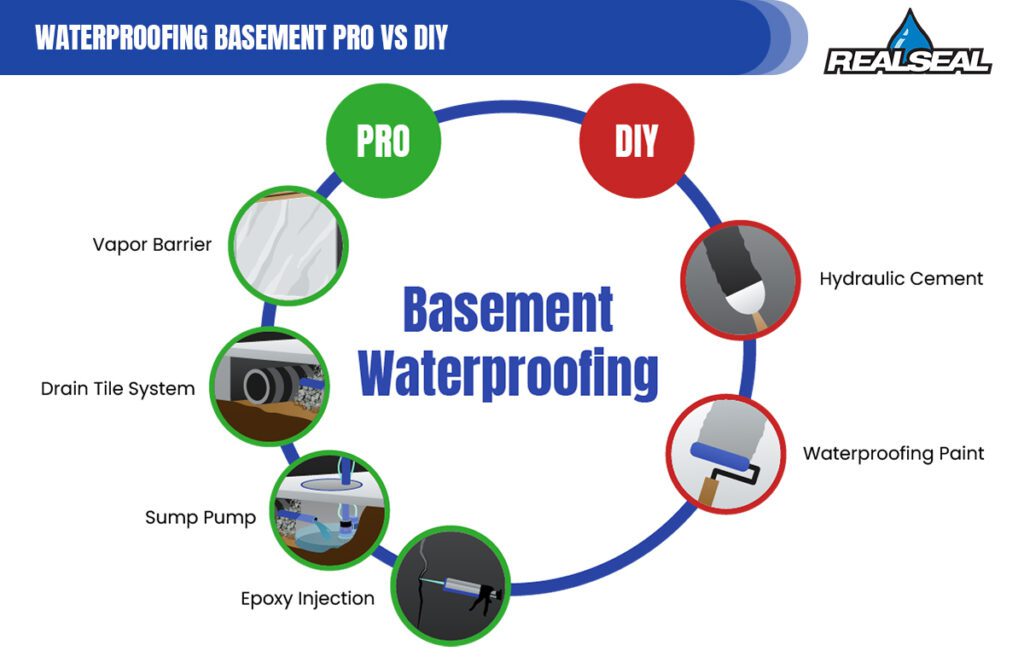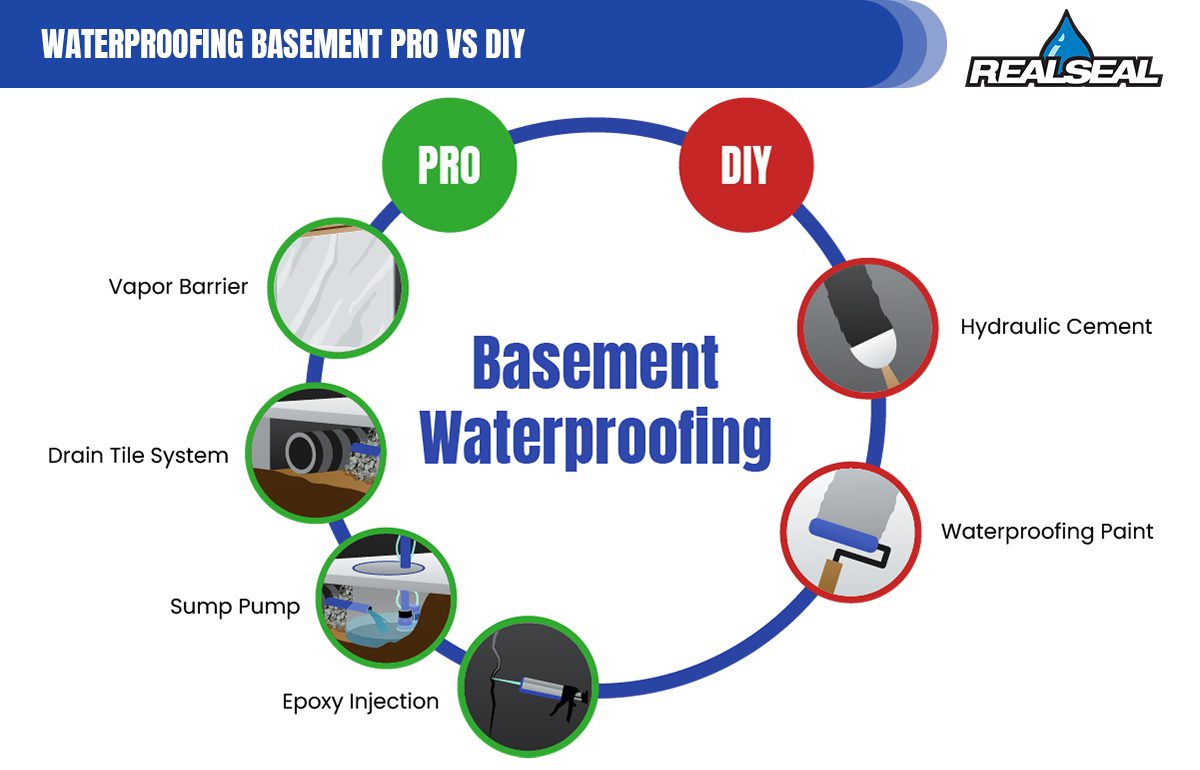 Waterproofing Basement Walls From Inside Using Professional Solutions
Here's how professionals waterproof your basement walls from the inside.
Vapor barrier
A vapor barrier is a 10 to 20-mil thick polyethylene sheet that's lined against your basement walls. This anti-microbial sheet will keep moisture from seeping through your concrete walls and prevent mold growth. The vapor barrier channels water to a drain tile system, preventing water from touching your insulation, framing, or drywall.
Drain tile system
There are two types of drain tile systems: exterior and interior. An exterior drain tile system collects water that's outside your basement walls. An interior drain tile system collects water underneath your basement floor. Both systems collect water inside perforated pipes and carry any collected moisture to a sump pit.
Sump pump
Once the drain tile system carries all the collected water to your sump pit, your sump pump will activate once the water in the pit reaches a certain level. Then, using discharge lines, the deposited water will be ejected from your home.
Epoxy injection
Most experts will choose epoxy injections over hydraulic cement. Professionals will inject your leaking cracks using a 2-part epoxy that waterproofs and reinforces your basement wall.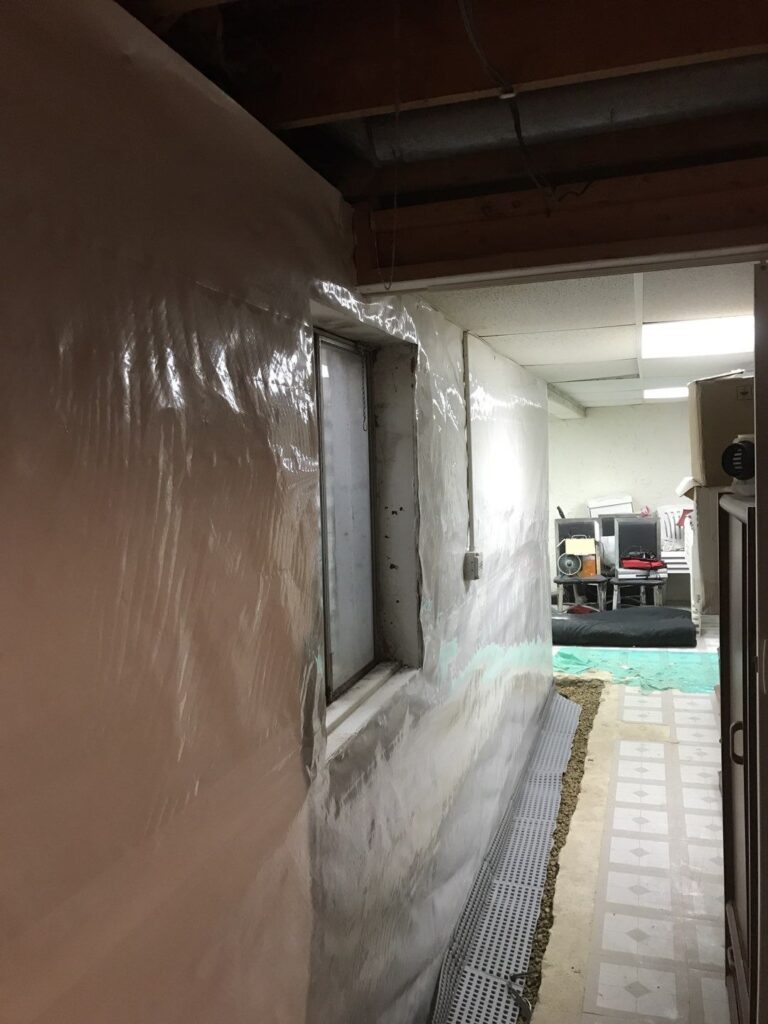 How Water Enters Through Your Basement Walls
Here's how water can seep through your basement walls.
Foundation cracks
If you have foundation cracks, water could use the openings (no matter the size) to enter your basement.
Pipe penetration
When pipes are installed through your basement walls, sewer line specialists will fill the gaps with hydraulic cement. When that cement breaks down in just a few years, outside water can fill the voids and seep into your basement.
Cove joints
A cove joint is the space between your basement walls and floor. Without a drain tile system, water will use these joints as a way to enter your basement.
Honeycombing
Honeycombing is when parts of your basement walls deteriorate. It can also occur on columns, footings, beams, and slabs.
Over-the-top seepage – It's not uncommon for water to seep through the space between your basement walls and the first floor.
Window well seepage – Sometimes, water can seep through the sides of your window well if they are not correctly installed or they lack a drainage system.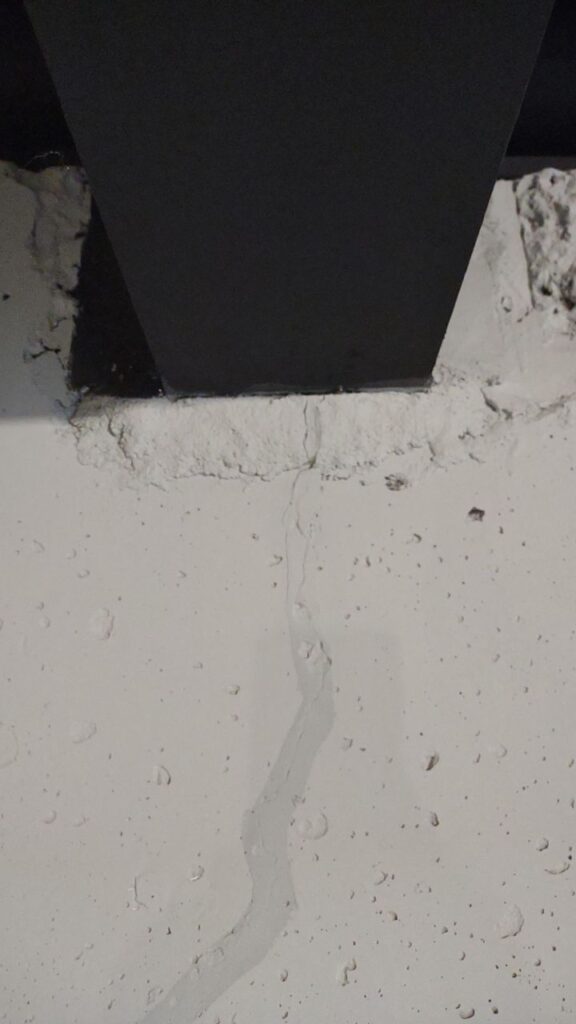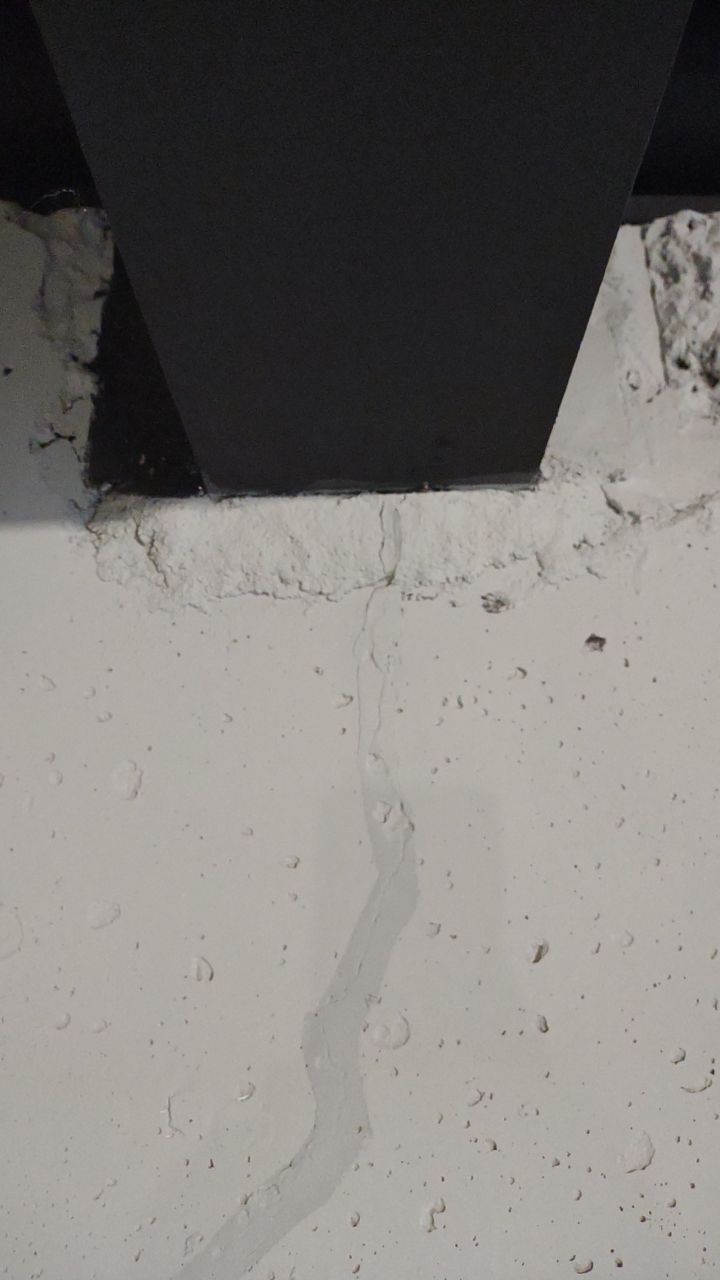 Why Does Water Enter Through Your Basement Walls
There are three reasons why water is pushing up against your basement walls.
Hydrostatic pressure
This is the leading cause of water seepage. Hydrostatic pressure is when the soil outside your basement walls absorbs too much water, increasing the volume of the dirt. This increase in volume pushes against your basement walls, allowing water to seep through any openings.
Expansive soil
If clay-rich soil soaks up too much water, it can swell. Then, when the soil dries, the dirt can shrink. This back-and-forth movement can cause your basement walls to bow, lean, or shear (the top of the basement wall has moved inward). If your walls begin to move, water can use the cracks that form to seep into your basement.
Frost-heaving
When soil freezes, it can both rise and fall, pushing against your basement walls, or its volume can increase and exert pressure against your walls. Both movements can allow water to seep through openings in your walls.
Learn more: Bowing Walls: 4 Causes & 5 Solutions
Who's Waterproofing Basement Walls From Inside Near Me?
If you need basement waterproofing in the Greater Chicago area, you should call The Real Seal. We'll inspect your basement walls, find out where any leaks are coming from, and come up with the best solution for you. We also offer foundation repair, crawl space repair, crawl space waterproofing, and concrete leveling. Call us today for more information and your free estimate.