Basement Waterproofing In Downers Grove, Illinois - 60515, 60516
Trying to find permanent basement waterproofing in Downer Grove, IL for your home or building? Specializing in waterproofing and foundation repair, The Real Seal offers the best solutions for your unique situation at a competitive quote. We are so confident in our work that we will even give you a Lifetime Warranty on most of our services!

In addition to sporting a great unique movie theater, the Tivoli Theatre, Downers Grove experiences some rough winters. With the combination of a ton of snow and freezing temperatures, it's no surprise that some citizens find their basements flooding, which can lead to problems with their foundation.
It's best to take care of any basement water issues or foundation problems as soon as you can so the problem doesn't get worse and make the repair costlier or cause more damage to your possessions due to water leaks and potential flooding. There are several different foundation problems that occur in the Deerfield, IL area. Read below to see if you notice any of these problems in your home.
Why is my basement flooding?
If you find water in your basement, you most likely wonder how this happens. Well, the short answer is the soil around your home had too much water in it, and:
the water forced itself through cracks and gaps in your foundation walls or floors,
your sump pump failed and backed up with water flooding your basement,
or it simply came through your clogged window well.

All of these answers are possible when basements aren't properly waterproofed or foundation issues occur. Contact The Real Seal, LLC for a complimentary inspection of your basement seepage in Downers Grove and we will diagnose and start fixing the problem for you at an affordable price.
Why is my foundation cracking, bowing, or settling?
Like a leaking basement, there can be a few different causes of foundation issues:
As we mentioned before, hydrostatic pressure creates a lot of lateral force on your foundation, especially during heavy rains and areas with poor drainage. When the pressure gets too large, your foundation fractures, bows, and/or shifts, weakening the load capacity. Matters are made even worse in the winter when the groundwater freezes.

Soil can also be a cause. When soil absorbs too much water, it can apply pressure against the walls which leads to cracks as well.

When the ground is too dry it can also affect your foundation. Extremely dry dirt is brittle and provides very little support of your foundation, causing it to move, settle and crack.

These issues are severe and should be taken seriously, as they weaken the structural integrity of your home. Contact the Real Seal when you think your foundation might have issues and we will send a professional to analyze your specific situation and create a tailored strategy.
The Real Seal is proud to be the premier basement waterproofing in Downers Grove. Our services are permanent, so we offer a Lifetime warranty on most of our services. We are happy to say we've helped many families repair their foundations and take bake basements so they can enjoy their homes for a long time to come. Give us a call today so we can start helping you!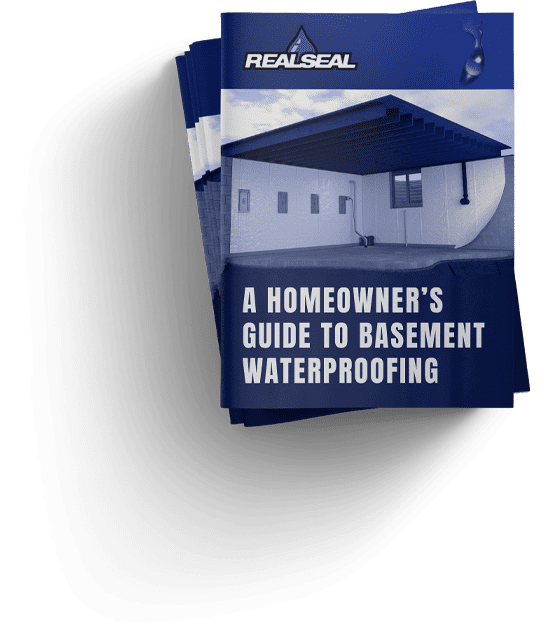 DOWNLOAD OUR FREE GUIDE
We created a guide titled:
"A Homeowner's Guide to Basement Waterproofing" to help you spot common basement issues around your home and learn how to fix them. Enter your email and get the free guide.
"Not Everything's Better When Wet"®