Whether you have noticed some seepage in your basement or found a crack in your foundation, it's time to call in the experts. Putting off water or foundation issues is a terrible mistake that will cost you more money and headaches down the road. The Real Seal is on a mission to make your waterproofing and foundation repair contractor experience as painless as possible. We always strive to bring our clients peace of mind with every project we tackle. Our team gets back to you as soon as possible with quotes and estimates with every project because we understand that no one wants to be left in the dark. The Real Seal offers foundation repair and basement waterproofing services in Des Plaines, IL, and throughout the Chicagoland area. Each project is completed by a team of experienced professionals that have seen almost everything Chicagoland basements and homes can throw at them. All this experience allows us to provide accurate quotes and complete projects efficiently.
There are many potential causes of water finding its way into your basement. Our team of contractors will find the root cause and fix the problem. We provide a variety of basement waterproofing services in Des Plaines, IL, including sump pump installation, pipe penetration, fixing window wells, repairing foundation cracks, cove joints, and honeycombs.
Though you may not visit your crawl space too often, you don't want crawl space leaks to continue. Constant leaks in your crawl space will lead to mold growth, which will harm the air quality of your home. The Real Seal offers crawl space repair, sagging crawl space repair, and crawl space drying.
Your home's foundation is one of the most important parts of your home. There are several problems that can cause the foundation to crack to deteriorate including poor construction, water pressure pushing on the walls, tree roots, heavy soil, and much more. The Real Seal offers a variety of foundation repair services in Des Plaines, IL. Our team will fix foundation cracks, bowing, foundation piering, foundation settlings, and carbon fiber foundation repairs.
Contact us for more information about our Des Plaines basement waterproofing and foundation repair services today!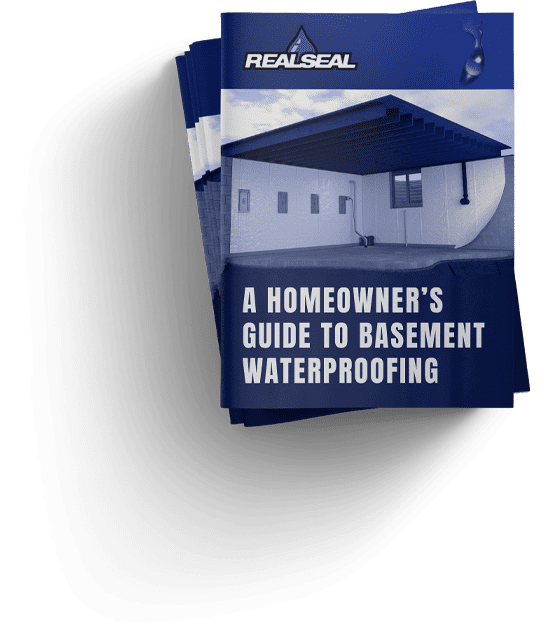 DOWNLOAD OUR FREE GUIDE
We created a guide titled:
"A Homeowner's Guide to Basement Waterproofing" to help you spot common basement issues around your home and learn how to fix them. Enter your email and get the free guide.
"Not Everything's Better When Wet"®