It is important to fix the cause of water damage or seepage as quickly as possible. If water is allowed to sit in your basement, foundation, or crawl space, it could lead to some serious problems such as foundation cracking, mold in your crawl space, or a flooded basement. As a homeowner, it is important that you regularly check for signs of water damage. If you notice any signs, contact professionals immediately. The Real Seal is a basement waterproofing contractor in Bartlett that offers a wide variety of services. We offer sump pump installation, foundation crack fixes, crawl space repair, drain tile installation, fixing foundation bowing, and much more.
At the Real Seal, we pride ourselves on providing excellent customer service on every project. We treat our clients like partners. Our team keeps you in the loop through every step of the project, ensuring that you understand why we do each task. We offer accurate quotes on price and project duration after our inspection.
As the leading basement waterproofing contractor in Bartlett, we are able to diagnose and repair any cause of water in the basement. Our services include window well repair, sump pump installation, fixing cracks where plumbing pipes connect, drain tile installation, honeycomb, and much more.
Keeping your crawl space dry is extremely important. Failure to do so will most likely result in a large amount of mold growing in the space, which can damage personal belongings and lead to poor air quality. We offer crawl space dry-outs, crawl space repair, and fix sagging crawl spaces.
The foundation is one of the most important parts of your home, which means ensuring that it is in good standing is an important responsibility of any homeowner. Foundation damage can be caused by tree roots, poor initial construction, water damage, and low-quality materials. We offer foundation crack, bowing, piering, and more.
Contact the leading Bartlett basement waterproofing contractor today!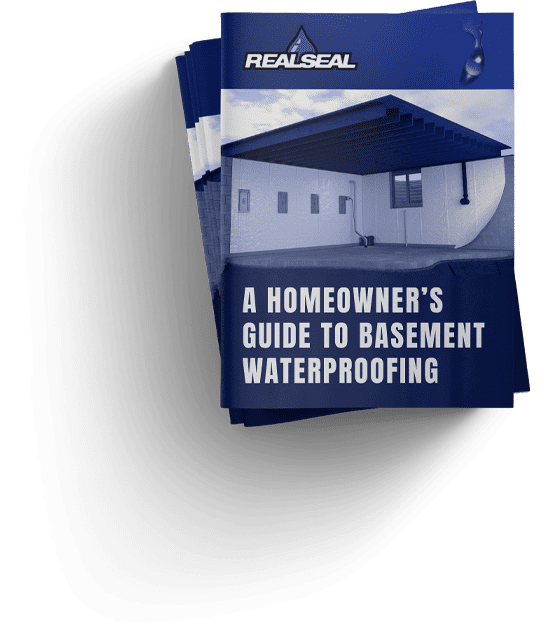 DOWNLOAD OUR FREE GUIDE
We created a guide titled:
"A Homeowner's Guide to Basement Waterproofing" to help you spot common basement issues around your home and learn how to fix them. Enter your email and get the free guide.
"Not Everything's Better When Wet"®