One of the biggest responsibilities as a homeowner is ensuring that your home is safe from water damage. Water damage can cause a wide variety of problems for your home including foundation damage, flooding, mold, and more. That is why it is important to regularly check for signs of water seeping in or damages. If you do notice that there are signs of water getting in, it is important to contact professionals as soon as possible. If you ignore any of the subtle signs or put off fixing issues, then the problems will only get worse. These will turn into larger and more expensive projects that could have easily been avoided.
The Real Seal is the premier basement waterproofing contractor in Oswego. We offer a number of services for basement waterproofing, crawl space repair, and foundation repair. Our team has been in the industry for a number of years. This experience has given us the knowledge to diagnose the cause of any foundation or water damage quickly and accurately in your home. Additionally, the team will repair the problem the first time, ensuring that you can rest easy knowing your home is protected.
As the leading basement waterproofing contractors in Oswego, we offer a number of services, including sump pump installation, drain tile installation, honeycomb, cove joints, fixing window wells, repairing cracks along pipelines, and much more.
Although you may rarely visit your crawl space, it is important to check for signs of water damage or seepage. Failure to treat moisture in the crawl space will lead to a bloom of mold. This can destroy any items you store in your crawl space and affect the air quality of your home.
It is extremely important to ensure that your foundation is in good shape. The foundation is responsible for holding up your entire home, so it should be high on your list as a homeowner. The Real Seal offers a variety of foundation repair services.
Contact the leading basement waterproofing contractors in Oswego.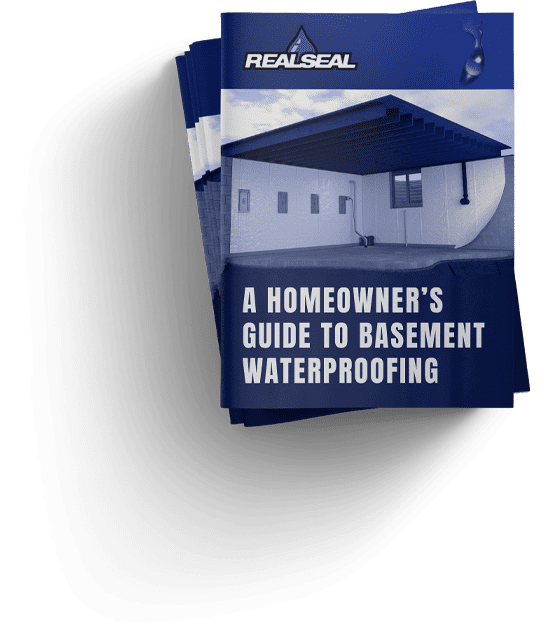 DOWNLOAD OUR FREE GUIDE
We created a guide titled:
"A Homeowner's Guide to Basement Waterproofing" to help you spot common basement issues around your home and learn how to fix them. Enter your email and get the free guide.
"Not Everything's Better When Wet"®