Aurora Basement Waterproofing and Foundation Repair
As the second largest city in Illinois, many people have found a place to call home in Aurora. This fast-growing region has plenty to offer its residents, as well as a diverse economy that features entertainment, retail, office, manufacturing, and distribution centers. It's a wonderful place to raise a family or start a career.
If you live in Aurora, it's more than likely that you or someone you know has experienced basement seepage as a result of thawing snow or heavy rainfall. Many homes in the area are around 30 years old and may be suffering from deteriorating foundations, settling, or out of date waterproofing techniques. Whether it's your home, a family member's home, or a friend's home, don't ignore the warning signs.
There is no substitute for tried-and-true basement waterproofing solutions and foundation repair, and when it comes to keeping your basement dry, the experts at The Real Seal have the experience to get each job done right. When you need basement waterproofing in Aurora, IL, come to get a solution that lasts.
We Offer a Range of Basement Waterproofing and Foundation Repair Solutions
There's never a good time for a flooded basement. That's why our team uses proven techniques such as drain tiles, sump pumps, and other basement waterproofing solutions. Flooding, settling, and other factors can contribute to a damaged foundation, and if the situation progresses enough, you may require foundation repair in Aurora to correct it. From foundation bowing to cracking and beyond, our foundation repair services provide a long-term solution that will correct a range of issues related to your foundation.
Whether you need Aurora basement waterproofing services, foundation repair, or both, The Real Seal's knowledgeable team can help. For your convenience, we offer predictable monthly payment financing options to help take the stress out of paying these repairs.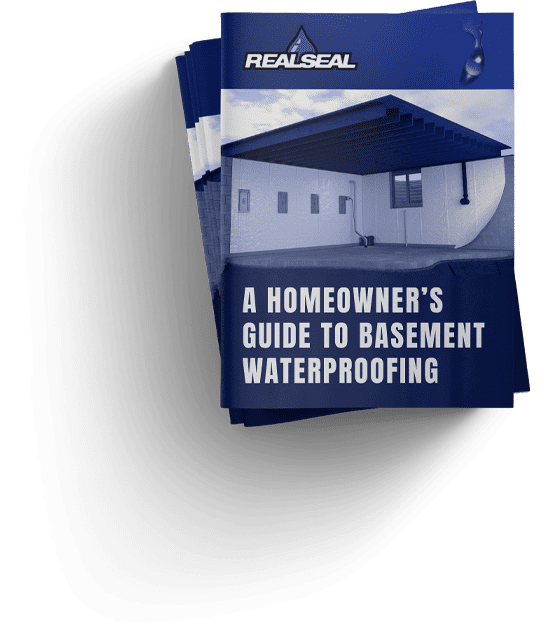 DOWNLOAD OUR FREE GUIDE
We created a guide titled:
"A Homeowner's Guide to Basement Waterproofing" to help you spot common basement issues around your home and learn how to fix them. Enter your email and get the free guide.
"Not Everything's Better When Wet"®